Travel returned in a big way in 2022, fueled in part by what has been dubbed "revenge travel" — finally free of many pandemic restrictions, and with money saved up, many people took the opportunity to vacation again, with a vengeance.
What they found was that things have not entirely returned to the way they had been before COVID-19. Between rising inflation and higher prices on everything from rental cars to hotel rooms, the road to normalcy was not without its share of bumps. Even the climate seemed to conspire against travelers in some regions, with winter storms causing mass cancellations of flights over the holiday season.
Forbes recently cited a survey by Booking.com that found nearly half (49%) of respondents reporting that they are "likely to spend more on their next trip to make up for lost time".
See also:
Younger generations will spend more money for an upgraded experience
The same Forbes article noted an Expedia study in which 80% of survey respondents between the ages of 18 and 34— a cohort that includes younger millennials and the older members of Generation Z — said they would be willing to pay to upgrade their experience.
A new study from the UK-based customer-insights platform QuMind looks at the travel perks that are most attractive to millennials and Gen Zers. According to their report, the booking decisions of members of these age groups are most influenced by the promise of free cancellation (70%), meals included (62%) or a free hotel upgrade (58%).
When you consider that millennials and Gen Zers together now make up over half of the world's population (notwithstanding the fact that the youngest members of Gen Z are still children) it's clear why the tourism industry and the hospitality sector are paying close attention to their travel preferences. Instagram-worthy interiors and a cool lobby bar might not be quite enough to appeal to young travelers anymore.
When making their travel plans, Gen Z and millennial travelers tend to seek out unique destinations and authentic experiences that will give them a taste of the local culture (to say nothing of bragging points on social media).
Here are just a few emerging Gen Z and millennial travel trends to keep an eye on in 2023 and beyond:
Generation Novel

No, "Generation Novel" is not a newly emerged demographic of novelty-seekers (or novelists, for that matter). Digital analyst Brian Solis coined the term in reference to COVID-19, which was initially given the name "2019 novel coronavirus".
"Gen N" is not strictly an age-defined category; it encompasses members of younger and older generations alike, including baby boomers and Generation X as well as Gen Zers and millennials. According to Solis, it refers to the broad range of ways in which life during the pandemic has shaped consumer expectations of what the customer experience should look like.
When lockdowns and social distancing seemed as if they would be the "new normal" indefinitely, almost all of our activities became wholly digital or at least took on more high-tech aspects. In a surprisingly short time frame, just about everyone became accustomed to working from home and attending meetings via Zoom, shopping for groceries online, and scanning a QR code at our favorite restaurants instead of perusing a printed menu.
Gen N seeks a high-tech guest journey
As we noted in a recent blog post, the need for touchscreen consoles has only grown since the onset of COVID-19. More travelers than ever are looking for contactless check-in experiences and assistance throughout their stays.
We told you about London's COMO The Halkin hotel, which offers touchscreen consoles in guest rooms that can be used to call a staff member, control light switches, adjust room temperature and activate a "do not disturb" mode.
Technology is also revamping room service for the next generation. At the Eliot Hotel in Boston, for example, guests can use the digital concierge to order room service or extra amenities, or to request the nightly turndown at a specific time.
Digital amenities add value for Gen N
When Gen Zers and millennials travel, they are looking for real-life experiences, of course, but to meet the expectations of Gen N, hospitality operators can use technology to make the guest journey a more personalized and streamlined experience, from online booking to digital amenities like PressReader.
PressReader is the largest all-you-can-read platform of newspapers and magazines, where guests of all generations can discover relevant and trusted content from more than 120 countries in over 70 different languages — publications such as The Economist, Vogue, Rolling Stone, Forbes, Elle, Women's Health, New York Magazine, and GQ, to name just a few.  
Readers can browse content online or download entire issues using the PressReader app, right on their own phone, tablet or computer. This puts the power of choice in guests' hands and gives them more value for their hard-earned travel dollar.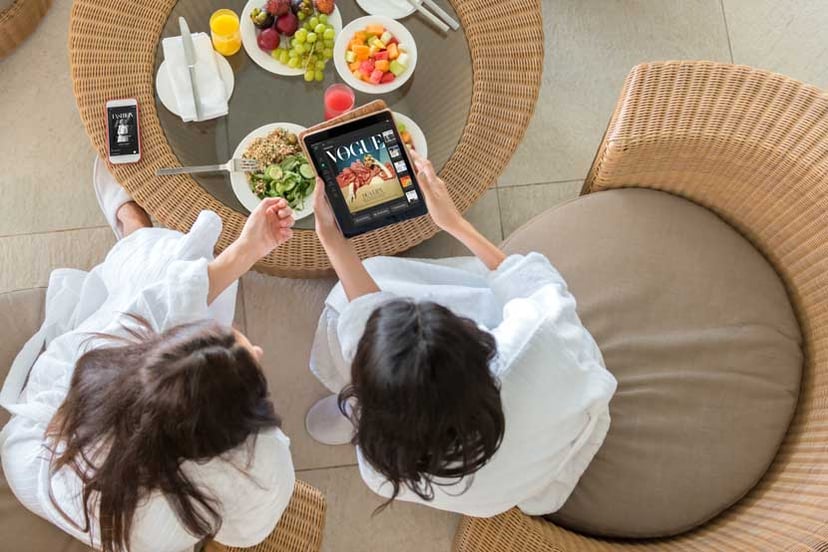 The anywhere traveler
It used to be known as "going off the beaten path". These days it's sometimes called being an "anywhere traveler", which Skift Research defines as "a mid-career aspiring jetsetter with the wealth and time to travel nearly anywhere but discriminating enough to not visit just anywhere. This group has a strong passion for experiences that takes them off the traditional travel pathways to less obvious destinations."
We have explored the topic of the Experience Economy and how it pertains specifically to the travel industry before. It is well-established that, compared to members of previous generations, millennials and Gen Z do indeed value experiences over things. What they are looking for in a leisure-travel destination, however, is a unique experience.
According to Skift, 70% of American millennial and Gen Z travelers report seeking out experiences that their family and friends have not heard of. In China, that figure reaches 90%.
Short of opening a new property in an unexpected location, a hotel operator's best shot at capturing the millennials and Gen Z travelers in this segment of the market is to ensure that the hotel itself is a unique destination that can deliver an amazing guest experience.
When the hotel is the experience

As Nikolay Malyarov, our CEO, International & Chief Content Officer, noted in PressReader's hospitality trends report in 2019, "In the luxury space, travel has become a hotbed of activity where experiences aren't just external excursions offered by the hotel (e.g. swimming with pigs in the Bahamas, or touring ice caves and underground volcanos in Iceland). They are curated experiences within the hotel, tailored for discerning guests."
Some hotels give musically inclined guests the opportunity to get creative by letting them spend time in an on-site recording studio; others offer immersive local experiences, from room décor and artwork that reflect the cultures of local communities to food and beverages crafted entirely from regionally sourced ingredients.
Doing more with less
Of course, enhancing the guest experience is easier said than done, especially in a time when many operators in the tourism and hospitality industries around the world are still contending with staff shortages.
In our 2022 report on the industry's labor woes, we cited a J.D. Power study that found that overall hotel guest satisfaction had declined 8 points (on a 1,000-point scale) from the previous year. In short, guests feel that hotels are charging more and delivering less.
The challenge for many hoteliers is finding ways to improve the experiences of guests of different generations on smaller budgets, with smaller teams, in the face of ongoing uncertainty.
Hotels around the world that have partnered with PressReader have found that offering guests the opportunity to peruse thousands of international publications on an easy-to-use digital platform adds value to their stay while also taking just a bit of the pressure off of overburdened front-line staff.
Set-jetting

Have you ever wanted to visit that ruggedly beautiful island on the planet Ahch-To where Rey finds Luke Skywalker hiding out at the end of Star Wars: The Force Awakens? As it turns out, you can; it's actually an Irish crag called Skellig Michael.
That stunning stone city where Spectre attempts to blow James Bond to smithereens in No Time to Die? That's Matera in Southern Italy, and yes, you can go there, too.
And in Vancouver… well, just about everything in Vancouver has been in a movie at some point. (There's a reason why they call it Hollywood North, after all.)
"Set-jetting" is the practice of traveling to a place that has been used as the setting for a popular film or television production. While it's not a new idea, or even a new term — journalist Gretchen Kelly used it in a 2008 New York Post article — set-jetting was projected by Expedia to be one of the hottest travel and tourism trends of 2023.
Location = inspiration
In a press release, Expedia announced that its research "confirms that streamed movies and TV shows are now the top sources of travel inspiration (40%), outpacing the influence of social media (31%)".
This is particularly true in the US, where more than two-thirds (68%) of travelers "considered visiting a destination after seeing it in a show or movie on a streaming platform, and a whopping 61% booked a trip".
Hotels around the world can get in on this trend by identifying spots in their region that have been featured in popular films or series and partnering with local tour operators who can take millennial and Gen Z travelers on day trips to those places.
Hotels that offer PressReader as an amenity can let guests know about these trips by uploading the information to the front page of the platform using our Self-Pub feature.