Travel and tourism bookings reached almost US$1.6B in 2017, accounting for more than 10% of the global GDP and making it one of the fastest-growing sectors in the world.
Meanwhile, spending continues to shift from material goods to travel, particularly with millennials – a trend that isn't expected to change anytime soon. Isn't it a great time to be in the travel business? Absolutely.
But like all good things in life and business, there is always a catch. Everyone wants a piece of the action. There's a lot of competition in the space now, not only between traditional brands, but with digital disruptors such as Online Travel Associations (OTA) and alternative accommodation providers (the Airbnbs of the world). And in the middle of all this frenzy is a new breed of traveler – a more controlling, more demanding, more informed, and more impatient consumer that holds all the cards.
The days of travelers returning again and again to their favorite brands through the pull of loyalty points are fading fast as more and more consumers flip the loyalty equation upside down.
"Successful companies today realize that customer expectations are shaped by the most relevant, real-time, dynamic experiences they encounter across any and all industries. These companies have realized that to be relevant, they must build vitality into all they do. They know it's not about customer loyalty any longer, it's about company loyalty to customers."

Omar Abbosh
Chief Strategy Officer
Accenture
Every business is a stage
Back in 1999, B. Joseph Pine II and James H. Gilmore co-authored, "The Experience Economy: Work Is Theatre & Every Business a Stage." It wasn't the beginning of the Experience Economy; Disney and others epitomized it decades before. But it did bring the phenomenon under a spotlight that has yet to fade (Will it ever?).
The thing about being in the spotlight is that, while there are some actors (i.e. businesses) that deserve a Tony award for their mastery of marketing in the Experience Economy, others find themselves being booed off the stage.
In the Experience Economy – where time is limited, attention spans scarce (and diminishing), and money disposable – business success is predicated on capturing people's time and attention. This is where some business executives get confused. They think good customer service is all it takes. Not true.
The differences between service and experience may look small, but in the eyes of today's consumer, they are huge.
| | |
| --- | --- |
| Customer service is about | Customer experience is about |
| Time well saved | Time well spent |
| Making things nice and convenient | Making things personal, meaningful, and memorable |
We live in a world of ME generations where no two people share the same experience even when placed in the exact same situation. Everyone experiences things and events in a very personal way.
There have been numerous studies over the past decade that have shown people's preferences to spend money on experiences rather than material goods. Today, research continues to confirm these findings, but also note that consumers also want experiences to be personal – specially curated for them.
A new global Forrester study found that Experience-Led Businesses (ELB) outperform their contemporaries in terms of customer journey and top-line metrics. ELBs have:
140% higher revenue growth
170% higher retention rates
160% higher customer lifetime value
Customer experience is no longer just a competitive differentiator, it's a business imperative.
But hasn't the travel industry always been about experience? In luxury travel, perhaps, but there's a reason people call an airline's economy class, "the cattle car" and refer to tolerable economy hotels as having "no surprises."
So how do travel executives transform their businesses from sleep stations to play stations, and from people movers to people pleasers? Here is some food for thought, and hopefully inspiration, from companies who have raised the experience bar to a whole new level.
Not just another economy
Now, I know what many of you're thinking, "Enough with marketing-speak about another economy out to disrupt our businesses!" And I can't blame you. We have the digital economy, the knowledge economy, the service economy, the sharing economy, the attention economy, the trust economy, the political economy, the mixed economy, the command economy, and more recently with blockchain, the token economy. This is just the tip of the iceberg and it's already overwhelming.
But for a moment, put aside your frustration with all of this and make a list of your favorite brands. Now ask yourself, what's common about them all? Why do you love them more than others?
Now take a look at what the rest of the world chose this year as their favorites.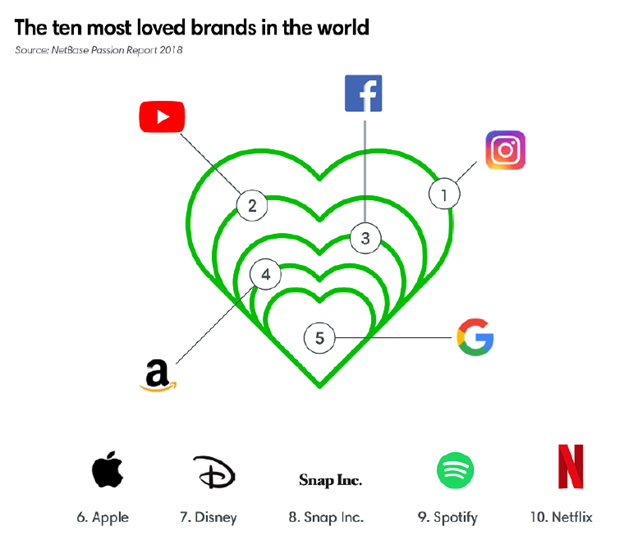 What do they all have in common? Enviable revenues obviously, but what else?
They are all masters in the Experience Economy. All but one (Disney) are, for the most part, titans of technology. But, as much as Disney is famous for its theme parks and resorts, the media and entertainment conglomerate was at the forefront of technological innovation long before the internet was even invented.
Given the NetBase list was based on social analytics, I decided to take a look at other more traditional sources for comparison. Fortune's 2018 list of the 15 most admired brands in the world has its share of commonality with NetBase's, but there're also brick-and-mortar brands on the list – two of which are favorites of mine – Starbucks and Costco.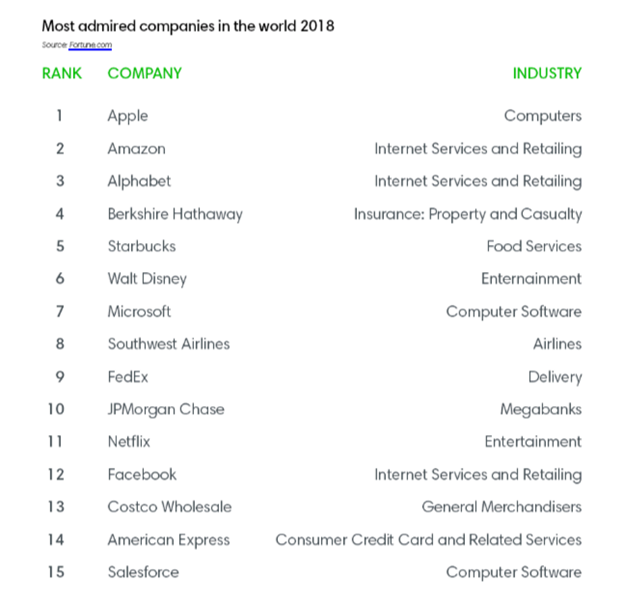 From the outside, Costco looks like a bulk warehouse store offering discounts across a wide variety of goods and services – savings that more than cover the cost of membership for many members. And Costco is all those things.
But walk inside and you'll immediately see why 90 million people worldwide flock there week after week. A trip to Costco is like a treasure hunt; every day there's something new to discover – something we may not even need, but can't resist. Tasting stalls are strategically situated throughout the store, surrounded by curious consumers looking to satisfy a thirst, sweet tooth, or craving.
Meanwhile, Starbucks appears to be the polar opposite of the warehouse giant with its premium-priced coffee and food. But, in fact, both companies are successful for the same reason – they are geniuses in experience economics and their Net Promoter Scores (NPS) prove it.

It's Showtime!
So what exactly is an economic experience and what does it look like? According to Pine, economic experiences are those created for the purpose of engaging people, where the goods and services are subsumed within those experiences.
An economic experience also requires that a whole new language (lexicon) be embraced by the brand. Vocabulary is hugely important because it changes the way people think.
And when it comes to experience and lexicons, nobody does it better than Starbucks. The US$22B coffee shop company turned the simple act of ordering a cup of java into a burst of unintelligible terminology that would have our ancestors wondering if they had landed on another planet. But to a Starbucks barista, a "Venti, Black Eye, half-caf, skinny macchiato, extra hot, with wings" order is nothing out of the ordinary.
The whole Starbucks experience is further enhanced by its customers' participation in the brand construction and proliferation. The entire experience comes at a premium price that aligns with what Starbucks customers value – the time they spend with the brand. The company has been so successful it doesn't even need to invest much in conventional advertising. Even its brand identity/logo doesn't include its name. The Starbuck experience is their marketing.
Speaking of price and time well spent, check out Ziferblats – a pay-per-time café where the coffee, food, and Wi-Fi are free, but your time spent in the establishment is not. First launched in Russia in 2011, the franchise has spread to multiple cities in the UK and other European countries, with plans to make its way to North America. According to one UK franchisee, the average customer spends 83 minutes in the café and most consume far less coffee and food than one might expect.
Ziferblats' goal is to open 1,000 cafés by the end of 2025. Will they succeed? The jury is still out on that, but it is an interesting business model worth watching because it values time and experience over goods and services.
Experience in lodging
When asked to name a travel destination active in the Experience Economy, many people would probably think of Las Vegas. What was once considered a cheap escape from reality (where the food and entertainment were practically free) has turned into a luxury destination that now makes more revenue on its shows, restaurants, and hotels than it does on its gambling. Why?
Because Vegas is a city all wrapped up in multi-sensory experiences – from the dancing fountains at the Bellagio, to Caesars Palace's gigantic talking Roman sculptures and 50,000 gallon (roughly 190,000 liters) aquarium, to The Venetian's gondola rides down the Grand Canal, to the Cirque Du Soleil extravaganzas spread along the strip.
But experience in the hotel space doesn't have to be as glitzy as Vegas to be successful. In 1987 at the age 26, Chip Conley transformed an inner city, dilapidated motel, The Phoenix, into an experience hotel with a retro-hip vibe.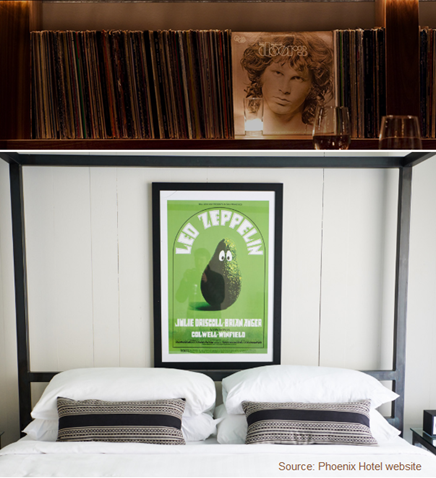 By designing and theming it around Rolling Stone magazine, Conley crafted an irreverent, cool, funky, and adventurous establishment that appealed to young-at-heart rock and rollers. It was the beginning of Joie de Vivre Hospitality – a unique boutique hotel brand that grew to be the 2nd largest in the world.
Each lifestyle property within the brand is modeled to appeal to the personalities of potential guests. It even goes so far as to offer a personality quiz to help people find the property that fits them the best.
One of the things that struck me about Conley was his unconventional attitude toward business priorities. In his mind, shareholders didn't come first and customers didn't come first; employees did. This counter-intuitive viewpoint is exactly what Virgin Group founder, Sir Richard Branson, subscribes to and it seems to be working well for him and his brands. Something other travel brands might want to think about.
Luxury lodging experiences
In the luxury space, travel has become a hotbed of activity where experiences aren't just external excursions offered by the hotel (e.g. swimming with pigs in the Bahamas or touring ice caves and underground volcanos in Iceland). They are curated experiences within the hotel, tailored for discerning guests.
But every year, as the availability of unique experiences moves into non-luxury brands, the higher the expectation bar rises. Skift's report, Megatrends Defining Travel in 2018, states that the offering of experiences to consumers is no longer enough.
Experiences must also be personal and transformational, helping individuals become the person they aspire to be. Which is why we are starting to see more and more properties marketing themselves as "healing hotels" – whether that be in body, mind, spirit, or even in relationships. The secret to these hotels' success is their ability to discover the outcome people are looking for and then giving it to them. It's a tall order, but one that people are willing to pay handsomely for.
The airline experience
When one looks at experiential travel in the airline space, it's pretty clear that many carriers have a long, long way to go. Except for the few wealthy passengers in first and business class, most people who fly feel like cattle being moooo-ved from point A to point B, with stops in points C, D, and E. ;)
To be fair, the constraints on the airlines are many, given escalating threats of terrorism and in-flight space confinements. But there are a few airlines that have figured out a way to de-commoditize themselves and give passengers, in all cabins, a more engaging experience at 35,000 feet.
Southwest Airlines almost has a cult following, despite the fact that there are no preassigned seats, no meals, and no TVs on board. This no-frills airline does, however, offer exclusive nonstop routes, an incredibly flexible, no fee change policy, cheap Wi-Fi, two free checked bags, and the happiest workforce in the industry. Southwest has never laid off an employee or cut their salary and it empowers its staff be themselves, allowing them to break the rules to keep customers happy.
"We hire rock stars, ask them to be themselves, and then support them in everything they do to take care of our customers. This leaves customers wanting to come back for more. Then our customer loyalty grows the business and rewards our shareholders."
Brad Hawkins
Southwest Airlines
Although Southwest's open seating policy isn't everyone's cup of tea, its boarding process is, on average, 25% faster than its competitors – an important factor in a "time is money" business.
To top off the overall Southwest experience, customers enjoy flight attendants rapping or singing out safety features, dancing in the aisles, and welcoming passengers in their own irreverent Southwest way. The viewership of some of these antics is huge. Flight attendant, Marty Cobb, not only received 24 million views on YouTube for just one of her onboard announcements, she was invited to be on the Ellen DeGeneres Show to talk about it. Her ongoing efforts to bring a little joy to her passengers is shared by many of her co-workers, making the Southwest flight experience second to none in its loyal customers' eyes and ears.
Southwest employees were not only instrumental in the airline being the only carrier named to Fortune's 2018 top 10 list of List of Most Admired Brands (no other airline even made the top 20), it ranked number six in the world by TripAdvisor in April 2018 – helping propel the company to financial success.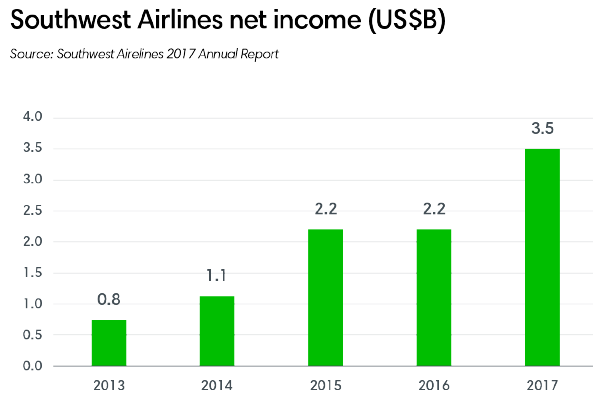 Technology's role in the Experience Economy
It goes without saying that the human touch is essential in a consumer-focused industry like travel, but that doesn't mean it can't be facilitated and enhanced by technology. Although some hotels and airlines have started to harness technology to provide faster, easier-to-use, and more personalized services, they need to innovate beyond customer service.
Travel brands need to invest heavily in experiences that touch people deeper than products and services ever could, creating lasting memories that instill and sustain loyalty – loyalty that is being retracted at what Accenture calls "profit-crushing rates."
The intangible and immaterial nature of experiences make them ripe targets for technological innovation, particularly with digital natives. According to Robert Wollan, senior managing director, global lead of Advanced Customer Strategy at Accenture Strategy. "New 'languages of loyalty' have emerged, driven by brands experimenting with creative digital experiences, which have changed the dynamics of customer loyalty today."
Accenture has defined five of these languages which it says are driving consumer relationships in the digital age, especially with millennials. Leading the way is the offering of small tokens of affection, followed by new experiences, preferred channel communications, personalized experiences and products, and multi-sensory experiences through virtual and artificial reality.
But even in today's hyper-connected world, digital tokens of affection aren't all that common. Free Wi-Fi in hotels, restaurants, and airports, took a long time coming as many hospitality brands saw it as an opportunity to grab a little more cash from customers. It was a short-sighted move on their part – a move that had travelers making booking decisions based on where they could get free internet access. Today, free Wi-Fi is an expectation, not a digital delight, particularly with tech-savvy generations that check their smartphones multiple times an hour to access their favorite apps and content.
Today, we still see millions of dollars invested in seat-back Inflight Entertainment Systems (even though the growing number of travelers would rather access movies, games, books, newspapers, and magazines on their personal tablets or smartphones.
Thankfully a few forward-looking carriers are starting to offer support for Bring Your Own Device (BYOD) on board. Cathay Pacific's new Business Class seats offer a bi-fold table that swings out from under the drinks table to support laptops and tablets without interfering with meal service.
Cathay was also one of the first airlines to offer their entire passenger base (not just premium class travelers) complementary access to thousands of digital newspapers and magazines on travelers' personal devices in flight.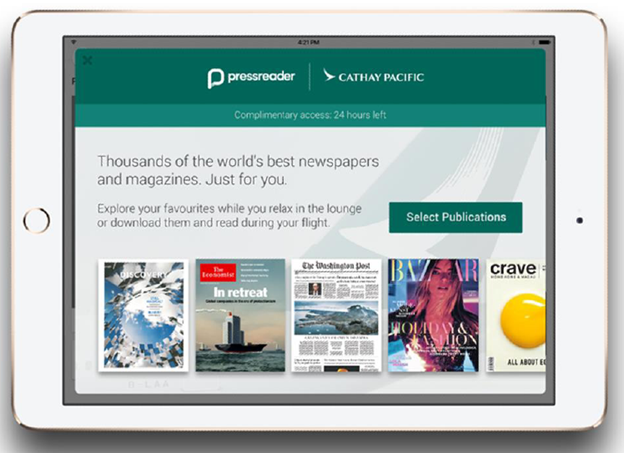 "We want to provide the best air experience and live up to our slogan of "Life Well Traveled" -- whether that's launching new lounges, improving the food service, or rolling out a new service such as entertainment that better uses digital assets. It's all part of our new, more focused strategy.

"A big part of that, since our reorganization, has been that all of the customer touch points have been moved into one stream. From the website, to the ground experience, to the in-flight experience, and to other digital assets, it's all now under the Customer Experience department.

"As a result of that, we can now give a really consistent experience because a key part of the company is always fighting and thinking about the customers' needs above all else. That is part of the reason why, in the last year or so, there have been a lot of changes in terms of the customer experience. Bringing on PressReader is one of them."
Simon Cuthbert
Entertainment, Platforms and Connectivity
Manager Customer Experience Design
Cathay Pacific Airways
This is a major improvement over the tiny selection of printed media many airlines still try and push on their patrons – media that is often not relevant to individual passenger's interests or language. Sadly, those airlines still put the demands of their business partners over those of their passengers and the environment.
It really comes down to airlines offering choice and there is no question that print media is a preferred choice for some travelers. But for the majority of passengers, print doesn't offer the range of personally relevant titles. Which is why airlines need to address the needs of both types of news consumers if they hope to create a personalized onboard reading experience.
Trailblazing hotels and cruise lines have already figured out that it pays to offer the same digital media experience as Cathay to their customers. Not only do their clients get access to content that actually means something to them, such as a digital edition of their hometown newspaper or favorite magazine, the travel brand saves money and reduces its environmental footprint by eliminating thousands of pounds (or kilos) of paper that once littered their hallways – most of which are untouched and unread.
Human- and digitally-delivered experiences are both essential in travel and easily delivered if hotels and airlines put themselves in the shoes of their customers and align their business values around the passions, habits, and preferences of 21st-century travelers.
From service provider to experience provider
According to Forrester's 2018 report, The Business Impact of Investing in Experience, experience-driven travel companies focus their time and investments on increasing customer loyalty and retention through experiences. And it's starting to pay off.
61% of experience-driven travel businesses have seen increased customer advocacy as a result of their focus on experience – twice as high as other travel brands. Their NPS rankings go up as recipients of both physical and creative digital experiences become megaphones for those brands.
Capturing the time and attention of consumers is a critical success factor in the Experience Economy and their scarcity demands that travel brands waste no time in the design, staging, and execution of both physical and digital experiences for their customers.
Because as I said earlier, user experience is no longer a competitive differentiator; it's as much of a business imperative as keeping the lights on.
If you'd like to learn how your travel business can leverage technology to capitalize on the Experience Economy with small tokens of affection in the form of creative digital experiences, let's talk!