The hotel market is forecasted to sustain a 5-6% growth in 2018, reaching US$170B in gross bookings. Strong leisure and business travel demand is driving up Average Daily Rates (ADR) and Revenue Per Available Room (RevPAR) and helping to maintain an occupancy rate of ~66%. Life is good!
Or is it?
Although hotels seem to be holding their own, the growth in alternative accommodation rentals is threatening to escalate an oversupply problem that already plagues many segments of the market. And the lack of regulation and oversight with these vacation rentals and home-sharing businesses is allowing the likes of Airbnb and [Expedia's] HomeAway to offer significantly lower prices to cost-conscious consumers.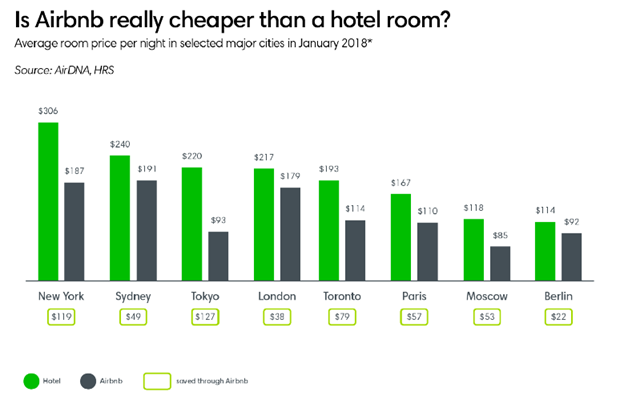 Meanwhile, Online Travel Agencies (OTA) continue to capture the attention of more and more travelers and their wallets every year.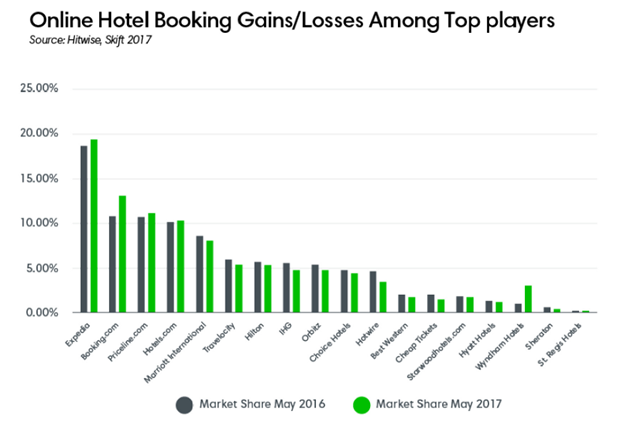 The situation looks pretty grim for the future of traditional travel brands if current trends continue. But one cannot forget the trump cards hotel brands still hold in a trust-deficient world. It's time for them to double-down on their strengths when competing with these digital disruptors.
Mistrust in the sharing economy
The global alternative accommodation market is large, growing and expected to reach US$106B in 2018 – mostly through the efforts of the honchos of home sharing, Airbnb and Expedia.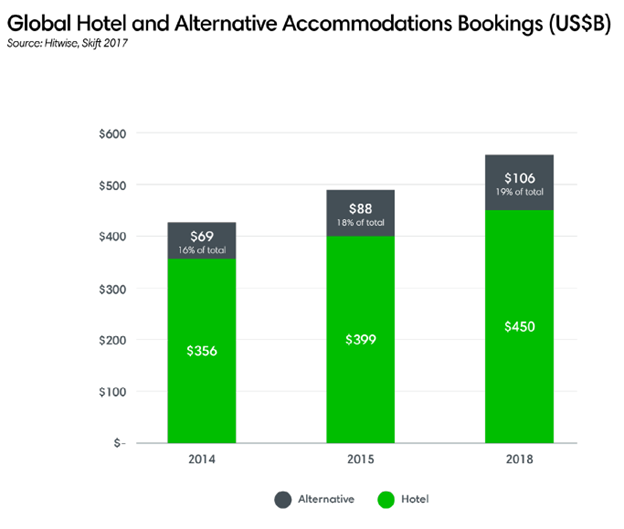 There are many reasons people have been gravitating towards these Sharing Economy services over the past few years, not the least of which is price. So why are there fewer US travelers using these services in 2018 than in 2017, choosing instead to book directly with hotels?

Because as much as Airbnb and Expedia offer a more authentic local experience and lower prices, they fall short in many other, critical areas.
Home sharing services are also ripe with trust issues from both users and hosts alike. A quick perusal of verified reviews on ConsumerAffairs.com shows that their expectations are not being met by the major players in the space, particularly when it comes to quality, available amenities, booking and overall experience, property management, and customer/host support.
Expedia's acquisition of VRBO/HomeAway in 2015 was so poorly managed (and continues to be based on feedback I hear from both guests and hosts) that class-action suits were filed.
In an attempt to reduce the number of unwelcome surprises experienced by guests, Airbnb introduced a new category of "verified accommodations" – Airbnb Plus. In the spring of 2018 the company had ~2,000 verified properties in 13 cities. That's only .05% of the four million listings they own.
It's a noble first step, but there are still lots of questions about how the company could possibly scale this program, as well as manage and maintain quality standards at verified properties after the original inspections, professional photoshoots, and 100-point checklists have been completed.
Mistrust in the platform economy
In 2016, OTA lodging revenue grew almost five times the rate of hotel-direct bookings in the US and its momentum is showing little sign of waning according to Deloitte's 2018 travel and hospitality industry outlook.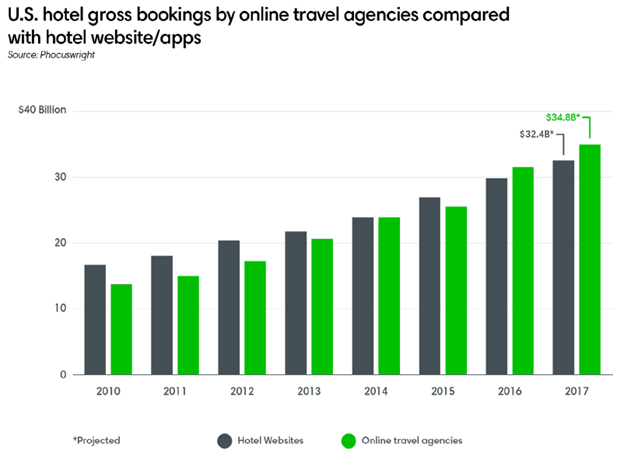 The massive consolidation in 2015 basically created a duopoly (Expedia and Booking Holdings, previously The Priceline Group). Together they control just over 10% of the US$1.4T travel industry and 90% of the OTA market, giving them significant leverage at the negotiating table.
Besides investing heavily in existing and emerging technologies, OTAs are also expanding their ecosystems to include other segments across the customer journey, including transportation, private accommodations, tours and activities, restaurant reservations, etc. Today, OTAs top the list of the most popular downloaded travel apps in the US with the closest hotel being Hilton at No. 17.
While alternative accommodation providers are thought to be direct competitors to hotels, OTAs are often seen more as playing a frenemy role. On the one hand, they provide a powerful hotel discovery and marketing arm to hoteliers who couldn't do it on their own; while on the other, OTA services garner anywhere from 15-30% in commission fees depending on the size of the hotel chain – the smaller the chain, the higher the rate. That's a pretty painful price to pay for small, independent hotels when 76% of their bookings come from OTAs.
But what really makes OTAs less of a friend and more of an enemy (to both consumers and hotels) is their questionable modus operandi – practices that spawned an investigation by the UK Competition and Markets Authority (CMA) to determine if booking sites are showing favoritism to specific (pay more) hotels, misleading customers with bogus discounts and ratings, applying pressure-selling tactics, and actively preventing consumers from getting the best deals.
Consumers' trust in OTAs is waning – an opportunity upon which hotels can, and should, capitalize. The results of CMA's probe are expected to be released in the next few months. It will be interesting to see the impacts on the market.
It's not too late for hotels to win back consumers
Innovating for today's consumers who want personalization, choice, convenience, and unique, memorable experiences is essential for survival in this volatile digital era – a position shared at the Skift Forum Europe 2017 by Travelsify, a metadata platform for hotels.
"Trust is the new currency in travel because personalization is about improving a customer experience… Personalization is about trust; you cannot keep customers if they don't trust you."
Bruno Chauvat
CEO and Co-Founder of Travelsify
If Chauvat is right and trust truly is the new currency in travel, hotels have to pick up the pace in terms of innovating for a new future if they want to retain consumer trust and grow loyalty with new generations of guests.
Leland Pillsbury, managing director of Thayer Ventures, a San Francisco-based VC firm specializing in hospitality said that despite high occupancy rates last year in the US, RevPAR and ADR growth actually slowed down – a trend, Pillsbury contends is systemic because hoteliers continue to rely on decades-old pricing strategies.
Hotels, like many other industries (e.g. mainstream media) are inclined to be slow to react to disruption, believing that a rational approach to market volatility is to watch, listen, and learn. They think they can out-execute new competitors through patience and an already strong foothold on the market.
So, instead of taking risks in new innovations, they tend to stick to what they know, like combining direct booking campaigns with member-only rates to attract more travelers to their websites. Direct bookings have been somewhat effective, and member-only rates can help hotels circumvent rate parity contracts with OTAs. But won't those discounts eat into hotels' core revenue streams? The jury is still out on the long-term viability of this tactic.
McKinsey & Company warns executives about taking that so-called safe approach, "In digital scrums it is first movers and very fast followers that gain a huge advantage over their competitors. We found that the three-year revenue growth (of over 12%) for the fleetest was nearly twice that of companies playing it safe."
Hotels have a lot going for them in terms of longevity and the establishment of trusted brands, but past success doesn't guarantee a rosy future, especially in this age of growing brand agnosticism. It's time for all, and not just some, hotels to stop treading water and take a deep dive into consumer-centric technology and practices that build trust and sustain loyalty with today's and tomorrow's traveler.
Opportunity is knocking – time to answer the door
In the alternative accommodation market, there is a window of opportunity in which the hotel industry can truly differentiate itself, particularly within the trusted properties rated by Forbes Travel Guide – hotels that offer premium service, exceptional experiences, verified quality standards, and high-value loyalty programs.
A recent study found that cost-conscious millennial travelers actually prefer to stay in full-service hotels over Airbnb by a margin of 2-to-1. It's not that they shun home sharing – 52% say they do use alternative accommodation services – but alternative accommodation is not their first choice.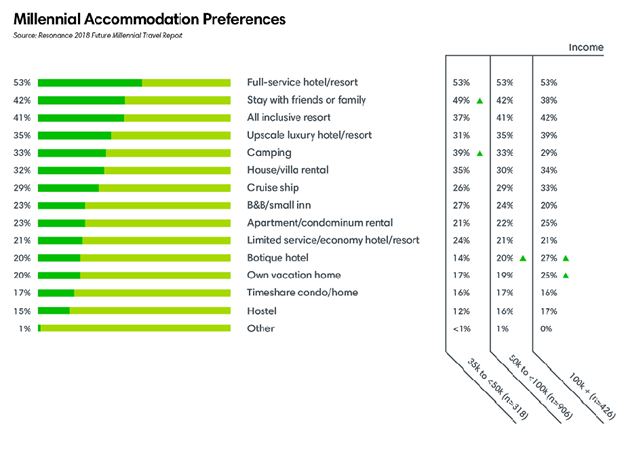 And despite millennials' tendency to penny-pinch, they also have high expectations in terms of the amenities hotels offer – expectations that are escalating far beyond what previous generations demanded. I've said it before; it's "all about me" these days and not just when it comes to millennials.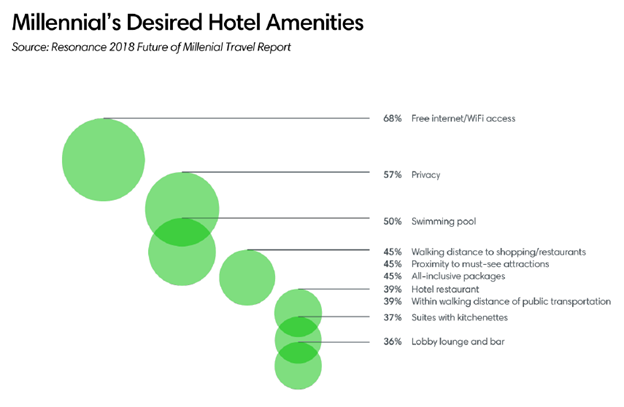 Trust and loyalty go hand in hand
Trust is a tenuous tightrope – a line that hotels need to tread carefully to remain the preferred hospitality choice when digital disrupters scramble to bring heavyweights on board to alleviate consumer misgivings.
Nick Shapiro, Airbnb's global head of trust and risk management, is one such subject matter expert. Former deputy chief of staff for the CIA and senior counterterrorism aid for President Obama, Shapiro is using technology to facilitate trust between hosts and guests by performing risk assessments on every reservation. This includes monitoring global watch-lists and background checks on all guests and hosts, looking for felony convictions, sex offender registrations, and significant misdemeanors in the US.
But despite all of Airbnb's technology, unsavory types can, and continue to, slip through the cracks. As Shapiro conceded at OWI's 2018 KNOW Identity Conference, "We can't prevent everything from happening — even with the best technology there is."
There are 3.8 billion loyalty program members in the US alone. Of course, not all programs are created equal; just like mobile apps, many of them are used a handful of times and then abandoned. But according to Inte Q Global's 2018 Customer Loyalty Guide, businesses who do it right and create hyper-personalized brand experiences for its members can reap significant rewards.
But success is not contingent upon the number of members a program has, it's the longevity of their loyalty that is critical to the bottom line success of the business because:
It is five to 25 times more expensive to acquire a customer than to keep one
Loyal consumers buy 90% more often, spend 60% more per transaction, are five times more likely to choose that brand for future purchases and deliver three times the value to the brand every year
Satisfied customers will tell nine other people about their positive experience with a brand; dissatisfied customers are likely to tell 22 people about a bad experience
Increasing customer retention rates by 5% can increase profits by 25% to 95%
Loyalty pays, of that there is no doubt. But it doesn't happen unless the foundation of the relationship between a brand and an individual is built on trust. Most travelers today participate in loyalty programs, although millennials have not yet fully bought into travel programs as much as previous generations did.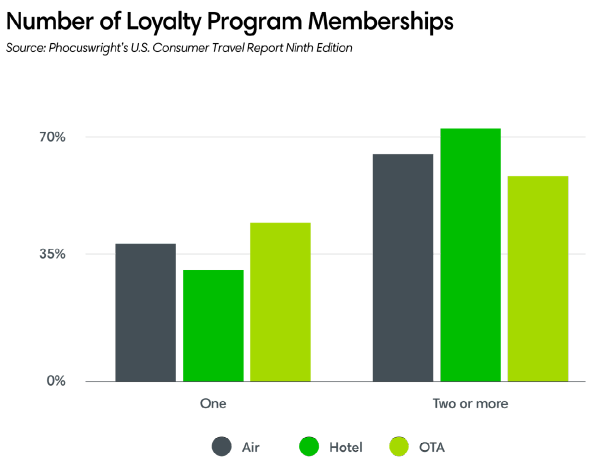 But, what is interesting is that millennials who do join are significantly more loyal to the programs than older generations (i.e. Gen X, Baby Boomers).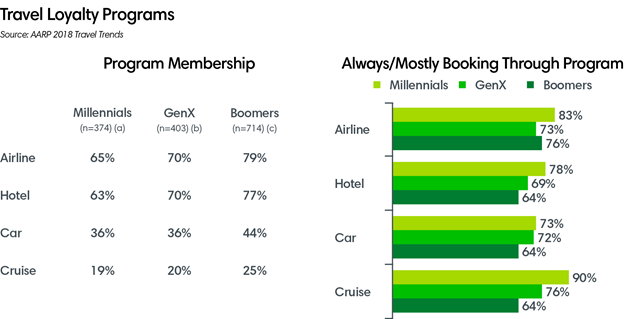 But hotels and airlines are no longer the sole holders of the loyalty reward card. More and more OTAs and alternative accommodation providers have started to invest in the retention of their users.
Expedia rewards users with two points for every US dollar spent.
com gives away a free night for every 10 nights booked.
Spend one US dollar on Orbitz and earn one Orbuck (the equivalent to US$1).
There are those that work directly with credit cards, making money off users' spending on items other than travel
Airbnb launched their "Superguest" loyalty program in 2018. Benefits include discounts, airport pickups, flight upgrades, and lounge access.
So it's important that hotels continue to improve their loyalty programs by making them more comprehensible (nearly half of members don't understand how to redeem points) and by being creative - i.e. offer more than just free hotel nights. Free WI-FI, event tickets, dining coupons, and car rentals are particularly appealing to frequent travelers, even more so than room redemptions, according to J.D. Power's 2017 Hotel Loyalty Program Satisfaction Study.
One size does not fit all in today's "me first" world – make it personal
For a number of years, Airbnb didn't really pose a major threat to hotels as they served a different audience, but things are starting to change as more and more travelers (business, consumer, and group) look beyond traditional venues when cost, convenience, and flexibility become more important.
According to Phocuswright, private accommodation will grow from 12% to 16% of total bookings in 2018 even with the trust deficit they're experiencing. And there's good reason for that.
Private accommodation platforms offer many more opportunities for guests and hosts to communicate directly and tailor the booking and experience around the guest's unique needs and wishes.
To compete and win, hotels need to be more accommodating when it comes to accommodations, experiences, and communications by:
Better displaying their inventory of rooms by showing layouts, up-to-date pictures, multi-room suites, kitchens if available, and exact locations (floor number, nearness to elevators, directional facings, etc.)
Investing in technology (e.g. AI and chatbots for enhanced customer service) and behavioral analytics to better anticipate and proactively serve guests' needs before they ask (e.g. complementary access to their hometown newspaper, lifestyle magazines, movies, and music)
Protecting data travelers provide in their profiles and use it to offer them a more personalized experience – find ways to delight them throughout the entire journey with Experiential Tokens of Appreciation (ETA), especially after they return home so they remember those tokens when they go to book their next trip
Let guests:
Select a specific room with personalized amenities (e.g. preferred beverages, snacks, pillows, etc.)
Book adjoining or blocks of rooms online (Remember, millennials don't like talking on the phone)
Book tours, activities, and curated experiences through an online 24/7 concierge service
Negotiate check-in/check-out times online
Communicate with hotel staff anyway they want – over chat, email, messaging apps, social media, and toll-free phone
And above all else, hotels need to embrace a person-first culture because caring is fundamental in a people-based business. Just ask self-made entrepreneur and visionary behind Virgin Hotels Chicago – Named #1 US hotel By Condé Nast Traveler's 2016 Readers' Choice Awards.
"From my very first day as an entrepreneur, I've felt the only mission worth pursuing in business is to make people's lives better. There's no point in starting a business unless you're going to make a dramatic difference to other people's lives."
Sir Richard Branson
Founder, The Virgin Group
Hotel owners and executives need to act in the best interest of their employees and customers, not just their own bottom lines or their shareholders. They need to build a foundation of trust with people if they hope to be invited to serve them and retain their loyalty in the long term.
Antitrust lawsuits, even those considered frivolous, are not winning US hotels any favors with travelers right now who expect more from "trusted brands." Perception is reality, as we all know, and right now the perception is that hotel brands are colluding with OTAs to reduce competition and raise consumer prices.
What's the future hold?
In my recent interview with Jerry Inzerillo, the outgoing CEO of Forbes Travel Guide, I asked him what the next 10 years would bring in the travel industry. I must admit, I was more than a little surprised by his answer:
"All hotel companies, independent and corporate, are being forced to go back to what the OTAs told them was going to be too expensive – direct communication and pre- and post-direct contact with the guest. People said, 'We'll take the cheaper alternative and trust you.' Now everyone has realized, that may have been a generationally-defined mistake.

"What you're going to see is that as the mega-brands continue to buy sub-brands – like what Marriott/Starwood has done, what Accor is doing internationally now, what Intercontinental is doing, what Hilton is doing, Disney, and Hyatt – those mega-brands now are going to form new strategies and they're going to go directly head-to-head and cut or severely limit the allotments to the OTAs.

"There's a big war brewing. It's already started, but it will play out over the next few years and it's going to be the first lodging world war. It's going to be luxury lodging versus the OTAs."
If Jerry is right, and I think he is, then it's important for hoteliers to take action starting right now. Sure legacy accommodation providers are trusted more than OTAs and still recognized for better quality, customer support, and overall experiences. But hotels can't rest on their laurels.
They must continually adapt and cater their products, services, amenities, and experiences to the needs, wants, preferences, and even whims of the people they wish to serve – anywhere, anytime.
In effect, they must fight to win the battle for hyper-relevancy – the heartbeat of what Accenture calls "living businesses."
Many hotels, airlines, and cruise and ferry lines are already on the path towards hyper-relevancy in terms of mobile experiences, but others are struggling to raze the old way of doing things so that they can raise the new.
I witness this all the time in the hallways of hotels and jetways of airlines where unread and unwanted newspapers litter the floors.
It's a small step to go from an irrelevant, outdated experience to a more engaging mobile alternative. If you'd like to learn more about solving this one small barrier to relevancy through a better newspaper and magazine reading experience for your valued guests, let's talk.