Recently, our team attended Skift Global Forum in NYC, one of the leading conferences for travel executives and other leaders in the industry. While many conferences are a sea of booths and products, Skift's event is full of value-adding keynotes where C-level speakers share insights and lessons-learned over the last year. Speakers like the President and CEO of TripAdvisor, Executive VP and CFO or American Airlines, CFO of Marriott International, and the CEO of Delta Airlines.
Here are some of the hot topics we vibed with: things we learned from or aligned with our core values.
Market Trends and Insights
Businesses have been obsessing over the word "millennial" for a while now — trying to understand current trends and prepare for the foreseeable future. However, Haixia Wang, the Senior Director of Research at Skift, informed us that "Culture plays a larger role in determining travel trends over age demographic." A fact that a global industry like hospitality should tune into.
Marriott International, a key partner of ours, is also tuning in. Their CFO, Leeny Oberg, spoke about how they're using regional and cultural cues to pivot their strategies. "The growing middle class in China has exploded global travel. We've designed a program for our Chinese travelers. So they have a sense of comfort when they stay with us." This is a trend we anticipated a few years ago when we partnered with CIBTC to bring Chinese content to businesses around the world, helping deepen our relationships with companies like Cathay Pacific.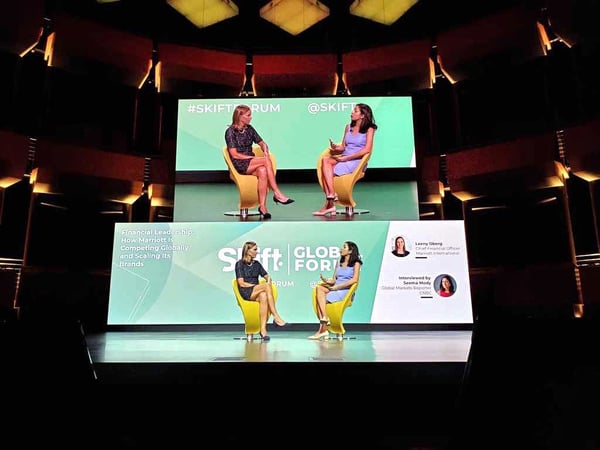 Another key market for us is the US, and Oberg went on to remark that "two thirds of travel [for Americans] is business related, while one third is leisure." This is exactly why readers need choice. Raphael Abbou, one of our Senior Area Managers in Hospitality, explains, "Whether travelers are trying to maintain their day-to-day routines or need an escape, our vast catalog covers 25 areas of interest. Our data from the airline space is testament that business travelers aren't just reading the news or Bloomberg Businessweek — they are multifaceted human beings with interests and hobbies. On PressReader, guests can read exactly what they want, when they want it."
These insights allow us to cater to the needs and desires of guests, and give them the experiences they seek today. What trends have you recently learnt about that will help your business?
Sustainability
At the forefront of our values is sustainability. For the planet, for journalism, and the business models that support it. This year, we continued to partner with some of the biggest airlines to reduce the weight of newspapers and magazines on board, bringing down jet fuel emissions immensely. In publishing, paper waste and the impact of global distribution continue to be reduced by our platform's solution.
Oberg echoes our sentiment, "We're providing opportunities at our properties that fit in with being a responsible consumer."
We have a responsibility to leave our home better than we found it. This is just the beginning.
Subscriptions and Loyalty
We thoroughly enjoyed the keynote by Brent Handler, CEO and Founder of Inspirato, whose approach to human-first business sounds like a page out of our strategy book. When talking about bringing the subscription model to luxury travel, Handler quipped, "Netflix is a great example. You consume differently when it's a subscription. You get to scroll through to see what you want." Yes. Yes. Yes. He went on to say what's painted in our hallways and written in our employee handbooks: "It's all about choice."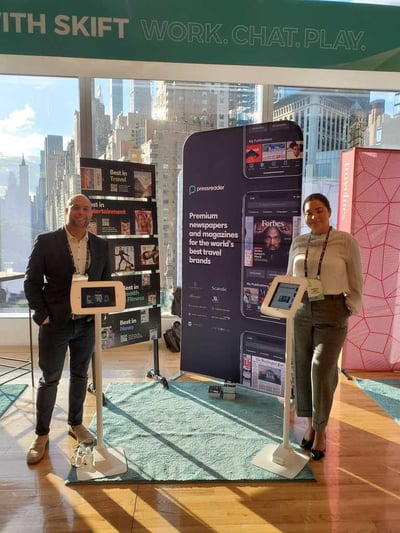 A job very well done to the team at Skift. The content was interesting and valuable, and every detail at the event was thought through. We're so proud to be a part of an industry that puts its customer's needs and wants at the forefront, and is willing to share their insights with the rest of their community. Let's keep the discussions going.
Learn more about how we fit into your sustainability and guest experience strategies by contacting us or emailing us at [hotels@pressreader.com].