The global tech company continues to bridge the gap between brands and their customers
PressReader's recent partnership with the Cathay Pacific Group represents a shift in the way people read and get access to content.
Starting today, all Cathay Pacific and Cathay Dragon passengers get sponsored access to PressReader. They can choose from thousands of publications to download to their own device 48 hours before their flight.
With a growing user base of seven million monthly active users accessing the platform through 15,000 partner brands around the world, PressReader is the largest platform for digital newspapers and magazines.
A new way for brands to build meaningful relationships with real people
For CEO, Alex Kroogman, this is the latest evolution of PressReader's unique business model. Readers can subscribe for unlimited access to thousands of titles, or get the entire experience sponsored by a company like Cathay Pacific.
"We're always building new ways for brands to create meaningful and organic relationships with real people," said Kroogman. "It's exciting to work with one of the world's best airlines – one that provides outstanding services and aligns with our mission to improve the way readers all over the world discover great content."
Ritz Carlton, Silversea Cruises, New York Public Library, and other global brands have already embraced PressReader's business model. They've integrated the platform into their customer experience. Cathay Pacific is currently the largest airline to offer this kind of content choice to its passengers.
"We are committed to enhancing our customers' travel experience at every stage of their journey with us," said Simon Large, Director Customer at Cathay Pacific. "Partnering with PressReader is an investment that strengthens our news and entertainment offerings and allows our customers to stay connected to the stories they care about when they travel."
A sustainable future for creators of quality content
PressReader works with more than 7,000 publishers around the world to make quality content available everywhere.
From dailies like The Washington Post, The Guardian, and Le Monde to periodicals like Wallpaper*, Popular Science, Bloomberg Businessweek, and NME, PressReader brings the best content together in a single app. Recently, the company secured the addition of several thousand more titles from mainland China.
This partnership with Cathay Pacific will put their stories in front of 34 million travellers in a tough-to-reach place.
A place for people who want to find stories that inform and inspire
The platform's content selection tool and dynamic home feed help people discover stories they like by highlighting the stories similar readers actually spent time reading. It's not about shares or clicks. It's about quality.
It's all about that satisfying sense of discovery.
Click here to learn more about the partnership.
[embed]https://www.youtube.com/watch?v=Hyg1sWGE-SY&feature=youtu.be[/embed]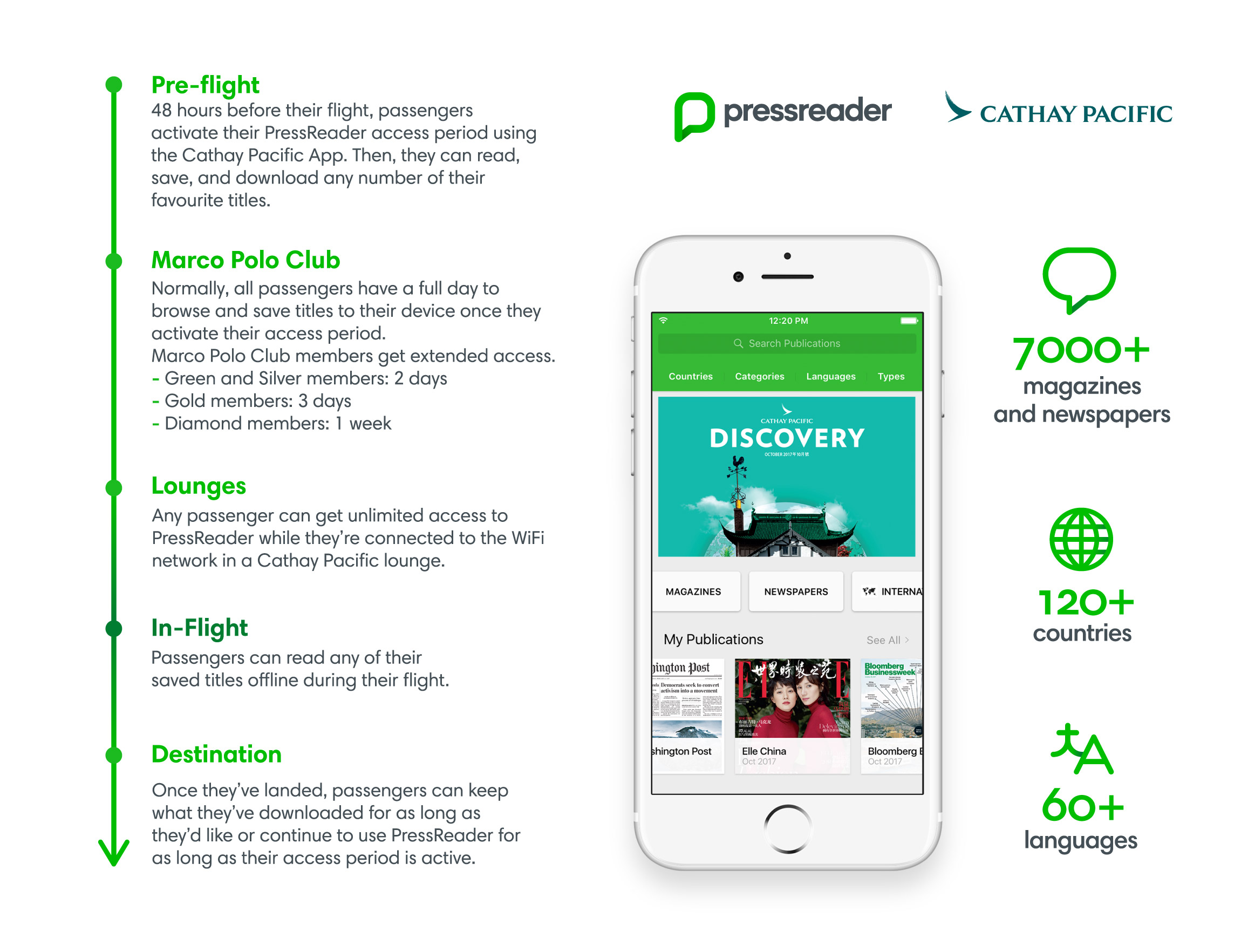 About PressReader
We're on a mission to improve the way people discover stories that matter. With 175 employees in Vancouver, and more in both Dublin and Manila, we're building a place for people to find great content from anywhere in the world. That's why we've partnered with thousands of publishers to give readers unlimited access to leading newspapers and magazines.
We're all about choice. Using their phone or tablet, readers can browse content online or download entire issues using the PressReader app. They can subscribe for unlimited access, or get the full experience sponsored by one of our partners.