Let's face it; we live in an era of serial switchers. It doesn't take much for us to abandon one brand for another based on a bad experience that would have been considered trivial just 15 years ago. But the digital age has made us less patient, more demanding, and, for better or worse, more selfish.
According to experience expert Ruby Newell-Legner, 51% of customers who have had a bad experience will never do business with that company again. And for the 49% with a more forgiving spirit, it takes 12 positive experiences to counter a bad one.
Today consumers hold all the power and call all the shots, not companies. And what they're shouting loud and clear is, "It's all about me!"
So it shouldn't come as a big surprise that 77% of brands today could disappear, and no one would care. Loyalty has become as fickle as the weather. And the hospitality industry is not immune.
Has hotel loyalty has lost its luster?
Given the number of loyalty cards I used to have in my wallet, and have now stored on my phone, it was truly surprising to learn that 60% of travelers don't belong to a loyalty program. But when I thought about it, it made some sense. Too many programs are archaic and hard to understand, often overpromising and underdelivering.
Just ask Alan Young, CEO of Puzzle Partner, a strategic marketing agency in the travel and hospitality sector,
"I have been a Hyatt Gold Passport member for 15 years, and there are only two things that I request as part of my profile: high floor and away from the elevator. I would say that 90% of the time, they get it wrong."
Consumers who join loyalty programs today are typically driven by their desire to get the "best deal," according to Accenture's "Customer 2020: Are you future-ready or reliving the Past" report. This short-term loyalty comes with little commitment, so although they may say they are loyal, their behaviors demonstrate something else. The rate of abandonment with these consumers is high.
Many loyalty programs in hospitality have become more about points and less about people. This is partly due to the capricious nature of the "me generations" — the serial switchers we talked about earlier. But it's also because loyalty tech is too often left to manage the relationship between the hotel and the guest. Mr. Young's experience is a prime example. The hotel chain had all of his preferences in their CRM system, but the people allocating the rooms didn't bother to look for them. What good is technology if you're not going to use it?
The other problem lies in the fact that too many hotel employees don't know what special perks and amenities are available to their loyal customers. As a multi-million mile traveler, I've experienced this far too many times at hotels and airport lounges. I know a product is available, and often there is even signage about it in the venue, but too many customer service agents can't begin to tell you how to access or use it. No wonder a study by Esteban Kolsky, CEO of thinkJar, found that when an agent doesn't have the information a consumer needs,84% of them become frustrated.
And then there are amenities craftily concealed. A veteran employee of Mexican Beach Resorts, Andrea Lopez, shared on Business Insider,
"Every good hotel has benefits and amenities they don't advertise because they don't want guests to make the most of them."
Wow!
So what do today's travelers want?
It wasn't that long ago that travelers chose a hotel based on its amenities, with free high-speed Wi-Fi being high on their must-have list. Today there are more amenities out there than one can count, many of which are underutilized.
As a result, consumers assume the basic needs of cleanliness, a comfortable bed, in-room coffee/water, connectivity, fitness room, business center, etc. are available. So now they focus on the three major things that mean the most of them.
1. Corroborated value for money
% Increase travelers are willing to pay for a hotel room based on rating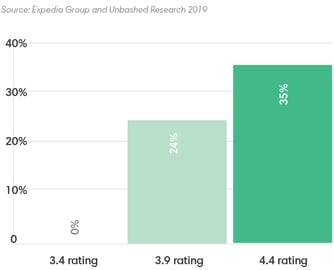 According to a 2019 study, price is an influential driver of hotel selection, but that doesn't mean travelers will pick the cheapest option. They choose the best value based on two things:
Their budget
Guest ratings on social media and review sites
Guest ratings have a stronger influence over a hotel choice than most people think. 72% of travelers value guest ratings higher than the hotel brand. And the higher the guest rating, the more people are willing to pay for the room.

2. A commitment to sustainability
According to Booking.com's 2019 sustainability travel report, 71% of travelers believe that hotels, airlines, and cruise ships should offer consumers more sustainable travel choices to help save the planet for future generations. In addition, Skift Research found that 53% of global travelers (65% for Gen Zs) are actually willing to pay more for products and services that demonstrate environmental responsibility — an increase of 13% over last year.
Many hotels have Corporate Social Responsibility (CSR) programs that talk about reducing their carbon footprint, decreasing water consumption, conserving energy, and managing waste. Removing single-use plastics, encouraging linen and towel reuse, and recycling are common initiatives under this umbrella.
Transitioning to digital is also a priority for the top hospitality brands, including the adoption of mobile apps for check-in/out, keyless entry, self-serve kiosks, digital concierge services, the use of AI-driven chatbots for customer service, and the replacement of printed media with digital.
But according to Skift's Greening of Travel 2019 report, the travel industry as a whole has only paid lip service to sustainability, abdicating its responsibility by avoiding paying to fix the damage it has done.
It's time for hotels to put their money where their CSR mouths are and do less posturing in their PR-speak, and more actions to save our planet!
3. Quality experiences
We all know that today's consumers have high and growing expectations when it comes to customer experience. By 2020, it is forecast to overtake price and product as the key brand differentiator.
According to Forrester, Experience-Led Businesses (ELB) outperform their contemporaries in terms of topline metrics.
170% higher retention rates
160% higher customer lifetime value
140% higher revenue growth
So what's holding you back?
Giving customers great experiences not only increases the amount they buy from you, it often makes them willing to pay up to 16% more for a product/service. When looking at just millennials, that number jumps to 21%. As an added bonus, 65% of these consumers are also more willing to share their personal data with the brand.
Now you may be thinking that your customer experience metrics are pretty good; after all, complaints have been few and far between. But don't fool yourself. No news is not good news. Only one out of 26 unhappy customers will complain about a bad experience. Check your churn rate; they're hidden in there.
And while the above research is specific to the US, the sentiments are shared across most countries worldwide.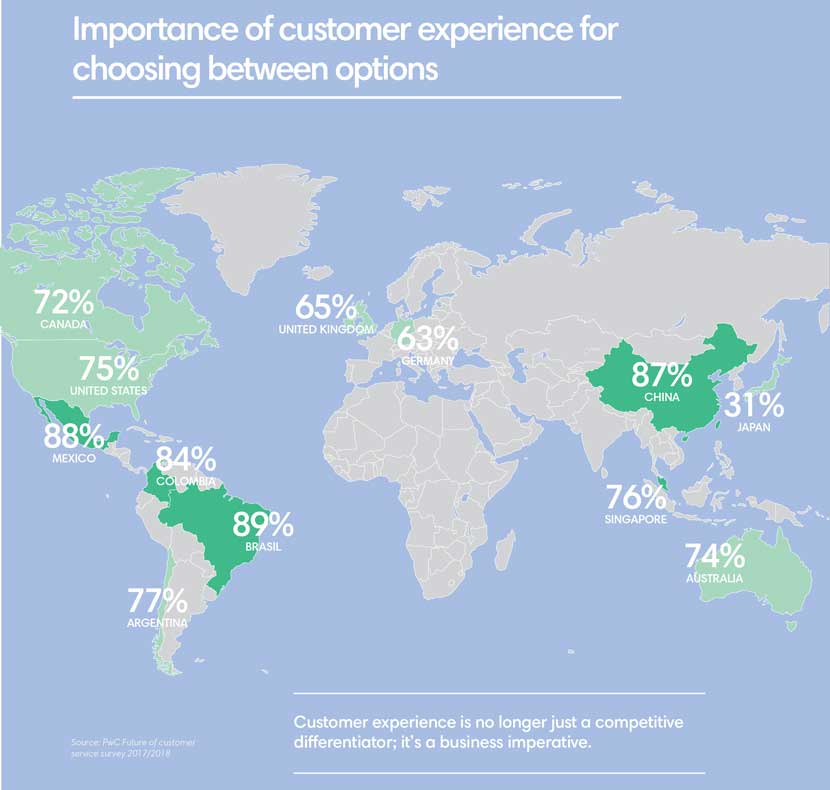 Customer experience is no longer just a competitive differentiator; it's a business imperative.
Make it personal
Not only do travelers want great experiences from their travel providers, 60% of them say they want them to be personalized. Unfortunately, according to Accenture, 75% of travelers believe that only a handful of travel brands excel in experience and relevancy. And it would appear that travel executives would tend to agree.
How travel execs rate their organizations in respect to: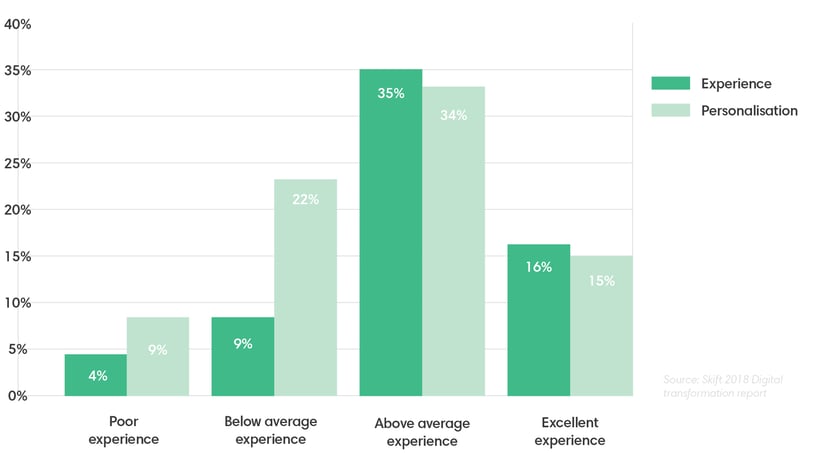 So how do you cater to the personal desires and passions of today's new generation of travelers, especially when companies like Amazon and Uber taught them that everything could be had with the touch of a button? With me-first travelers' expectations of instant gratification, you better make it digital.
Now, please don't say you send out emails using the person's first name. That is not personalization. If the content of your correspondence doesn't target an audience of one - me - it's not personal. And if it's not personal, it's not relevant. And if it's not relevant, let's be honest. It's just spam.
Make it digital
Although it took a while to adopt technology, much of the travel industry is now actively transitioning itself to digital.
Ferries and cruise lines that are making waves in these unchartered waters are doing it through innovative technology that delights but doesn't distract. Spirit of Tasmania, Carnival, and Seabourn are just a few of the many travel brands who have committed to personalization in the form of mobile apps and wearable tech like Carnival's medallion.
Airlines are removing seatback screens and driving more onboard services and media (news, video, and audio) to passengers' devices - giving passengers the news and entertainment they want on their smartphone, tablet, or laptop.
Hotels like Marriott, AccorHotels, and Scandic, to name just a few, have stopped littering their hallways with printed newspapers - offering instead, free access to thousands of digital newspapers and magazines to their guests and visitors.
Hotel's plans with respect to print and digital media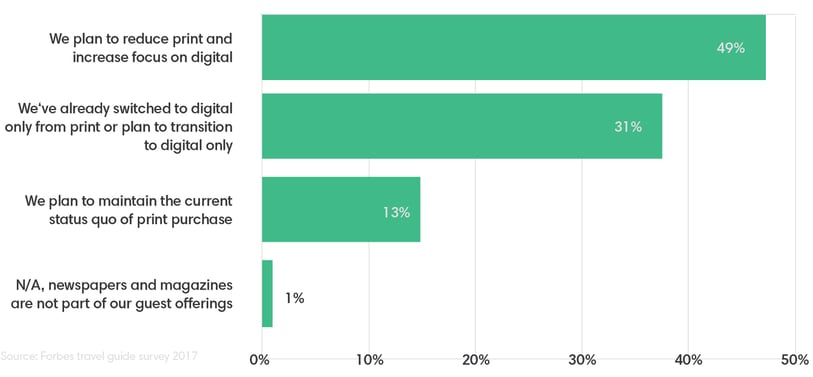 Not only does that translate into less paper, less waste, and less recycling costs, it provides guests with the diversity of content they could never get in print. Killing two birds (sustainability + digital) with one stone is helping to increase brand value, competitive advantage, and customer loyalty for the brands.
"The trend towards adopting digital publications in hotels is accelerating rapidly. It's not growing rapidly; it's growing super-rapidly."
Jerry Inzerillo
CEO of Forbes Travel Guide (2014-2018)
It's all about the journey – the whole journey
One of my biggest pet peeves about some hotels is their lack of initiative to capitalize on the relationship they have (or could have) with customers between stays.
Where hotel execs see the biggest opportunity for growing customer experience in the next two years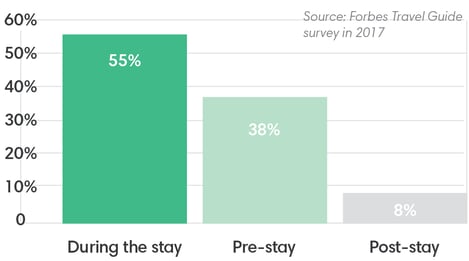 Instead of making the most of opportunities to build long-term relationships throughout the entire customer experience journey – from the moment a person thinks about booking a trip right through to their return home and their next wanderlust wish – too many hotels only focus on the low hanging fruit between the booking and check-out phases.
By not focusing on the whole customer journey, they lose out on a huge opportunity to create brand advocates and grow loyalty post-stay.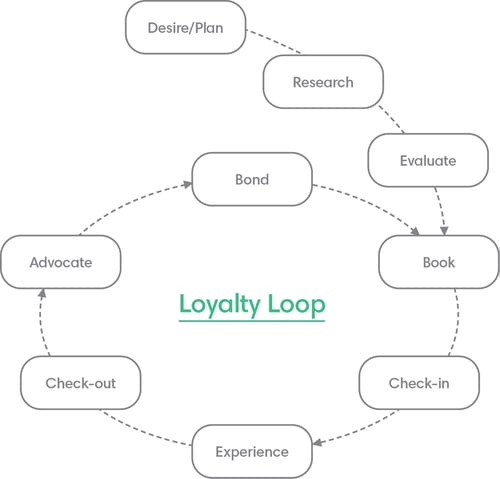 Perhaps it's because more and more bookings are made through Online Travel Agencies (OTAs) – bookings that take revenue away from hoteliers and hinder access to those guests' contact information.
But hotels still have lots of opportunities during a guest's stay to secure that information. All it takes is a little imagination, attention, and effort to create memorable experiences customers will want to relive.
So instead of treating guests who don't book direct as second-class citizens, shower them with superior service and small tokens of affection — the biggest driver of brand loyalty.
What drives brand loyalty by age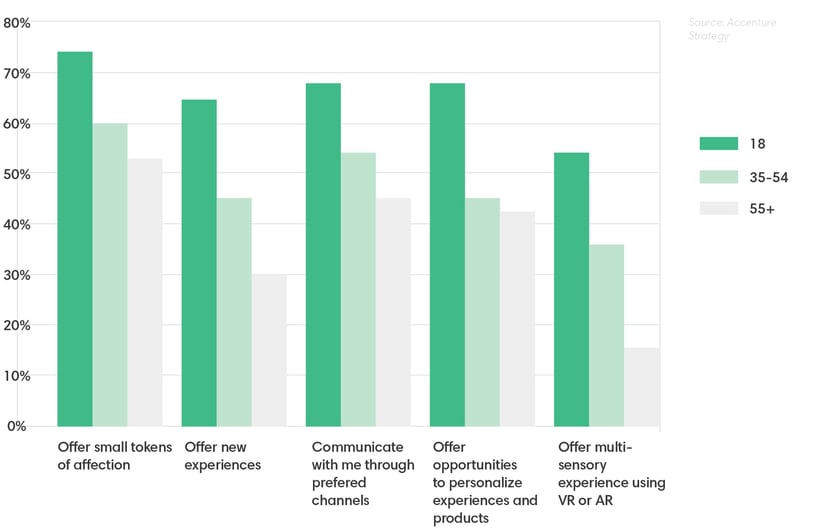 Because as Omar Abbosh, Chief Strategy Officer at Accenture, advises us:
"It's not about customer loyalty any longer; it's about company loyalty to customers."
Drive loyalty and retention through small tokens of affection
Although we've been living in a hyper-connected society for years, the practice of giving a creative digital experience as a digital token of affection isn't as common as one might expect.
The typical way hotels connect with guests after they've returned home is through a generic thank-you email that asks them for a review of their stay — helpful information for the company, no doubt, but not something that instills loyalty with the customer.
May I suggest that instead of sending an impersonal and automated email asking me about my hotel stay, give me free access to Netflix for a period of time so I can finish watching the movie I started in my room, or send me the next digital issue of a magazine I read while in your hotel.
Now you've got my attention and interest. And given that most of us have an attention span of less than a goldfish, that's saying a lot.
You've just given me a creative digital experience of tangible value that suits my tastes and passions on whatever device I choose. This unexpected digital token of affection kicks in the reciprocity principle — the feeling of indebtedness that translates into my need to return the favor. It's a win-win-win for me, the hotel, and the publisher.
A creative digital experience that keeps on giving can help hotels join the customer experience journey from the person's first desire to book a room, to the next time they start itching to get away from it all.
A little goes a long way
Having a person stay in your hotel is the warmest lead you'll ever get. Increasing retention rates of your guests by as little as 5% can boost your profits anywhere from 25%-95%. So don't let a single lead get cold.
Fuel the fire by offering personal digital experiences as tokens of affection at every touchpoint in their journey. Demonstrate your commitment to sustainability in meaningful and visible ways throughout your property. Walk the talk! And remember that guests who book with OTAs are low-hanging fruit, not threats to your bottom line.
Do all of these things, and it won't be long before your guests become advocates for your brand — recommending you to family and friends, posting positive reviews on social media, and helping grow your fan base and revenues.
The Art of Retention in Hospitality