Every industry in the world deals with the repercussions of employee churn. But despite numerous studies on the rising costs of voluntary resignations, the problem isn't getting the attention it needs.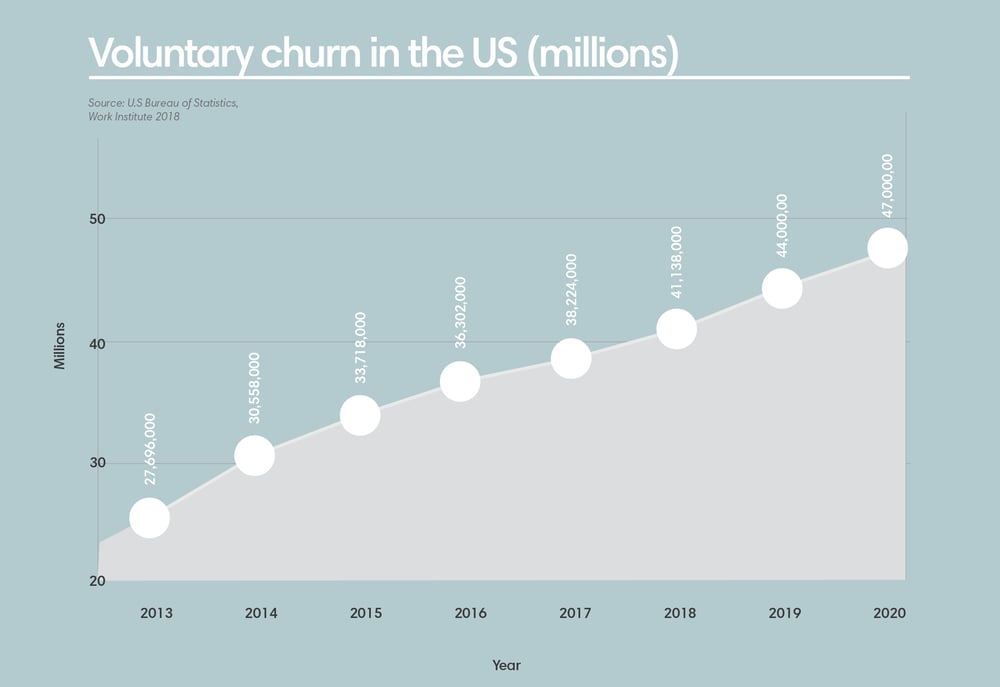 And when it comes to a turnover crisis, one would be hard-pressed to find a sector in more trouble than hospitality.
Employee churn in hospitality has reached a crisis point
Hospitality, the largest employer in the world, has an annual turnover rate between 31-34%. In the US, the rate for non-management staff is closer to 50%. And if one looks only at the hotel and motel sectors in the US, the annual rate is anywhere between 60-300%!
The situation is the same, if not worse, in the UK, where hospitality is the third-largest private-sector employer with over 3.2M workers. A staff shortage is already major concern (Brexit notwithstanding), and in 20 years, the sector is looking at a hiring deficit of over a million employees.
Given the cost of losing an employee can be between 0.5X and 1.5X their salary, it's pretty clear that hoteliers need to make employee retention a strategic priority. And they need to start at the beginning to understand why people choose to work in their sector in the first place.
Hospitality has a reputation problem
According to a UK YouGov study, the number one reason people choose to work in hospitality is that it's a last resort (no pun intended).
That's pretty telling, don't you think? Imagine hiring someone who really doesn't want to work for you, but you're the only game in town. What does it say about the reputation of your hotel? What does that say about the mindsets of those "can't get a job anywhere else" employees? How do their attitudes and approaches to work impact your guests?

Impact of a bad hire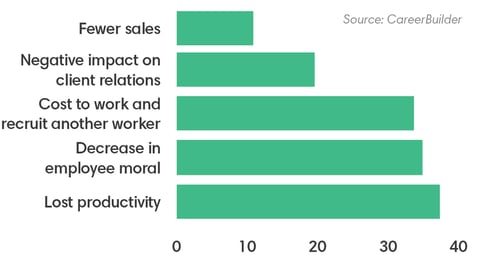 The costs of a "bad hire" are high and include lost productivity and lower employee morale. But what's even worse is the negative impact they can have on customer relations and sales.
In PwC's 2019 Annual Global CEO Survey, 63% of Hospitality and Leisure (H&L) CEOs said that difficulty in hiring workers wasn't just because of a skillset shortage, but also due to the "industry's reputation" and "working conditions."
No wonder H&L CEOs are notably less optimistic about their future revenue potential than their global counterparts.
Hospitality & leisure CEO's confidence in revenue growth vs. CEO's globally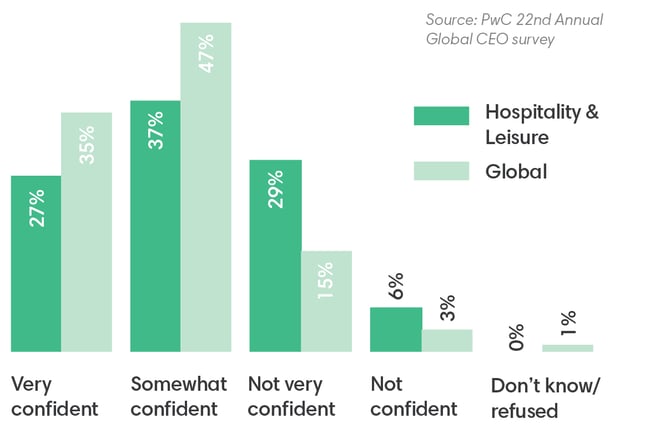 What can hotels do to stop the bleeding?
"If you take care of your employees, your employees will take care of your customers, and your customers will take care of your shareholders."
Sir Richard Branson
Start by putting employees first!
Hire the person, not skills. Look for someone who truly "gets it" when it comes to delivering superior guest experience. If that attitude isn't there - even with employees who rarely have the opportunity to interact directly with guests - their skills won't matter. Your entire company should be filled with people who embrace your culture of service excellence.
Once you hire the right person, invest in them, so they never have a reason to leave.
Offer a competitive salary and benefits package (e.g., health, dental, vacation, and retirement savings matching).
Train them to so they can excel in their job - both hard and soft skills.
Communicate with your ears as Sir Richard Branson
Give helpful feedback on an ongoing basis to improve performance. But make sure that every supervisor is trained in the art of constructive criticism before letting them critique subordinates' work.
Foster employee development by giving them the training they'll need to grow within your business; this could be a new skill, tuition, or language training, to name just a few.
Promote from within whenever possible.
Embrace individuality and inclusivity
Have them stay at the property they're working in, so as a guest they can learn and understand the value of each amenity.
Surprise and delight them with experiences that make them feel special, like access to the same amenities guests enjoy, or a free weekend with their family at another one of your hotels.
Celebrate successes, even the small ones.
Walk the talk.
Say, "Thank you." Often.
Hotels that excel at retention
Employees can be the best ambassadors for your hotel, but only if they have the tools and training to showcase your brand in every interaction with a visitor or customer. A stunning lobby entrance may impress a guest for a moment, but a memorable "surprise and delight" experience with an employee will last long after they leave. Hilton Hotels' senior VP for customer quality and performance, Jim Hartigan, explained.
"Quite frankly, whatever product we have, a competitor can copy," said Hartigan. "A certain kind of bed, a television, a showerhead, all of this can be copied. What can't be replicated is the genuine, personal service."
Few hotel chains ever make the Best places to work designation. Five made it in the US this year with Hilton taking the top prize. It was also the only hotel chain that made it into Europe's Best places to work top 25 list at #10.
Best hotels to work at in the US 2019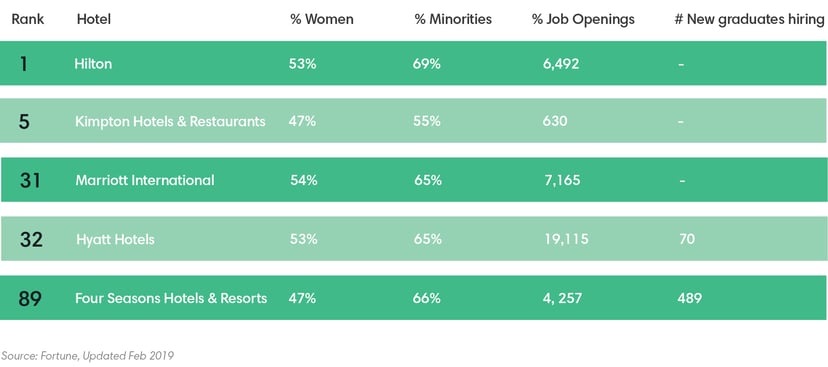 Hilton
Being ranked #1 on the 2019 Fortune 100 Best Companies to Work For® list in an industry where most workers are some of the lowest paid in the US is a pretty impressive accolade. It's particularly meaningful given that "85% of the evaluation is based on what employees report about their experiences of trust and reaching their full human potential as part of their organization, no matter who they are or what they do."
Hilton's secret: "Treat team members of every position as well as the guests who stay at Hilton hotels."
Employees are an investment, not an expense, and they deserve more than just a paycheck. Which is why Hilton has been remodeling its staff spaces as part of its goal to improve employee experience, reduce turnover, improve customer service, and drive profitability.
The company has also increased parental leave benefits for salaried, and hourly employees and discounts on hotel stays for all.
These employee-first initiatives seem to be working. Turnover dropped 6% (15% for millennials, known for being one of the most difficult demographics to retain long-term) in 2017 at all of its US properties - a savings of US$30M annually. The quality of applicants rose, and trust in leadership, based on internal surveys, increased by more than 7%.
Marriott International
Marriott came in at No. 2 on Best Big Companies to Work For and No. 31 on Fortune's 100 Best Companies to Work For list in 2019, garnering high scores all around.
And although it's already the world's largest hotel company with over 30 brands and close to 7,000 properties worldwide, Marriott is not resting on its laurels. Earlier this year, the 92-year-old hotel chain announced its three-year growth plan to open another 1,700 hotels around the globe.
One would think that this growth-by-acquisition strategy would wreak havoc on employee morale, particularly with the addition of Starwood Hotels & Resorts in 2016. That one purchase brought the total number of employees/associates to 428,000 in 130 countries.
But even with that massive integration challenge, Marriott continues to be on Fortune's 100 Best Companies to Work For - a recognition it's been awarded every year since Fortune began publishing its list in 1998.
Under its A New Marriot - for All and by All vision, Marriott is putting even more emphasis on innovation and drawing on the ideas and passions of its employees, regardless of job title. The leadership team, starting at the very top, believe that a diverse, inclusive, and rewarding workplace for all is the foundation of agility and invention. And it's putting its money where its mouth is.
Back in 2008, when the recession hit, some Marriott employees began to lose their health insurance benefits because their shortened hours no longer qualified them. Within minutes of hearing about it, CEO Bill Marriott announced that those employees would continue to receive benefits.
Last year when Marriott was about to get a windfall due to the passage of new legislation which reduced the effective corporate tax rate, the executive team allocated US$140M on programs to support employees' wellbeing, which included a retirement-matching savings plan.
Make every employee a brand ambassador
Almost every person who works in the hospitality industry is at the forefront of guest service and experience, but few still receive the level of training and support needed to excel in delivering superior customer experience.
My work takes me all over the world, and as a frequent flyer and hotel guest, I often feel like I spend more time in airplanes and hotels than I do in my car and home.
I've witnessed the evolution of the Hilton and Marriot brands, and it's very encouraging to see them embrace employee-first leadership, sustainability, and technology. Sadly, too many hoteliers are still growing by replication rather than by innovation. And you can see it the moment you enter the lobby and interact with an employee, or walk down the hallway to your room dodging printed newspapers littering the corridor.
Still, the lack of awareness among hotel staff in terms of offered amenities and services boggles my mind. Except for perhaps the front desk staff and concierge, few if any employees even know what's available to guests, let alone help them use them. Instead, they politely apologize and tell me to call the front desk or the concierge - both of which leave me on hold. It wouldn't take much for hotels to provide easy access to support materials for the amenities for employees to share when guests ask.
It's time for all hotels to put its employees first and give them the tools and training to ensure that they're ready, willing, and able to deliver superior customer service to every person who connects with the brand.
Maybe start with a new vision and a culture of inclusiveness and fresh ideas. Leigh Gallagher, an editor at Fortune magazine, said it best in the case of Marriot, "The next time you find yourself in a Marriott hotel, stop a housekeeper and ask what the guiding principle of the company is, and chances are she'll say some version of 'Take care of the associates, the associates will take care of the guests, and the guests will come back again and again.' That's J.W. Marriott's founding philosophy, and while not necessarily a wholly original concept today, it runs through the DNA of the company."
It's quite simple. If you want to take better care of your guests, so they keep come back, start by taking better care of your people.
The Art of Retention in Hospitality