Growing loyalty among guests gets harder every year, especially with deep-pocketed Online Travel Associations (OTA) and Alternative Accommodation providers waging to win the bookings war. But it's not just guest retention hotels need to worry about. Employee turnover is an escalating problem for hotels in many parts of the world, with churn rates ranging from 30 to over 73%.
It's one of the reasons PressReader decided to focus on Retention in Hospitality for its January 2020 edition of The Insider and why we reached out to the Forbes Travel Guide Standards Advisory Committee to get insights into what hotels are doing today. Because they believe as we do that employees' experiences have a high impact on customer experience.
The impact a back-of-house employee has on the guest experience

Exemplary service comes from exemplary service providers
According to Forbes Travel Guide's CEO, Filip Boyen, out of the 900 standards checklist items used to evaluate luxury properties, 75% of them are based on service. And who is responsible for delivering exemplary service? Every single hotel employee from the dishwasher to the CEO has an important role to play in guest retention even if they never actually meet a guest. This is why it's so critical that hotels invest in the right talent for every position in their organizations - people who have the "hospitality gene" and an innate desire to serve.
Unfortunately, the industry isn't attracting the talent it needs. In fact, it's not attracting many people at all. In PwC's 2019 Annual Global CEO Survey, 63% of Hospitality and Leisure (H&L) CEOs said that difficulty in hiring employees wasn't just because of a skillset shortage, but also due to the "industry's reputation" and "working conditions."
In the US alone, there are over a million unfilled hotel positions. The hospitality industry in the UK is also in dire straits with the largest employee shortage across all job sectors.
Some interesting facts about the hospitality workforce
The industry's workforce is getting younger and more diverse every year. So what are hotels doing to improve employee experiences to increase retention rates of their diverse workforce?
Satisfying expectations
Employee expectations, just like guest expectations, are always changing and growing. Keeping up with the latest trends for attracting and retaining top talent will be critical in staying competitive.
Beyond offering a competitive salary and benefits package, SAC members' hotels are creating better places to work in a number of different ways.
Employee benefits beyond compensation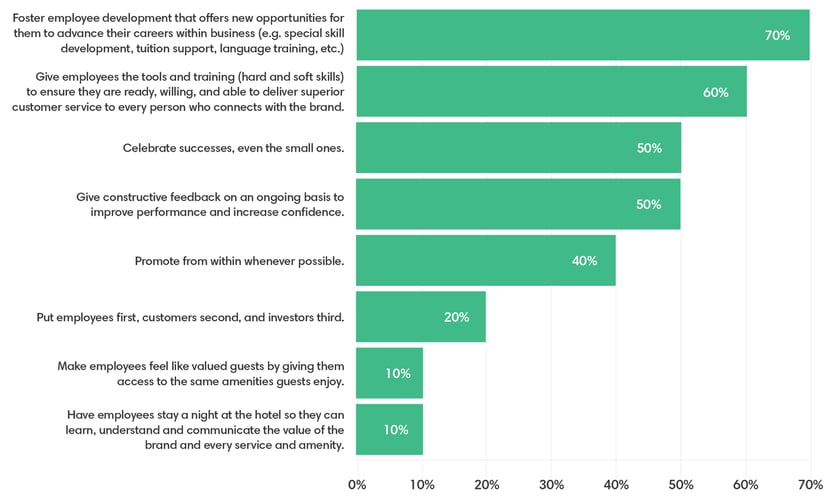 "I believe that employees are our biggest asset. I see the relationship between employees, owners, and guests as a triangle that needs to be balanced. If we treat our employees with respect and empower them, they will create magical connections for our guests, which will allow us to fulfill our promise to the owners of the hotel. In conclusion: employees, owners, and guests are equally important to the success of our organization."
Forbes Travel Guide SAC Member, 2019
Fostering a culture of diversity
According to Deloitte's global millennial study, both millennials and Gen Zs believe "most business leaders are not truly committed to creating inclusive cultures." Close to 66% of them believe that these executives only pay lip service to inclusion and diversity and that little will change without formal legislation.
But in the hospitality sector, there are definitely some positive steps being made. Marriott International is just one good example, ranking No. 2 on 2019 Diversity Inc. Top 50 Companies for Diversity List with a workforce comprised of more than 61% minorities and 55% women.
Ways of fostering cultural amenities and inclusion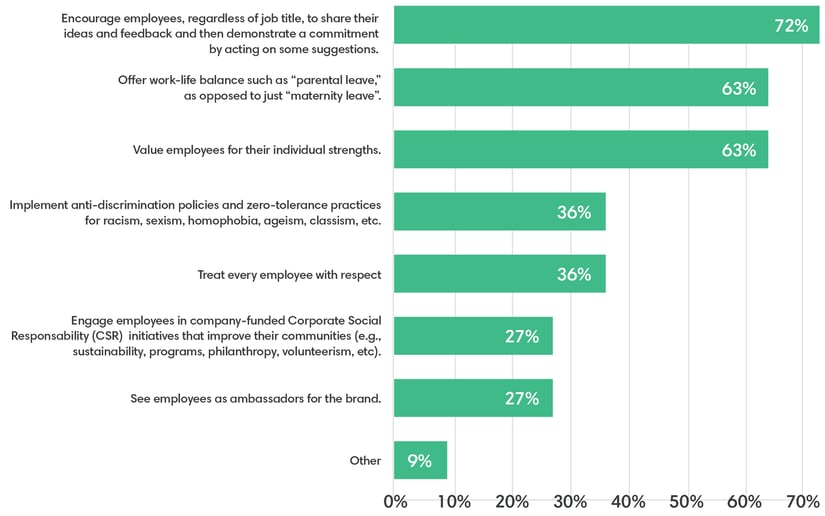 Do hotel workers care about multi-cultural amenities?
Cathay Pacific, Air Canada, British Airways, Iberia, and Turkish Airlines offer unlimited access to the thousands of international newspapers and magazines through the PressReader App to all of its staff. And the uptake is staggering.
"I would just like to say THANK YOU for offering free access to #PressReader to all Air Canada employees! This is such a great perk for all of us! I can't wait to start reading."
Air Canada Employee, June 2019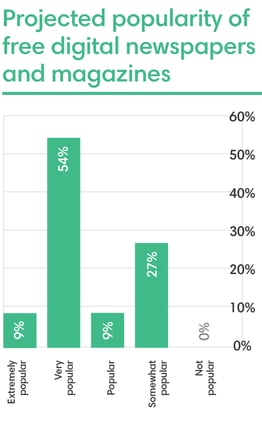 "The amount of choice PressReader brings has had a positive impact on our guests. They love that they can view publications from their home countries on the same day they're released, and they can read them even after they check out. "
Bobby Kausiyo
Front Office Manager at Hilton Cape Town
Given the high percentage of migrant workers in hotels, we decided to ask the SAC what they thought complementary access to thousands of mobile-friendly newspapers and magazines from around the world would mean to their multi-cultural workforce.
The results would indicate that an amenity that crosses cultures and countries and keeps workers connected with news from their homeland would be as welcome as hometown news is to the travelers staying in the hotels.
Enhancing employee spaces
Some hotels have ambitious programs to spruce up employee spaces in the hopes that it will improve their experience and, in turn, reduce turnover, improve customer service, grow loyalty with guests, and drive profitability. For example, Hilton upgraded the quality of uniforms, outfitting staff with 500,000 flexible and breathable outfits from UnderArmour.
Based on the SAC responses, the Hilton is not alone. It's good to see the effort many hotels are putting into the daily lives of its hard-working team. Let's keep it going!
How hotels are enhancing employee experiences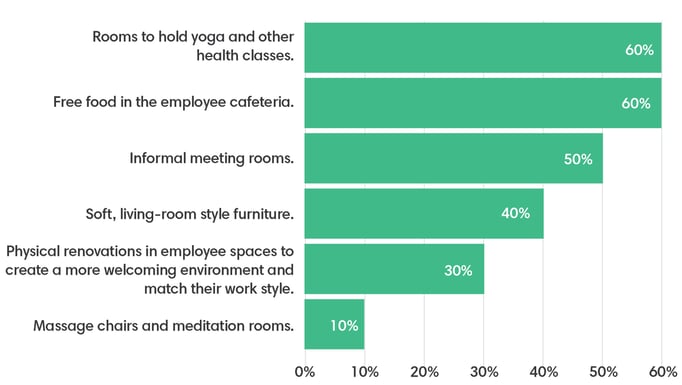 Improving employee experience through technology
There are two areas where technology can improve an employee's work and life experiences. The first is providing tools and applications that make their jobs easier, their work-life better, and the guests happier.
The second is offering experiences that feed employees' personal interests, such as complementary access to the most popular paid "all-you-can-consume" apps (e.g., Netflix, Spotify, PressReader, or Kindle Unlimited).
Technology used to improve employee experience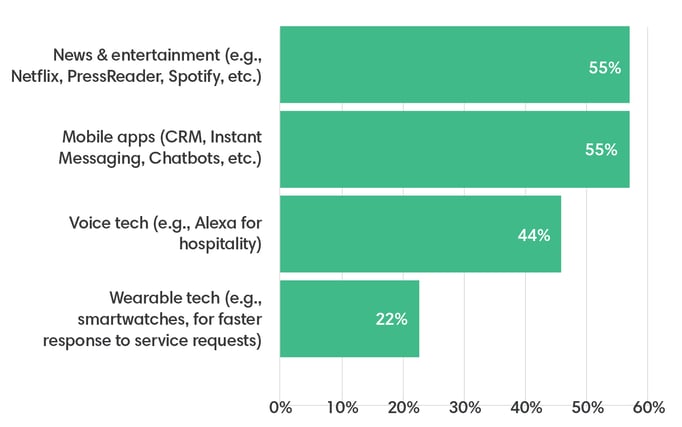 Companies like Amazon and Uber taught us that everything could be had with the touch of a button. This has led to high, and some might say lofty, expectations by guests who expect rooms to be smart, check-in to be online, room access to be keyless, and amenities to be personalized.
Although hotels have been criticized for being late to the technology game, we're finally seeing more and more properties exploring ways to use emerging technology to empower smarter and more fulfilled workforces. As Martha Stewart would say, "That a good thing."
Offering experiential perks
Sharing the wealth with their workforces through discounts, memberships, and freebies seems to be a common practice at some Forbes' Travel Guide member properties.
Other corporate benefits offered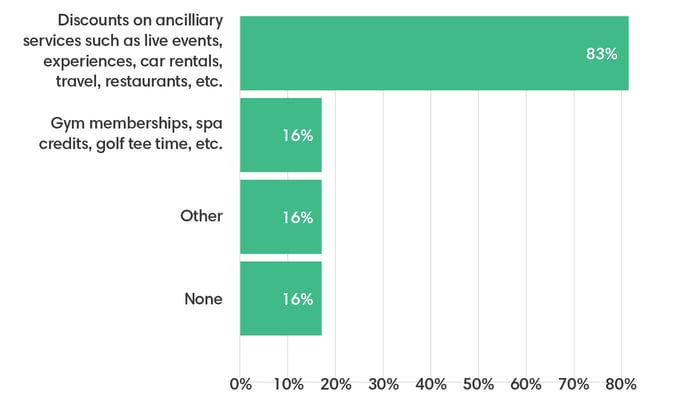 "We offer 10 complimentary nights at other hotels within our brand, highly discounted immediate family rates, discounted friend rates, and discount in our F&B outlets."
Forbes Travel Guide SAC member, 2019
Let's hope more hotel brands will take notice and follow suit.
Giving trust to get trust in return
Given the growth of technology support for hospitality workers, one might expect that trust in employees' prudent use of their own tech would encourage management to let workers carry their personal devices with them on the job.
Are employees allowed to use their own devices at work?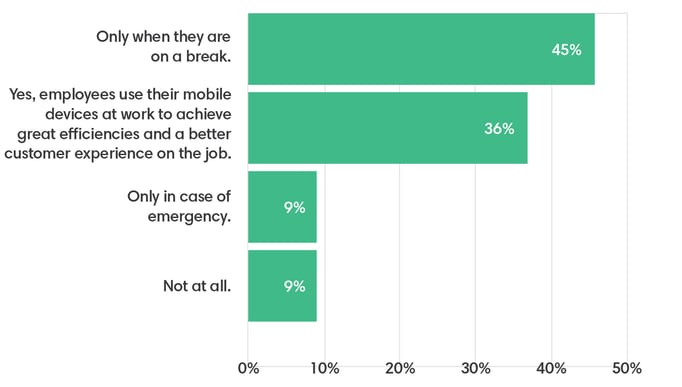 It would appear that a leap of faith in trusting employees has not permeated the management teams at many properties. But when I look back at the data that showed only 36% of hotels fostered a culture of diversity and inclusion by treating every employee with respect, it's worrisome.
Make 2020 the year of retention
A stunning lobby entrance may impress a guest for a moment, but a memorable "surprise and delight" experience will last long after they leave and keep them coming back for more.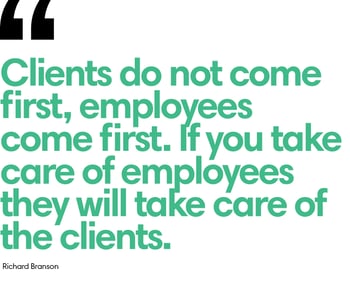 Your employees are at the forefront of guest service and experience and the best ambassadors for your hotel. Helping your team be the catalysts for growing customer loyalty is quite simple. Just ask Richard Branson.
Putting employees first will pay back in huge dividends for your hotel.
So why not make 2020 the year of retention by:
Fostering a culture of diversity and inclusion
Enhancing back-of-house spaces to show that you care about your employees' working environment
Helping employees be more successful in their jobs through the use of technology
Treating them like a valued investment, not an expense item
Letting them experience what it means to be a guest so they can help you excel in guest retention
Demonstrating that you trust them first before expecting them to trust you
I've shared what FTG's Standards Advisory Committee is doing to improve retention in their hotels and now I'd love to hear what you think of those initiatives and what you're doing to build loyalty with your rock star hospitality team and ultimately your guests. Let's talk!
About Forbes Travel Guide
Forbes Travel Guide (FTG) is the global authority on luxury hospitality. Its professional inspectors travel the world to assess hotels, restaurants, and spas in more than 60 countries based on 900 objective standards that determine our coveted annual Star Ratings.
FTG's Standards Advisory Committee (SAC) brings together luxury experts in vertical markets from around the world to share their insights and help shape FTG rating standards. In a world where traveler expectations are not only rising, but constantly changing, the SAC's role is more important than ever in keeping FTG ratings relevant for guests and the luxury brands that serve them.