In September 2019, some people from PressReader were attending the Skift Global Forum and watched a captivating speaker ask the audience upfront, "How do we feel about our average industry rate of turnover being 73.8%?" Talk about bringing down the house! Harsha Chanrai, founder and CEO of Saira Hospitality, doesn't seem to hold back any punches.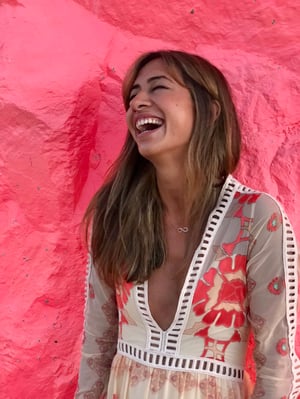 Harsha went on to talk about the costs of hotel turnover, which were communities, particularly in underserved, undereducated, and underemployed countries, are opposing hotels from building in their neighborhoods fearing change, cultural and environmental disruption, and increased traffic staggering. She also shared how
I started to wonder why any hotel would even consider entering these regions. Tourists be damned; exorbitant turnover rates and costs combined with antagonistic communities are negatives that seem to seriously outweigh the positives.
But as they say, "Every cloud has a silver lining." And for underserved local communities who need career opportunities and hotels who need quality employees, Saira Hospitality is literally popping up all over the world to deliver a unique recruitment and training solution where everybody sides win.
After reading more about Saira, I quickly reached out to Harsha. And I'm so thankful that she was able to chat with me in-between her project in Namibia and her new one coming up in San Miguel de Allende, Mexico.
NIKOLAY MALYAROV: Thanks so much, Harsha, for taking the time to chat. But before we dive into what Saira Hospitality is all about, let's start with the name. What's behind it?
HARSHA CHANRAI: About ten years ago, I was on a beach in Brazil with two girlfriends, and we were brainstorming on what I would call a hotel if I ever owned one.
We came up with Saira, which is also my 12-year-old niece's name. The name actually has a lot of different meanings in various languages. I'm Hindu, and although Saira has a beautiful meaning in Hindu, the meaning that speaks to me the most is in Arabic because it talks about the progression of life from one stage to another. It's almost like the becoming of age.
At Saira Hospitality, that's key because we see ourselves helping to transform people from one stage of life to another, and giving them the tools, skills, knowledge, opportunity, and awareness to be able to become better versions of themselves.
MALYAROV: How does Saira work?
CHANRAI: We partner with lifestyle and luxury hotels before they open in a region, ideally a minimum of four months before they start operating. Then we create bespoke pop-up hotel schools to train members of the local community to fulfill line- to mid-level hospitality positions at the property.
Ideally, we want to be on the ground a month before the pop-up, depending on the length of the training and the number of students we take on. The number, decided by the brand partner, can range anywhere from 20 to 200 entry-level employees.
We typically hold two-, six-, and eight-week courses, depending on the positions being filled, making sure the students graduate just before the hotel opens so they are ready to start working the moment we recommend them to the hotel partner.
The process for screening students is quite rigorous. We start with a large group of candidates (double the number of students we will eventually train) and put them through four rounds of interviews before we accept them into the Saira program.
As we're focused on hiring local people, we make sure we allow for time to source, interview, and train local trainers to help us deliver the curriculum.
MALYAROV: Can you share some of the countries (developed and developing) where you have operated?
CHANRAI: We started with a pilot in South Central Los Angeles, but one of the most impactful experiences was the recent partnership with Habitas in Namibia in November 2019.
Namibia has one of the largest socioeconomic divides in the world. Some of the students were traveling 10 hours to come to our information day or attend the program. Some of them had been out of work for eight years.
When I asked them how much money they need, many said they were happy with monthly salaries of only US$50 or US$100! So, you can see the impact that we could make in a market like that was huge.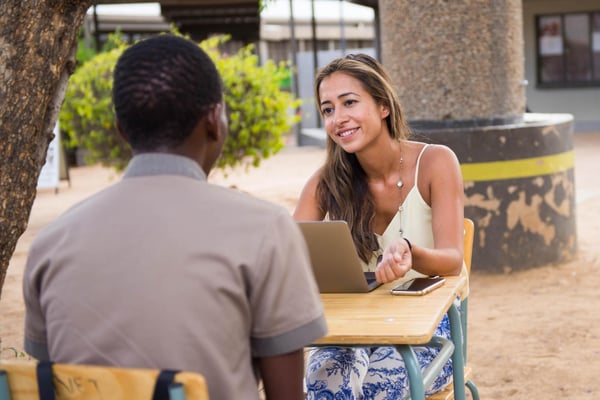 MALYAROV: In what other countries have you worked?
CHANRAI: We've done two pop-ups in Mexico, and I'm excited that we're going to be doing two more there in 2020.
After our first pop-up in downtown LA, I met Liz Lambert, who is the founder of the hotel group, Bunkhouse. Liz invited us to do the pop-up in Todos Santos, Mexico, for her Hotel Cristóbal Baja.
Following that, in 2017, we did a pop-up in the Costa Palmas development in Los Cabos for their beach club, which would be serving the guests for both the Aman resort and Four Seasons Hotel within Costa Palmas.
In 2018, we did two more pop-ups in the British Virgin Islands following the hurricanes - partnering with Rosewood hotels, Virgin Limited Edition, Autograph Collection, and Bitter End.
MALYAROV: Awesome. But let me ask you this: why hotels, why this industry, and what drew you to it in the first place?
CHANRAI: It's a good question. I was definitely drawn to it because of my love of travel and connection and people and food and design.
In 2008, I was working in New York selling residences for an André Balazs property, the William Beaver House in the Wall Street district. His design, attention to detail, and the building that he was creating was very much a building made for lifestyle living. It wasn't the typical cookie-cutter apartment building we see so much of in Manhattan.
I started to notice his way of thinking was different from a typical developer's and realized he had opened my eyes to a new form of luxury through design. I started looking more into that and realized that what I loved about real estate wasn't closing a deal. It was the connections you can build with people. It was the spontaneity of not knowing where you were going or whom you were going to meet. But it was also just a love of walking into people's homes and apartments and marveling at the different styles and designs.
I started to read about and immerse myself in the world of, at that time, boutique hospitality what it looked like and how hotels weren't just about white-glove service and five stars and Ritz-Carltons. There were other kinds of brands emerging in the luxury lifestyle category, like Six Senses and Aman. That's what kind of drew me into that world.
So I moved to Bangkok and started selling residences for Six Senses, one of the brands that still stands out to me in how they build, operate, and their beliefs. Their whole philosophy is about awakening all of the five senses to enliven the sixth sense. It's only once those five different senses are alive that you actually feel that kind of euphoria that comes with awakening the sixth sense. It's kind of a spiritual, almost Buddhist approach.
In terms of their attention to detail, their service, and their designs, Six Senses set this high standard in my mind for hospitality. I think that's where my infatuation with hospitality began - somewhere between André Balazs and Six Senses.
MALYAROV: On a boutique hotel level, you can really focus on these things. This is why you're boutique because you're different; you are unique; your attention to all the elements of experience and creating a memorable experience are that much higher than, say, the brand level or even with some of the larger brands that I'm thinking of, of the Marriott's of the world. If you are a large brand, what do you learn from what the boutique properties do? And is it even doable?
CHANRAI: I'm from London, and one of the first hotels that inspired me was the Blake Hotel in South Kensington. It was inspiring because it was hidden, and it was on this street where you'd hardly be able to notice it. I think it's changed a little bit today, but back then, you wouldn't be able to notice it, and you'd walk in, and it's tiny. Each of the rooms was different in its own way: different names, different colors, and different themes.
But when you take the big brands, Marriott, Hilton, and Hyatt, they're all trying to replicate this now increasingly common lifestyle offering within their portfolio - drawing from the Ace, the Hoxton, and Proper Hotels, for example. The big brands are trying to copy what I believe are still independent lifestyle properties.
But you can't just take a formula and replicate it. You can't offer a green velvet sofa and think that it's going to suddenly make your hotel a lifestyle property. You might attract a certain demographic who thinks, "I don't want to take the risk of staying at a completely independent property or brand, so I'm going to stay at one of the larger brands, but I'm going to stay at their cool new boutique property."
I think you could still fill some beds if that's all you're looking to do, but you're not going to form a community, and I don't think you're going to form much loyalty, to be honest. I think it's going to be attracting the "gambler" who feels their pushing the envelope and not staying at the typical Hyatt property, but living on the edge by going into the Caption.
MALYAROV: What changes have you seen in the industry in the past decade in terms of guest experience?
CHANRAI: I would go back even just five years to when I called up a very big brand, trying to get Saira off the ground. I asked to speak to someone in their Corporate Social Responsibility (CSR) department. That brand, who I believe is one of the five or seven giants in the world right now, didn't know what I was talking about and didn't know what CSR was.
When I broke it down for them and explained it to them, they still didn't have anyone in that department, nor did they know nor seem to care what I was talking about. Today, that's changed a lot because it had to; hotels don't have a choice anymore. They have, fortunately, been forced to focus on their community and their social and environmental impact. That's been a huge change.
MALYAROV: How have guest expectations and the experiences hotels have to provide them changed?
CHANRAI: There are different types of guests, so it's hard to generalize. I think the guests who are going to the all-inclusive resorts in Mexico you and I talked about earlier have very different expectations from guests who are traveling every week or every two weeks of the year.
Today every hotel talks about not washing their sheets or hanging the towels trying to be "sustainable." Most hotels are saving on labor costs or ticking a CSR box, I believe. The guest today is looking for more than recycling their linens, they're looking to connect with the community. I think it's about creating or curating very unique experiences that lend themselves to that actual differentiator or uniqueness of a destination. If hotels are going to succeed, they're going to have to think about the guest that wants to immerse themselves in the community that they're entering.
I think a lot of them do to some level. Just like your experience in Mexico, it's about understanding the history, the Mayan calendar, and the culture. Some hotels understand that and curate unique experiences that reflect all those things. But they also need to include very personal touches that make a guest feel like a VIP even if they're not a returning guest or staying in the most luxurious of room categories - whether it's guest recognition, curated amenities, or off-menu offerings. These are the sorts of things that make it more compelling to stay at a hotel.
MALYAROV: Have you seen in your work what successful hotels are doing in terms of really trying to understand their guests in a way that it doesn't creep the guest out?
CHANRAI: SevenRooms is a really interesting way to get to know guests using technology. I think it is used more by restaurants to alert the staff about who people are, how many times they've been to the restaurant, what their average spend is, and whether they are friends of the chef - the kind of things that servers need to know. I think that technology is helping to do that.
I agree with you that it's not about creeping guests out. Some hotels take it too far. I know of hotels that take pictures of guests' kids and frame them so that when they walk into the room, the guests see their kids' pictures in the suite. I think that's a lot. Not every guest wants to see their children's faces framed in their hotel suite.
It all comes down to service and how are you train people. We can say at Saira, "You have to use the guest's name, and it's all about personalization." And we can ask our students how special do they feel when someone uses their name at a cafe or restaurant, but it's about understanding the brand and the guest's expectations when choosing that brand.
Recently we did this role play where students had to address someone by their name, say at the Ritz-Carlton. So they needed to know whether to call me Miss Chanrai or Mrs. L'Acqua, or Harsha, or even a nickname. That's going to be the differentiation. That's how you're not going to creep the guest out, because you understand who that guest is, their expectations of the brand, and then how you should act accordingly. It's not by the book to just use their name; it's going a little deeper than that or a lot deeper than that.
MALYAROV: One of the challenges that the hotels have had is an inability to connect with a guest because they've booked through an OTA or third party. Do you see any best practices in how hotels provide something in exchange for personal information? How do they encourage guests to book directly next time?
CHANRAI: I think the answer to getting rid of the OTA if that's what the hotel's looking to do to save on revenue, is to train their staff to really understand who that guest is. The way you do it is by looking at the body language, at the verbal and the nonverbal communication of that guest. So we're teaching our students about emotional intelligence and cultural intelligence. All of this not only enriches their lives, but it helps them to be able to read that guest and anticipate their needs. In the end, it's really about building that relationship and connection with the guest so they can read their signs. Once you've built that relationship, then they'll continue to come back.
I'd say that 80 or 90% of the time guests go back to a hotel time and time again is because of the people that work there. It's not because it has the best location or design. It's because of the people, whether it's the bellman or the bartender. It's the entry-level employees who often remember the guest, what their names are, what their drinks are, what their preferences are, who their family is, how their family's doing. Those kinds of conversations almost erase that boundary between the guest and employee. And suddenly you become, like Ritz-Carlton said, ladies and gentlemen serving ladies and gentlemen, but perhaps in a way that feels less formal, less foreign. When you can get to that level of equal, that's when you're going to be able to get rid of the OTA. That's when you'll be able to build those relationships so that they call you directly when they want to come back, and they know that they're getting the best rate. But they're also coming back to an environment and a community and almost a family that has known them for years after years.
MALYAROV: I had an experience where I was at this hotel and went to one of the shows, and the bartender suggested that we try a strawberry margarita as opposed to a regular one, and it was great. Three days later, we're at the same place, and the same server asked, "Would you like that strawberry margarita again?" It was one of those, "Wow, you remembered" experiences. So, I can completely relate to your point.
For someone who does their research across all different hotel chains looking for the best deal, yes, that experience touched me. But somebody else will equally impress me at another property, and at the end of the day, I'm still going to be looking for something that fits my budget, fits where I need to be, and provides the overall best experience.
MALYAROV: So, the question is, can we get rid of the OTAs? Last year Jerry Inzerillo, the CEO of Forbes Travel Guide at the time, said that there was a war brewing between the hotels and the OTAs. And at the end of the day, the only way to get rid of the OTAs is for hotels to not work with them.
But OTAs are so powerful these days, is that even possible? And given all they offer in terms of discoverability and discounts, I'm not sure that experience alone with an individual or a few individuals at the hotel will have you skipping the OTAs and booking directly in the future.
CHANRAI: I agree with you there. If that hotel is remarkably more expensive than the other hotels in the same category, would you still go back because of the service? I couldn't tell you that, but I think if you are all in the same category, which was my understanding, how do you get people to keep going back? One of the strategies to have guests not going through an OTA is giving them a sense of human connection, family, through the service.
But if there's a huge price difference, I don't know if you'd go back if it's remarkably more. What you could do if you did have that connection with the hotel is to reach out and say, "I'd love to come and stay with you again. I noticed your rates are $200 more than your competitors. Is there something you can do?" That's how you would skip the OTA. But if you didn't even have a connection with the hotel to begin with, then who are you going to write to? Who are you going to call?
MALYAROV: I've contacted the hotels directly but not to discuss their rates and try to get them to outbid someone else. I have never used that tactic, but you know what, I've just been inspired to do so.
CHANRAI: I do it all the time, no harm trying.
MALYAROV: You just changed my life!
CHANRAI: But that's all hotels want. They want you to book direct. And to be honest, even if I used an OTA to get a rate, I'd always call direct to make sure that they have the opportunity to match that rate, which I would say 90% they do.
MALYAROV: And what I'm noticing now is that when you book through an OTA, you're not as welcome at a property.
CHANRAI: That's why 90% of the time I book direct, because I know I'm going to get better service.
MALYAROV: We talked quite a bit about the before- and during-your-stay experience, but what do you see out there in terms of post-stay? What are the best practices that you're observing with respect to closing that loyalty loop by communicating with the guest after checkout?
CHANRAI: I'm still a fan of old-fashioned notes, to be honest with you. I think handwritten notes still go a long way. I haven't seen it that much. I think if and when I have a hotel of my own, I feel like that would be something that I would take the time to do.
We all get emails all day. Getting an email from a hotel with a discount is not exciting. Even if it's the right city for me and it's the right brand that I want to stay at, I'm not that excited by the email discount. I'm excited by the handwritten note, or just something unique and personalized.
MALYAROV: It humanizes the brand, right? It humanizes the brand and the transaction between you and the brand.
CHANRAI: Yeah, well, you just become people. You forget almost the name of the brand, and you remember the person who's working at that brand. It's not about staying at Brand X. It's about seeing that person again or being in that room again. You remember the design; you remember the scent; you remember the music. You don't necessarily care that it was called X or Y. I think that post-stay, that's how you're going to get people to return.
One of the things we were told at Six Senses was that you want to capture the guest before they leave the island, and often Six Senses was on islands. Because once they leave the island, it becomes harder and harder to bring them back. So, I think that if you can, if there's any way of getting the guest to rebook while they're on property, without obviously a hard sell, that's ideal.
MALYAROV: It's these unexpected tokens of appreciation that you can provide, right.
CHANRAI: Yeah, that's a very good short answer to what I was saying.
MALYAROV: Knowing that your favorite magazine is Men's Health or Elle and providing you with a free digital copy, with the message, "Thanks for staying with us. The next issue is on us." - something that doesn't come with a hard sell, evokes a reaction, "Wow, these people get me," and is an easy way for hotels to give a gift that comes with ribbons, not strings.
CHANRAI: People just want to be recognized and noticed. Everyone at every level in every culture just wants to feel important in some way. Sometimes their sign, as Danny Meyer says, is very large, and sometimes it's not flashing as much. But if you can just make people feel important, whether they're on property or off property, that should build the connection for them to want to see you again.
MALYAROV: There is a theory that the older generations are expecting full service from their hotel, you know, give me a butler; give me this; give me that. Whereas the millennials largely don't want to be bothered, don't want to be talked to until they need something. How do you reconcile the two very distinctively different demographics in terms of what they expect?
CHANRAI: I don't know that you do. I don't know that the millennial who doesn't want to be talked to or looked at is going to the same property as the older generation who wants a butler. I think that they're going to very different properties. I don't really see a brand that fits all, and if that brand does fit all, I don't think it's a very strong brand. I think a brand should speak to a certain demographic, and I wouldn't see my parents going to the same hotel that my niece wants to go to.
I wouldn't try and reconcile it, to be honest with you. I would let the older generation go to the Ritz-Carltons of the world with white-glove luxury, and I would let other generations go to Hoxton, or Ace, or other lifestyle properties.
MALYAROV: Just a few closing questions. You mentioned something about potentially having your own hotel.
CHANRAI: My dream five years ago and still today, is to create a hotel where the profits could fund the school, so there would always be a nonprofit school, always training locals who were underserved, undereducated, and underemployed to work in the hospitality industry.
But the hotel would be for-profit and would stimulate everything that I'm passionate about in terms of design, food, people, interconnections, and travel. But the school would also be a permanent part of the brand. So, yes, that's still the plan.
Hopefully in the next few years, we can expand into more permanent schools and hotels where we could then hire talent from the Saira schools directly, but also use that school to feed talent into neighboring hotels in the area to raise the levels of service in communities as opposed to just at the hotels that we develop or partner with.
MALYAROV: Who do you admire in the industry, and then what inspires you daily?
CHANRAI: I think that Habitas has spoken to me a lot recently before and after our partnership. It was one of the brands that I had on my radar that I felt would align a lot with our values because they value the importance of community and human connection, just as Saira does. I think that we both recognize that in hospitality, we're in the business of people, and people always come first.
They talk a lot about Habitas family, and I feel that's very important because it's offering our students this sense of belonging that many of them have been looking for their whole lives. So for me, it's a brand that speaks to me in the way they expand the consciousness that they have with their footprint. I like the attention that they pay to their family as well as their guests while putting their employees first. I feel a strong alignment with them.
I also think there are interesting brands coming up, like Locke, which is focused on merging the apartment and the hotel. Aparthotels, like Locke, are starting to outpace hotel rooms' growth. I feel that that's an interesting model that's growing, especially in Europe.
MALYAROV: You talked about Habitas putting employees first. You've worked with Richard Branson before. Can you tell us how his employee retention views might fit your own?
CHANRAI: Richard Branson is quite well known for putting the staff first, the customer second, and then the shareholders third. I feel that he has that ideology, like many of us have, that if your employees are proud of what they're doing, they're proud of who they work for, they're motivated and happy, and they have everything they need to do their job, then that will impact the guest satisfaction, guest experience, and guest retention, which will obviously benefit the shareholders.
So, I think it's very much speaking to the purpose economy that we're in right now - the economy where the way you'll succeed as a brand is no longer really dependent on your shareholders.
The reason customers are buying from you as a brand today is because of their connection to your brand. It's the way that you're going to attract talent. It's the way that you're going to get more guests and get them to return. So, I think that there's very much alignment between what Richard Branson has been saying for years and the purpose economy.
And then obviously we feel passionately that Saira is not just providing well trained local talent, but we are creating community diplomacy in areas where communities might face resentment towards the brand.
One of our KPIs is to reduce the level of turnover from 70% to about 10%. The way we do this, much as Richard Branson I hope would agree, is by encouraging hotels to hire local talent, especially at entry-level, who not only want this opportunity but need this opportunity. Taking them from school to work and creating kind of a community mindset is important for retention.
MALYAROV: Interesting. What keeps you awake at night?
CHANRAI: Unless I'm jet-lagged, not a lot can keep me up at night. I honestly feel a lot of gratitude for the work that I'm able to do, and I think that if I didn't have such a strong sense of pride and reward from what I do, then I would probably be up at night wondering what I'm doing with my life. But the more projects we get, the more impact we make, the more I feel strongly that I'm very much aligned with what my path in the universe looks like.
MALYAROV: You obviously have strong views on what guest experience should be. When you're at a hotel that doesn't meet those expectations, how do you deal with that?
CHANRAI: I'm the worst. I'm becoming more and more particular when it comes to service. A friend was in Namibia volunteering at Saira recently, and she was laughing because we notice every little thing. Because we're trying to teach every little thing, everything that someone does wrong is something else that I can put into my curriculum. When people do things that are exceptional, it's mind-blowing; when they do things that are wrong, I write everything down.
We teach at Saira that for every one customer that complains, there are 26 that are either silent or unhappy. So you really want to know the comments and complaints about the property.
It's a case study for me. I find it interesting when a service is really bad. Everyone's experienced terrible service. But there's a conversation. If it's a server, a bartender, or someone at entry-level, I'm curious to understand them as a person and why they're motivated to work at this place. I know it's not coming from them. I know that the problem is always going to be in management, to be honest with you.
So, when it is at entry-level where I recognize that the service isn't great, I try and understand as much as I can about what is driving that person to be there. It's often about just creating a conversation and just simply asking someone, "How are you?" but not, "Hey, how are you?" like "How are you?" I actually want to know how that person is. By giving them the respect that they deserve for serving you, you can change the circumstance once they realize that you're not just sitting there as a guest waiting to be served and waited on hand and foot. You want to recognize that person and thank them for their service, and understand who they are and what motivates them and what drives them, and why they are working there, and where do they see themselves. The more you can do that, I feel like the more you can get the kind of service that you're looking for because, as I said, people just want to feel important and be recognized.
It doesn't always work when you have bad service, but I think patience is important. I can complain, but I'd rather not if it was one person serving me badly. I don't want to single a person out and tell them it was terrible service. I'd rather try and remedy the service on the spot myself if I can, versus going to the manager and complaining.
MALYAROV: I very much appreciate your approach. So, you take almost a philosophical approach to this, "Let me help you help yourself to help others." You're not there just to complain, and you're certainly not looking for any compensation, whether that be a free night stay or loyalty points. It's about giving feedback that improves performance - feedback that helps bring me back to the property and that others will appreciate when you fix a particular area that I think you're deficient at.
CHANRAI: Right. There are so many different steps that we teach with customer service, and especially with complaints and service recovery. You want to know that there's action being taken. We teach students to empathize and apologize and diagnose and resolve and all these different steps, but really you want to know that you're not just complaining, and it's going nowhere.
Going back to your question earlier, how do you get the guests to come back? You can follow up on stuff like that. If you complain about a property, that gives the hotel a reason to follow up and let you know what they've done about it and how they can make it better next time you come. It's an opportunity to plant a seed. Complaints can be really powerful in terms of bringing someone back.
MALYAROV: Where are you off to next? What's your next destination?
CHANRAI: Actually, it's one of the places on my bucket list, so I'm excited. It's going to be San Miguel de Allende in Mexico. It's about a six-hour drive from Mexico City, but you can fly into a closer airport. It should be our next project in Q1 and is supposed to be beautiful - one of those little colonial towns with Spanish architecture and cobblestone streets. It's listed as a World Heritage Site.
It's actually famous for the Day of the Dead.
MALYAROV: Thank you so much again, Harsha, for taking the time to chat with me today. My team and I will most definitely be following Saira Hospitality going forward and celebrating your successes in making the world a better place to visit and live.
About Harsha Chanrai
Founder and CEO of Saira Hospitality
From a young age, Harsha Chanrai was strongly influenced by her father's philanthropic work in primary healthcare, eye care, and safe water projects in Nigeria and India, in addition to his work with Mother Teresa. She was educated in her hometown of London, England and developed a passion for luxury hospitality as Director of Marketing for Six Senses Resorts and Residences in Asia. Harsha continued in hotel operations as the F&B Marketing Manager for the Fullerton Hotel, Singapore, and at the Aman Resort, Sri Lanka.
Seeking a way to merge her passion for hospitality with her deeply rooted dedication to philanthropy, Harsha enrolled in the Master of Management in Hospitality (MMH) graduate program at Cornell University's School of Hotel Administration, where she began developing the concept for Saira Hospitality. Saira Hospitality won first place at Cornell University's Business Plan competition in 2014; it was here that Harsha realized the strong correlation between hospitality and philanthropy. Both are linked through the hospitality gene, the gene of service: service to the guest, and service to humanity.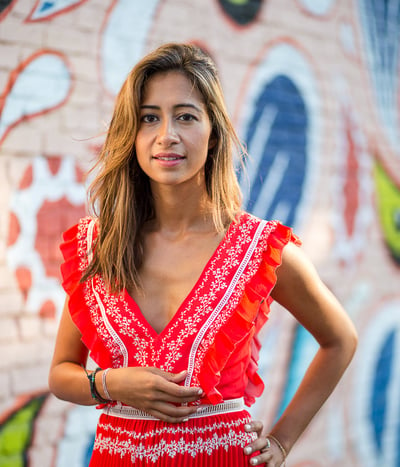 Saira partners with luxury and lifestyle hotels, creating bespoke pop-up schools to educate and empower local communities for employment in hospitality. Saira creates meaningful partnerships between luxury hotels and the communities they inhabit and offers hotel partners community diplomacy, higher retention, and local talent. Today Saira has graduated 251 Saira students with 100% ROI to participating hotel partners, including Virgin Limited Edition, Rosewood Hotels, Autograph Collection, Habitas, Bunkhouse Hotels, and Costa Palmas Beach Club (managed by Four Seasons Hotels).
Saira's pop-ups have taken Harsha to Los Angeles, Mexico, Namibia, and the British Virgin Islands over the last three years. From her upbringing in London to her career with Six Senses, Fullerton Hotel, and Aman Resorts across Asia, Harsha brings a global eye for education and hospitality to her work around the world.
The Art of Retention in Hospitality