When Resorts World Las Vegas opened on June 24, 2021, it was the first integrated resort to be built on the Las Vegas Strip in over a decade. The development boasts 3,506 guest rooms and suites, a next-generation gaming floor, a 5,000-seat theater and an extensive selection of shops and restaurants.
Resorts World Las Vegas was designed to blend timeless service with the luxury appeal of a contemporary urban resort and the high-tech hotel amenities today's consumers expect as part of the guest experience.
That's a complex balancing act that Shannon McCallum knows very well. The VP of Hotel Operations at Resorts World Las Vegas, McCallum has worked with some of the biggest and most prestigious brands in the hospitality industry throughout the U.S. and Canada in a career spanning over 30 years.
McCallum is an executive board member of the Nevada Hotel and Lodging Foundation as well as the co-chair of its Technology Committee. In addition to serving as the Vice President of the Hospitality Financial and Technology Professionals' Las Vegas chapter, she is on the HFTP's global board of directors. (The HFTP is the organization that produces the Hospitality Industry Technology Exposition and Conference). McCallum also co-chairs the Hotel and Housing Committee for the upcoming Super Bowl LVIII.
Given her wealth of experience and insights, we knew she would be the perfect person to ask about how hotel technology has evolved in recent years, as well as the hospitality technology trends that are shaking up the industry.
See also:

PressReader: Over the years, technology has played an increasingly significant role in hotel operations. In your experience, which technological advancements have had the most profound impact on day-to-day operations?
Shannon McCallum: Communication has changed with our guests over the last decade and the movement into the digital experience has brought efficiency to our business and allowed us to be able to communicate with guests in new ways.
This includes the embracing of online reservations, emailing guests prior to arrival, remote check-in, the use of a digital concierge to answer quick questions, an endless selection of digital newspaper content, the ability to check out without having to stand in line at a front desk and much more.
However, although there is much more automation, the services should still allow for in person interaction and communication if this is what the guest requires for more complicated interactions.
Our guests should be able to choose their path, especially in a luxury hospitality environment.
PressReader: It has been a challenging few years for the hospitality industry. Between staffing shortages, a global pandemic and supply-chain disruptions, what do you see as the biggest challenges?
McCallum: For many hotels, the ability to stabilize your workforce is key to providing consistent service and maximizing the net revenue of your property. Having the team continuously turn over is costly, with additional training needs and loss of productivity.
Culture has become very important and ensuring the team knows how much they are valued is critical.
PressReader: How has technology enabled hospitality-industry operators to meet these challenges?
McCallum: Being able to communicate to all colleagues, not just those with work emails, is mission critical to getting your message to the entire team.
Having a digital communication platform that allows you to curate important information and messaging is a huge asset to ensuring all team members feel included and informed.
While supply-chain disruptions have stabilized for the most part since the pandemic, we still find it important to plan for purchases as the process does continue to take longer and with an operation as large as our Las Vegas hotels, we purchase in larger quantities.
Careful planning is critical to ensure our team has the tools that they need to maintain standards and to take great care of our guests.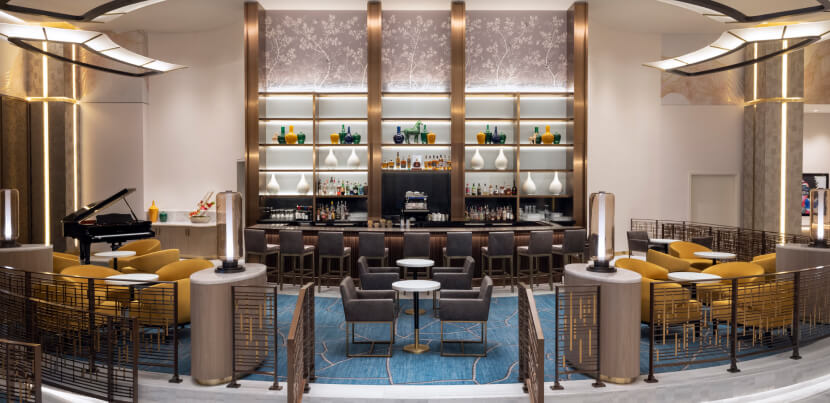 PressReader: COVID-19 accelerated adoption of many different technology solutions, from contactless check-in to the resurgence of the QR code. How have guests responded to these changes?
McCallum: It is certainly true that the hotel industry was slow to adopt new technology and relied on traditional methods of arrival, departure and general service delivery prior to the pandemic.
For volume properties, there was more of an incentive to look for technology that could reduce wait times for front-desk transactions, ordering in-room dining or having your car brought around on the drive.
However, the demand for more contactless options during COVID-19 accelerated the use of technology for large and small hotels alike.The demand to adopt this technology has become very high, not only because the guests are now expecting options for service, but also as there are in some cases, labor shortages that are driving the need for these efficiencies.
Guests are now expecting options for communicating with the hotel teams, especially those who are well-traveled and see it in use in other properties.
PressReader: How do you see the role of data analytics in shaping the guest experience and improving hotel operations?
McCallum: Data analytics allows us to understand our business in a rapid manner in its most generic form. Identifying trends in our market segments, need dates or changes in booking patterns, which may allow us to make educated decisions to alter target audiences or selling rates to better our capture.
In addition, data analytics is also assisting with the personalization of our messaging based on the guest's preferences. An example is the ability to customize and target our marketing communication to the correct audiences who may enjoy visiting our spa, fine-dining restaurants or nightlife.
The need always remains to ensure the privacy of our guests and their information by following strict PCI compliance guidelines with the storing and handling of guest data.
PressReader: With the increased prevalence of smart-building technologies, how are hotels using them to improve energy efficiency and sustainability in their operations?
McCallum: Being responsible to the environment is not only important to our guests, but also very critical to our operations. Being a new property and positioned in a desert environment, we built Resorts World Las Vegas with sustainability in mind and are pleased to have achieved the LEED Gold Certification.
Our systems can be monitored at a central plant location onsite with remote access to adjust when necessary.
PressReader: Augmented and virtual reality are gaining traction in various sectors. Do you see a place for them in the hospitality industry, perhaps in training or guest experiences?
McCallum: I do see opportunity for the incorporation of VR and AR technology into hospitality and feel that visual training, interactive property maps and also construction and design of new venues could be where this first emerges in a more mainstream manner.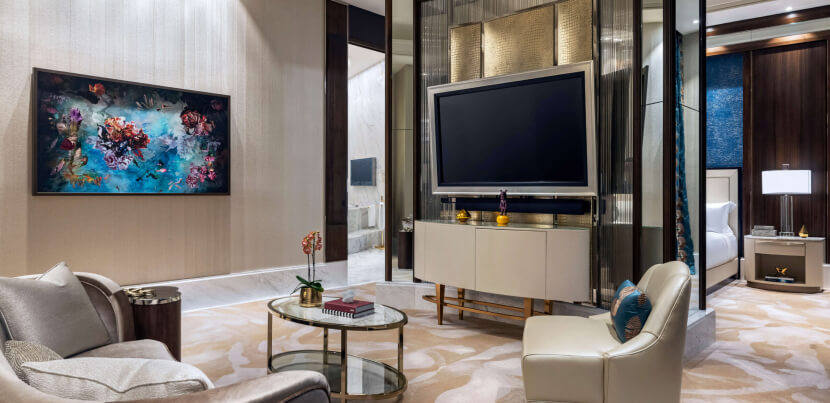 PressReader: How are hotels leveraging artificial intelligence (AI) and machine learning to enhance guest experiences and streamline operations?
McCallum: Using AI for answering phone calls, messages on your hotel app and website are great areas to start for many properties looking to automate generic inquiries.
This can remove a layer of costly manual work for your team to free them up for more complicated situations.
PressReader: Are there any potential risks or downsides with the increased use of these technologies?
McCallum: Maintaining an escalation path is critical if guest requests cannot be resolved in a few quick steps. Careful oversight and a close partnership with your development vendor are needed to keep learning and growing the capabilities of your services.

PressReader: How can hospitality businesses balance the need to be tech-savvy and maintain a competitive edge with the need to bring a personal touch to the guest experience?
McCallum: The goal of hospitality technology is to enable quick and accurate responses, to understand the guest's unique needs and to deliver upon these in an anticipatory and personalized manner.
However, technology cannot replace the importance of connecting with your guests and to make them feel appreciated. Our business is about people and it is important that we do not lose sight of creating a lasting positive memory for our guests!