The most recent edition of the Hospitality Industry Technology Exposition and Conference (or HITEC) took place at the Metro Toronto Convention Centre last month. Produced by Hospitality Financial and Technology Professionals (HFTP), this important industry event showcased the latest technological innovations designed to help hospitality operators create truly exceptional experiences across the entire guest journey.
The hospitality industry has undergone massive transformation in recent years, and modern technology solutions that were once a novelty or "nice to have" are the very things that today's increasingly tech-savvy travelers have come to expect.
According to a 2023 report from Hotel Technology — the result of a survey of hotel professionals representing more than 18,000 properties worldwide — "hospitality customers no longer simply accept the role of technology in their experiences and transactions, but actually demand it." For forward-looking hospitality providers, the challenge is to meet these elevated customer expectations.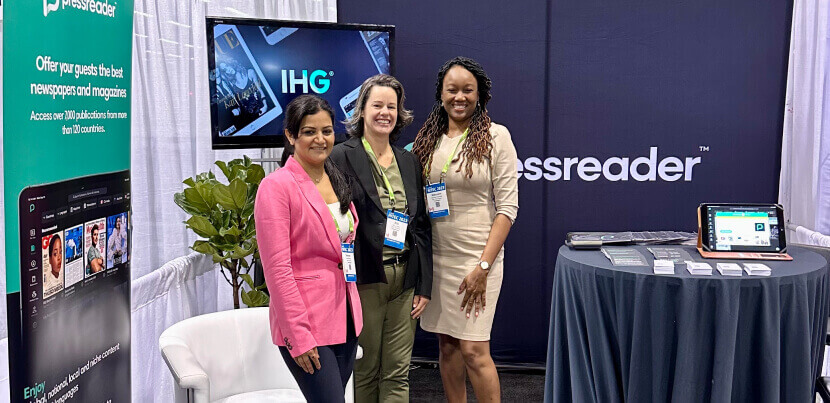 A team from PressReader attended HITEC Toronto, and (when we weren't having great conversations with the industry professionals who visited our booth), we had the opportunity to check out the latest innovative hospitality technology, coming soon to a hotel or resort near you.
Here are a few of the coolest hospitality-specific technology tools we saw in the HITEC exhibit hall, with a specific focus on robots and holographic technology.
See also:
Robots, robots everywhere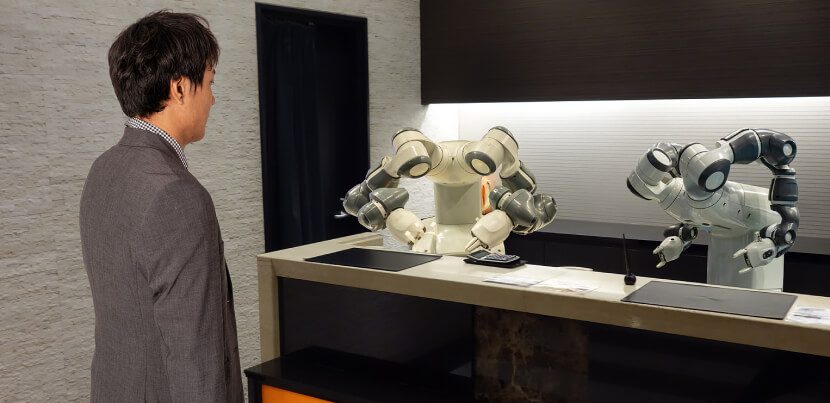 It's not news to anyone that hospitality is a sector facing labor constraints, and that this is one of the industry's pressing issues. (Read about a few strategies to combat hospitality labor shortages.)
In spite of technology's critical role in driving the industry forward, no one is suggesting that hoteliers replace their entire staff with robots; after all, the human touch is still a large part of what makes for great guest experiences.
As hospitality technology goes, however, it's hard to beat robots for the sheer novelty factor — and, as it turns out, they have the potential to be very useful.
Meet Gaemi
The South Korean company Robotis wowed HITEC attendees with Gaemi, an indoor robot with advanced mapping and route-planning capabilities, designed to navigate its way around people and objects while making deliveries in hotels, hospitals and high-rises. It also boasts an AI-enabled arm for pressing elevator buttons and knocking on doors.
At HITEC, Robotis demonstrated what Gaemi can do by having it wheel around a model hotel and deliver wine to a guest's room.
Gaemi is already in use in some hotels in South Korea and Japan, including Courtyard by Marriott and Mayfield Hotel & Resort.
Rolling forward with Gita
The thought of a robot that follows you around wherever you go is either a dream come true or a dystopian nightmare, depending on whether your vision of the future is more like The Jetsons or The Terminator.
Piaggio Fast Forward is counting on people welcoming the idea. Its Gita robots (which come in "mini" and "plus" sizes) have built-in sensors and use radar to follow the user around and carry their cargo. Piaggio initially aimed its offerings at the consumer market, but Gita seems like a natural fit for travel and hospitality.
In fact, AtYourGate — the in-airport order and delivery service for passengers, flight crews and airport employees — is already using Gita robots at several major US airports, including JFK International and Minneapolis Saint Paul.
LG CLOi ServBot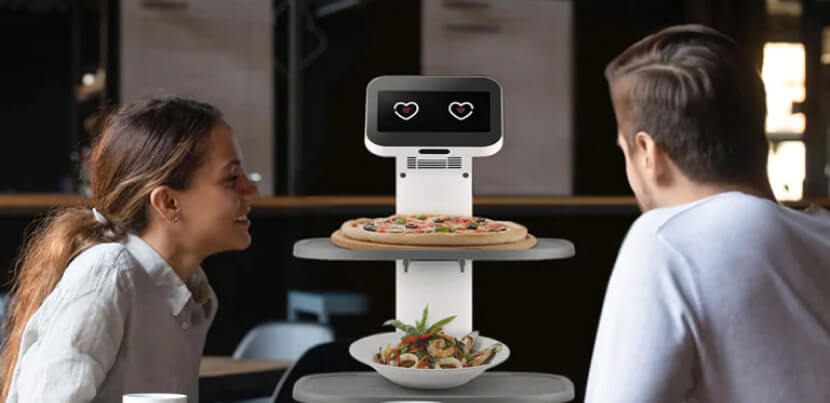 Most people know LG Electronics as a consumer-focused brand, but the company's presence at the Hospitality Industry Technology Exposition and Conference highlighted its Business Solutions division — specifically, the latest innovative technology aimed at hospitality professionals.
For one thing, LG is introducing the world's first commercial televisions to feature Apple AirPlay technology support for hotels. Hotel guests to connect securely to their room's TV by scanning a unique QR code using their iPhone or iPad.
Not to be outdone in the service-droid department, LG also has its own line of robots, including the CLOi ServeBot. Equipped with a #D camera and LiDAR sensors, the ServeBot "can handle repetitive serving and delivery tasks, assist employees with clearing tables, and allow more time for employees to focus on customer experience."
Thinking inside the box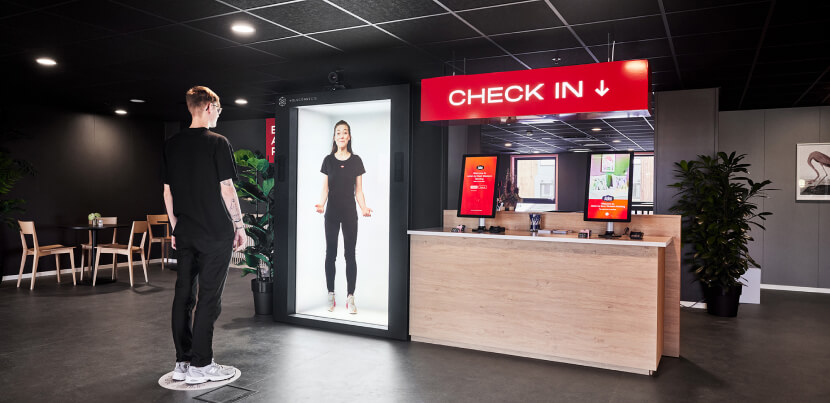 Robots are great, but sometimes you just really need a human being on the job.
Mind you, that human worker doesn't necessarily need to be in the same room as the customer, thanks to next-era technology.
At HITEC, Dutch company Holoconnects demonstrated its Holobox technology, which creates a life-sized holographic representation of a real person that can interact with guests. The image can either be live or pre-recorded, allowing an employee to virtually appear in multiple locations simultaneously, thus increasing operational efficiency while creating a better guest — and staff — experience.
Holoconnects touts the Holobox (which is in use at CIC Hospitality's 30 hotels in Scandinavia) as a revolutionary way to add a personal touch to the digital check-in process.
Maximizing guest satisfaction
In a post they wrote for Hotel Yearbook, Holoconnects founders Andre Smith and Marnix Lock explain how it works:
Through the remote sensor, a welcome video is activated. After a welcome video, guests can select from 5 buttons, 4 with pre-recorded information and one connecting to a live employee. Employees at headquarters or one of the other hotels are alerted and can respond to the guest's request, and within seconds they are digitally present to answer any questions. The Holobox provides 24/7 convenience with an agent that speaks the local language and English, and interactions are tracked with an NPS score to ensure optimal guest satisfaction.
The future of hospitality technology
Hospitality industry leaders and technology professionals will gather again next June, when the 2024 edition of the Hospitality Industry Technology Exposition and Conference takes place at the Charlotte Convention Center in Charlotte, North Carolina.
Visit the Hospitality Financial and Technology Professionals website for more information on this important industry event.
PressReader is working with hotel leaders around the world to improve the guest and staff experience. Learn more about how we're partnering with members of the hospitality industry to help their properties stand out.