Today, no matter what you're doing, it's unlikely you're doing it without some form of technology. Whether you're paying for your car insurance or purchasing your groceries for the week, there are multiple digital touchpoints that facilitate the interactions you have with a brand.
As our reliance on technology grows, consumers expect the same seamless connectivity from every single brand — whether or not they are fundamentally a tech company. Our standards for omnichannel experiences are higher than ever — and the travel and hospitality sector isn't exempt.
So, how is technology changing the travel and tourism industry? We interviewed members of the prestigious Les Clefs d'Or organization, a collective of hotel concierges from around the world that are dedicated to delivering exceptional guest services, to find out. Their role gives them direct insight into how technology is changing the way people travel and how they expect to engage with hospitality providers.
See also:
A growing role for technology
In the last year we've seen rapid growth in technology adoption as travel and tourism companies have reopened and come up with new and imaginative ways to interact with their guests. Some areas of note include:
Personalization:

hotels are offering more personalized experiences, giving guests control over their thermostat and in-suite apps through the connectivity of the Internet of Things.

Mobile applications:

airlines and hotel groups are investing in mobile applications that allow travelers to do everything from making a booking and checking in to talking with a customer service representative or integrated chatbot.

Marketing:

travel brands have access to so much customer data. Brands that use this data effectively — in a way that's compliant with regulations — can do more to create targeted messaging, loyalty options, ads and promotional packages.

Payment:

with the onset of contactless everything, a big trend in online travel tech has been the adoption of remote payment solutions so travelers can pay on their own device, without having to talk to anyone in the process.
In addition, we're also seeing significant investments in digital partners like PressReader, cybersecurity solutions and digital offerings like in-flight WiFi. This renewed focus on technology is reshaping the travel and tourism industry — and the expectations of its travelers. Let's take a closer look at how.
3 ways technology is changing the travel and tourism industry
Guests expect convenience at all times
While convenience has always been an important driver for positive guest experiences, the pandemic has pushed hotels to make a more concerted effort to ensure guests can access everything they need from the comfort of their own room.
A comprehensive, branded app that connects guests to all the amenities offered at a hotel — so that they can set up a spa appointment, order food or access digital newspapers and magazines — can facilitate this convenience. This is an approach that many big hotel chains have already taken, and it's a trend that's making its way throughout the industry. The one thing to keep in mind is that your hotel should have the appropriate balance of technology and employees so that there are enough people to act on guest requests.
"At NH we introduced the Stay app. Guests can start using the app as soon as they check in, and can access all menus, amenities and services. It is widely embraced by our guests. By using the app, guests can stay safe in their bubble without going to various outlets and asking in the hotel."

Brian Mackenzie, 3rd Vice President of Les Clefs d'Or International and Chef Concierge at NH Collection Barbizon Palace, Amsterdam
The hospitality industry must facilitate WFA (work from anywhere)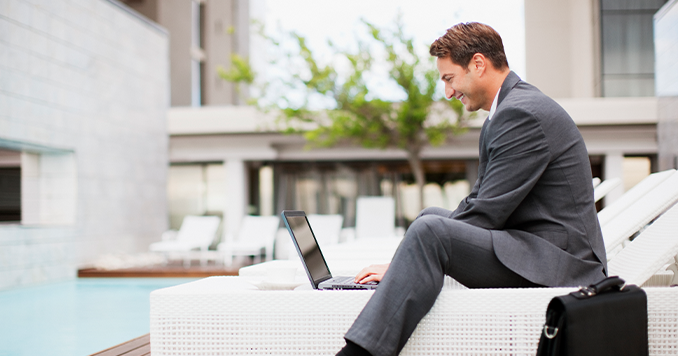 One of the biggest changes that emerged from the pandemic is in the way corporate employees work. With the onset of remote work — a trend that's likely to continue into the future for many organizations — people are no longer tied to specific places while they're working. Instead, they can choose to work from a hotel by the beach or up a snowy mountain — and they expect strong and stable internet connectivity throughout the hotel. Not only that, they also expect to have spaces like camera-enabled conference rooms that can enable them to work remotely.
"Most hotels utilized the downtime during the peak of the pandemic to upgrade their technology infrastructure to be able to facilitate hybrid meetings, remote workers and travelers."

Burak Ipekci, General Secretary of Les Clefs d'Or International and Head Concierge at Hilton London Metropole
Guests welcome digital offerings paired with a personal touch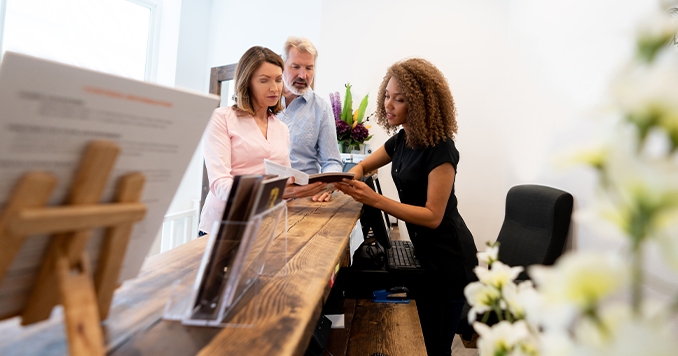 Being flexible is an important part of delivering on guest expectations. For example, where young professionals might be eager to digest their daily news on mobile devices before they go about their day, older guests might have a long-standing preference for the newspaper they read with their morning coffee — and they can now access it on an iPad. Hotels that are doing this right are partnering with digital platforms that allow for that level of flexibility and customization. According to Peter Buday, the Chef Concierge at Four Seasons Hotel Gresham Palace Budapest, his hotel's partnership with PressReader allows him to meet a variety of guest needs with one subscription.
"Hotels have to start thinking about how technology can help their employees elevate the guest experience, while still keeping the human touch. The luxury segment will always be about that extra little something special that only humans can provide."

Peter Buday, Chef Concierge at Four Seasons Hotel Gresham Palace Budapest
There's always more we can do
In our conversations with the Les Clefs d'Or representatives, we asked them what advice they had for hotels that want to stay on top of consumer trends and surpass guest expectations. Here are some of the things they had to say.
Take the risk of over-communicating

, especially in this COVID-19 era. Your guests should never be caught by surprise by any requirements — be it a visa or quarantine requirement — when they show up in your lobby.

Listen to your guests

and make sure that you have multiple channels for them to provide feedback or make requests.

Use that feedback

to create a roadmap for any future changes and technology investments that could further improve the guest experience.

Remember that the human experience is still valid

and technology will never fully replace the knowledge your employees have and the relationships they can build with your guests.

Keep your employees in mind

as you choose your technologies. If your new solutions aren't easy for your employees to use and adopt — and you don't spend the time to train them — then they might become more of a burden than an enabler
"I think it is important to always keep your eyes open for new trends and ideas and not be afraid to roll out the idea."

Anders Olsted Jensen, President at Les Clefs d'Or International
Ultimately, it all comes down to keeping your guests firmly at the center of your decision making. Whether you're evaluating a new technology or rolling out a new program, these choices should reflect the expectations travelers have for your brand.
At PressReader, we're partnering with members of the hospitality industry, helping them deliver optimal experiences to their guests. Learn more about how we're doing that.