As we gear up for UNESCO's Global Media and Information Literacy Week 2023 (which officially takes place in Jordan from October 23 to 25 but is also commemorated in countries all over the world, including the US and Canada), it's a great opportunity to reflect on why media literacy is so important now, more than ever before.
In fact, UNESCO Director-General Audrey Azoulay sums it up nicely, as quoted on the Global Media and Information Literacy Week web portal:
With the spread of rumors and the distortion of facts, the boundary between true and false has become blurred. This is undermining the very foundations of our societies and democracies and putting lives at risk through the propagation of fake cures, the fueling of vaccine conspiracy theories, or the spread of racism and hate speech. In this deluge of information, we need more reference points and more rational thinking. And that is why media and information literacy is such a key skill for the education of 21st-century citizens.
See also:
Why is media literacy important for underserved populations?
At PressReader, we believe that media-literacy education is critical for the benefit of all citizens in a democratic society. Media literacy is arguably even more important for those from underserved or underrepresented populations — this can mean anyone from refugees and other migrants to people with disabilities and members of the gay or transgender communities. It might also mean the elderly, unhoused individuals or those with limited digital access.
The role of public libraries
As we noted in our recent blog post about how libraries and intellectual freedom create informed, engaged citizens, libraries provide access to knowledge and culture — not just for a privileged few, but for all members of society.
The International Federation of Library Associations and Institutions' Statement on Libraries and Intellectual Freedom is a great primer on this topic.
In it, IFLA affirms that:
Libraries provide access to information, ideas and works of imagination. They serve as gateways to knowledge, thought and culture.

Libraries provide essential support for lifelong learning, independent decision-making and cultural development for both individuals and groups.

Libraries contribute to the development and maintenance of intellectual freedom and help to safeguard basic democratic values and universal civil rights.

Libraries have a responsibility both to guarantee and to facilitate access to expressions of knowledge and intellectual activity. To this end, libraries shall acquire, preserve and make available the widest variety of materials, reflecting the plurality and diversity of society.

Libraries shall ensure that the selection and availability of library materials and services is governed by professional considerations and not by political, moral and religious views.

Libraries shall acquire, organize and disseminate information freely and oppose any form of censorship.

Libraries shall make materials, facilities and services equally accessible to all users. There shall be no discrimination due to race, creed, gender, age or for any other reason.
The power of media literacy
Here are some of the reasons why media literacy and critical thinking skills are important for underserved populations, and what libraries can do to help:
Empowerment
Media literacy empowers people to critically analyze and understand the media they consume. This is especially crucial for individuals in marginalized communities who may be disproportionately targeted with biased or harmful content.
Media-literacy education can help them counter hate speech by enabling them to become active participants in the media landscape rather than passive consumers.
Representation
Underserved communities often face misrepresentation or underrepresentation in mainstream media. Media literacy enables them to recognize and challenge stereotypes and biases in media content, leading to more accurate and fair portrayals.
To support these efforts, libraries can curate a diverse collection of books, magazines, newspapers and digital media that reflect the cultural backgrounds and interests of the community. This helps individuals explore different perspectives and avoid media bubbles.
Librarians should also ensure that materials and programs are accessible to non-English-speaking communities by offering resources in multiple languages. PressReader, for example, provides access to publications from all over the world in dozens of languages, and also has translation features, including Auto-Translate.
Access to information
In today's digital age, access to accurate information is vital for making informed decisions about health, education and civic engagement. Media and digital literacy can help underserved populations navigate the vast amount of information available, discern credible sources from unreliable ones and avoid falling victim to misinformation and fake news.
By providing a wide range of resources, including books, newspapers, magazines, databases, internet access and digital news platforms like PressReader, libraries have empowered individuals from a wide range of socio-economic backgrounds to become critical media consumers.
According to the American Library Association (ALA), 96% of public libraries in the United States provide free public internet access, narrowing the digital divide and enabling individuals to explore diverse perspectives. (For more on this topic, see our recent blog post on how public libraries are helping bridge the digital divide.)
Civic engagement
Understanding how media and information flow influence politics and policy-making is essential for informed, engaged citizenship. Media literacy equips members of underserved communities to engage in informed political discussions, advocate for their rights, and participate in the democratic process effectively.
Providing library users with free access to information is a critical aspect of intellectual freedom, but public libraries can take things a step further by offering regular workshops and developing training sessions on media literacy. These can cover topics such as evaluating sources, fact-checking and recognizing bias.
Armed with these skills and strategies, patrons are better equipped to counter hate speech, become good digital citizens and face the challenges of a changing information landscape — including the rising tide of AI-generated misinformation.
Economic opportunities
Media-literacy education can open doors to future economic opportunities in media-related fields. By acquiring skills in media production, storytelling and digital communication, underserved individuals can potentially access careers and entrepreneurship opportunities that were previously out of reach.
Many public libraries have a commitment to making space available for community engagement and recreation. As part of this mandate, a library may have a technology center or media lab where patrons can try their hand at video editing, podcasting and other related skills.
Health and well-being
Media literacy also plays a role in promoting health and well-being. Underserved communities may be exposed to harmful messages or unrealistic beauty standards through media.
Media-literacy education helps individuals develop a critical perspective, reducing the negative impact of such content on mental and physical health.
Knowledge is power
Teaching people the basic skills of media and information literacy (including how to distinguish between genuine news and intentional disinformation) can make a real difference to health outcomes.
In a previous blog post on the importance of media literacy in a changing information landscape, we told you about a study by the Stanford Social Media Lab found that people who received training in media literacy — in this case, workshops presented by PEN America that were designed to stem vaccine misinformation in communities of color — displayed "significantly improved" ability to identify and resist mis- and disinformation.
After taking a media-literacy education workshop, participants displayed an increased likelihood to apply their new skills to examining headlines in order to sort facts from untruths. Participants' investigation of a news headline increased from 6% to 32%.
The study also found:
Significant overall improvement in workshop participants' digital skills, which included using reverse image search to identify real versus fake content; use of fact-checking tools; and monitoring emotional reactions to headlines, "which can increase susceptibility to disinformation."

Participants' likelihood of correctly evaluating the truth of a headline rose from 47% to 61%.

Participants' ability to detect COVID-19 misinformation improved significantly, from a pre-intervention average of 53% to a post-intervention average of 82%.
Summer Lopez, PEN America's chief program officer for free expression, said:
Disinformation poses an increasingly virulent threat to free expression and democracy, and the best defense is an empowered public, equipped with the knowledge and skills to identify and resist attempts to deceive.
Digital safety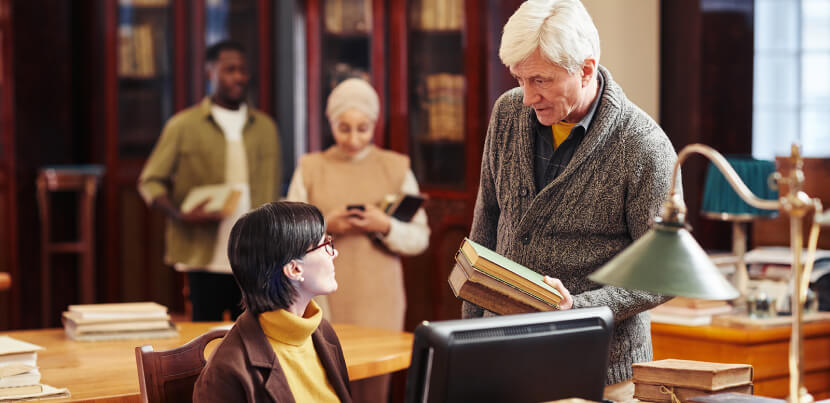 Vulnerable communities are often targets of online scams, cyberbullying and digital exploitation.
The risks vary depending on the age of the internet user, among other factors, but the World Economic Forum has identified exposure to inappropriate materials — particularly sexual content, violent content, hate speech, self-harm content and suicide content — as one of the main areas of concern when it comes to keeping children safe online.
A report from IFLA recommends that public and school libraries provide internet safety lessons that cover a range of relevant topics, including rules for appropriate online behavior, cyberbullying awareness and how to avoid falling victim to identity theft and fraud.
Supporting older adult learners
It's not just kids who are vulnerable, of course. If they lack the digital literacy necessary to spot misinformation online, as McAfee points out, "Older adults can easily fall prey to scams, conspiracies, hoaxes, and false news stories online." McAfee cites a 2019 study out of Princeton and NYU, which found that, prior to the 2016 election, Americans over 65 were seven times more likely than those under 29 to post articles from fake news domains.
Many public libraries already offer free instruction designed to teach computer skills to older adult learners in the community. Extending this to include media-literacy education can be an effective means of combating the spread of false and misleading information.
Librarians can also point patrons in the direction of tools and resources available through the library. These can include trusted sources of journalism, including many of the 7,000-plus international newspapers and magazines on the PressReader platform.
Building community
Media-literacy education fosters communication and collaboration within underserved communities. It encourages the sharing of stories, experiences and knowledge, strengthening community bonds and amplifying their voices.
Public libraries can support this by hosting "human library" events, the focus of which is to promote inclusion and support diversity by facilitating communication between readers and "human books", who often represent marginalized groups.
One of the greatest resources we can tap into is the knowledge and lived experience of other people. Talking to folks from various backgrounds about their lives is not just a great way to learn, it's also a means of building bridges between communities, challenging ourselves and shattering stereotypes.

Providing reliable resources
One way library professionals can help foster media literacy is to create a dedicated section on the library's website or a separate media-literacy education portal where patrons can access reliable online resources, fact-checking tools and educational materials.
We have already noted that ibraries offering PressReader are able to provide patrons with access to more than 7,000 high-quality publications from around the world — but the easy-to-use digital platform is more than just a way to deliver third-party newspapers and magazines.
Many libraries use PressReader's Self-Pub feature to share their own content. They can digitize and upload their own newsletters, announcements, and other publications to the front page of PressReader to further engage with library users by providing them with information about upcoming media literacy workshops and other events.