Get in the rocket-ship, kids, we're going to outer space!
Well, maybe not this year, but feasibly soon. According to a new report from Prophecy Market Insights, the space tourism market accounted for US$810.3 million in 2022 and is estimated to soar to US$21,575.9 million by 2032.
So far, space tourism has been the domain of the super-rich, with the likes of Jeff Bezos (Blue Origin), Elon Musk (SpaceX) and our old pal Sir Richard Branson (Virgin Galactic, Virgin Orbit) dabbling in suborbital, orbital and even lunar travel.
Coming soon: space hotels
The only thing missing from space tourism is somewhere for travelers to stay once they leave the planet. (There may be a few other things missing, but let's be optimistic about this.) To fill that void, a company called Above: Space Development Corporation is developing space stations that it says will enable humanity "to work, play, and thrive in the space ecosystem."
The concept art on the company's website includes a wheel-shaped design that looks a lot like Space Station V, as featured in Stanley Kubrick's 2001: A Space Odyssey. If you've seen that film you may recall that Space Station V did indeed include a hotel, which was operated by Hilton.
See also:
Hotel tech continues to evolve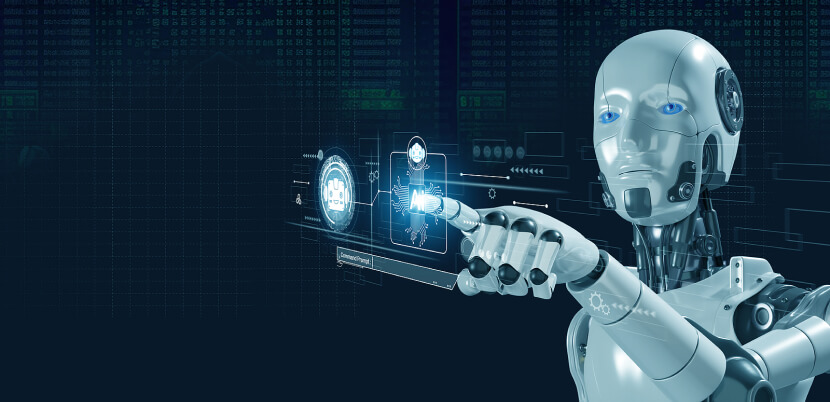 We might not see any space hotels open up in the immediate future, but down here on the ground, hotel technology trends continue to emerge and evolve.
For hotel management, one of the big challenges is how to embrace all the latest technology trends that guests want and leverage them to improve customer service. After all, leading-edge technology solutions and smart rooms aren't worth much if the guest experience suffers.
Connecting with hotel guests remains key
As Shannon McCallum, VP of Hotel Operations at Resorts World Las Vegas, told us recently:
The goal of hospitality technology is to enable quick and accurate responses, to understand the guest's unique needs and to deliver upon these in an anticipatory and personalized manner.

However, technology cannot replace the importance of connecting with your guests and to make them feel appreciated. Our business is about people and it is important that we do not lose sight of creating a lasting positive memory for our guests!
Hotel operations are already high-tech
In 2023, operating a hotel is already a fairly high-tech endeavor. Much hotel management software, for example, already incorporates some aspect of artificial intelligence (AI).
Josiah Mackenzie of Hotel Operations cites Jessica Kramer, CEO of Lodgistics, who shared the following insight on a Hotels Magazine podcast: "You might be using AI already in your tech. AI already exists in a lot of the software platforms hotels are using. AI won't be its own layer — it will be part of the tools we're using."
Everything flows through the property management system
A prime example of this is a property management system (or PMS), which is an important part of any savvy hotel's tech stack.
A PMS is a hotel software solution that can facilitate the property's booking management and administrative tasks. From housekeeping to room service, reservation management and electronic payments, everything flows through the property management system.
A voice-activated future
A growing number of hotels have installed voice-activated virtual assistants like the Amazon Echo or Google Home in their guest rooms. This in-room technology can actually be a way to make guests feel more at home. After all, as we noted in a previous blog post about five simple tools that can create a better hotel guest experience, many of your guests interact with a digital assistant every day.
In fact, you probably have one in your own home, or even in your pocket. You likely don't think twice about saying "Alexa, play music by Foo Fighters" or "Hey, Google, what's the weather forecast for this evening?"
What makes a smart room?
A digital assistant can be a component of a smart hotel room, one that harnesses the power of the Internet of Things (IoT), a network of interconnected devices and software systems that work together to automate various tasks and provide personalized services to guests.
These devices can include sensors that detect occupancy and adjust room settings accordingly, voice-activated virtual assistants that allow guests to effortlessly adjust various aspects of their room, and smart locks that allow guests to enter their room using their smartphone or a key card.
We took a deeper dive into this topic in a recent blog post about how a smart hotel room can elevate the guest experience. Essentially, smart hotel rooms enable guests to adjust factors such as room temperature and lighting to suit their personal needs, often through the use of a mobile app or an in-room device such as a tablet.
(And of course having an in-room tablet is a great way to offer guests access to the thousands of newspapers and magazines available on PressReader.)
Biometrics + digital identity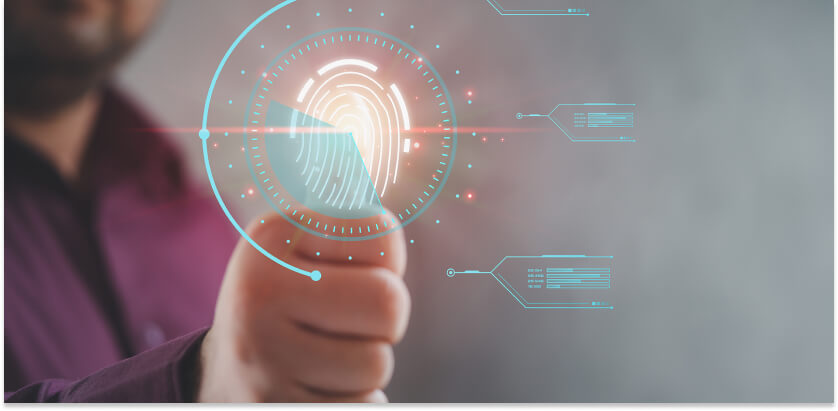 We have previously looked at how biometrics, such as facial-recognition technology, could transform the hotel industry.
Writing for Hospitality Net's Hotel Yearbook, Youverse founder and CEO Pedro Torres makes a convincing case that pairing biometric face authentication with decentralized digital identity in the hospitality industry has the potential to revolutionize the guest experience in modern hotels.
If you're wondering what "decentralized digital identity" means, Dock defines it this way:
Decentralized identity is a type of identity management that allows people to control their own digital identity without depending on a specific service provider.

A digital identity is the body of information about an individual, organization, or electronic device that exists online.
Eliminating the need for physical ID
According to Dock, data that form a digital identity may include such things as:
User names and passwords

Search history

Social security number

Buying history
Torres writes that "by integrating face biometrics with decentralized digital identity, hoteliers can provide guests with full control over their identities and better customer service at the same time." That's because face authentication eliminates the need for physical documents or ID cards.
"By capturing and analyzing facial biometrics, guests can prove their identity from anywhere, at any time, using only their smartphones — during the check-in process or whenever identification is required," Torres writes.
Streamlining the check-in process
This can streamline the check-in process, because it eliminates the need for guests to fill out forms or present physical identification documents at the front desk. Guests need only present their ID card once to create a verifiable credential — one they can use every time they stay at your hotel.
This combination of technologies enables hotels to offer more personalization and customization of guest services — factors that we know can improve the guest experience. Says Torres:
Once a guest's decentralized digital identity is verified, hotel staff can access relevant information about their preferences, previous stays, and special requests. This allows for a more personalized check-in experience, where guests can be greeted by name, offered their preferred room amenities, or presented with personalized recommendations and offers based on their past preferences.
Omnichannel communication
Communication with guests starts long before check-in. Maybe a potential customer has reached out through social media after seeing an incredible photo of your property on the page of their favorite travel influencer.
Or perhaps they have interacted with a chatbot to guide them through the booking process on your website.
Whatever the case, in this always-on age, smart hotel operators know that giving guests multiple ways to communicate — and being responsive to their queries 24/7 — is a good way to maintain a competitive edge.
It's about building relationships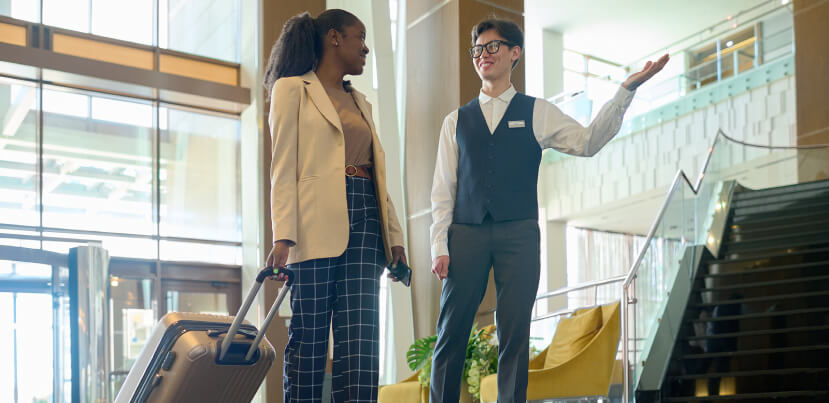 As Tristan Gadsby, CEO and founder of Alliants, told Skift:
Ultimately, having a conversation with a customer helps build relationships. Just like how we switch between SMS, WhatsApp, or other channels when communicating with friends and family, hotels can also provide an omnichannel experience by leveraging these platforms.
Shannon McCallum of Resorts World Las Vegas also cites this increase in communication channels as one of the key trends in the hospitality industry:
Communication has changed with our guests over the last decade and the movement into the digital experience has brought efficiency to our business and allowed us to be able to communicate with guests in new ways.

This includes the embracing of online reservations, emailing guests prior to arrival, remote check-in, the use of a digital concierge to answer quick questions, an endless selection of digital newspaper content, the ability to check out without having to stand in line at a front desk and much more.
Space hotel, here we come?
It seems almost inevitable that space hotels will become a reality sooner rather than later. Whether anyone outside of Elon Musk's tax bracket will be able to stay in one is another question.
In the meantime, we will just have to do our holidaying down here on Earth — and thanks to emerging hotel tech, that's not such a bad thing at all.