In the past 18-plus months, we've seen the COVID-19 pandemic have a tremendous impact on the travel, events and hospitality industries. They were arguably among the hardest hit sectors when stay-at-home orders first went into effect in early 2020. But as with any major world event, humans showed their adaptability. And those in the hospitality space identified ways to improve the guest experience, cater to new expectations and adjust their service offering to suit the new post-pandemic world.
Given the historical background of the hotel and hospitality industry, though, it's no surprise. This is a sector that has always pivoted swiftly and adapted to new market landscapes. If you look at the timeline of tourism, it's full of wild surprises, with even wilder consequences, impacting how, where, when and why we travel. Between technological advancements, world-changing events and societal shifts, the history of the hospitality industry around the world is one of never-ending adaptation.
That's right: COVID-19 wasn't the first event to throw a wrench into travel and hospitality, and it won't be the last.
So as we're looking forward to what comes next for tourism professionals while the globe recovers from a once-in-a-century pandemic, it's also a chance to look back. Read on to dig into some of the world events from history which impacted the hospitality and travel industries — for better or for worse.
See also: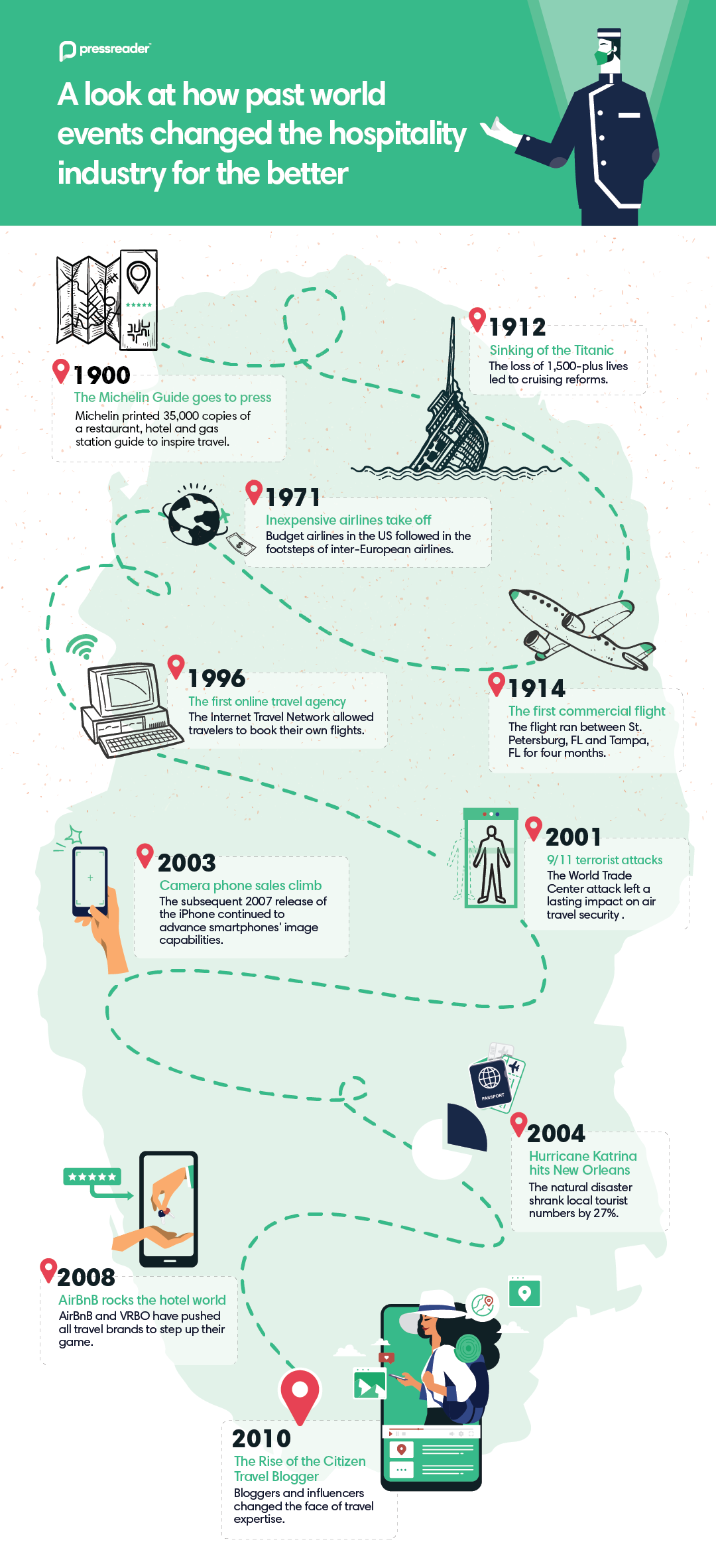 1900: The Michelin Guide Goes to Press
Wanting to inspire people to travel around (and buy a few more cars in the process), the founders of the Michelin Tire company printed 35,000 copies of a guide featuring their favorite restaurants, hotels and gas stations on France's most popular routes. More than a century later, the book is an arbitrator of taste for travelers around the world, featuring rankings on the best of the best in hospitality.
1912: Sinking of The Titanic
The legendary maritime disaster changed sea travel forever. The loss of 1,500-plus lives in the crash was an absolute tragedy, of course, but it also led to reforms that made cruising safer and more comfortable for everyone. Changes included new regulations about numbers of lifeboats, the establishment of an International Ice Patrol and safer ship designs.
1914: The First Commercial Flight
Connecting St. Petersburg, Florida and Tampa, Florida, the very first commercial flight route ran for four months and sparked a revolution in travel. Regular fares were about $100. After World War II, ex-military planes and new airline designers offered even more options for air travel for everyday consumers.
1971: Inexpensive Airlines Take Off
In the early 1970s, budget airlines started offering flights in the US, thanks to government deregulation, following in the footsteps of inter-European airlines. Making air travel more affordable for more people opened up a surge of long-distance travelers across the country. And while this was a boon for short-haul domestic travel, the international market and more local destinations saw a corresponding sag.
1996: The First Online Travel Agency
Though ubiquitous now, in the mid-90s, the idea of an online travel agency was a revelation. The Internet Travel Network was the first of its kind, allowing travelers to take charge and book their own flights with a few keystrokes. While they've dramatically impacted independent travel agents, the democratization of trip planning simultaneously led to more competitive pricing and more upselling and personalization.
2001: 9/11 Terrorist Attacks
The attack of New York's World Trade Center on September 11, 2001, left not just a hole on the skyline but a lasting impact on the way air travel operates. Security measures ramped up significantly in America and at airports throughout the world, with new procedures for scanning bags, doing background checks and assessing packed luggage. Similarly, the London terrorist attacks of 2005 and the Boston bombing in 2013 put pressure on travel and tourism agencies to reassess safety and security offerings.
2004: Hurricane Katrina Hits New Orleans
Natural disasters — unpredictable, uncontrollable — have long been a burden for the travel industry, ruining trips in the short-term and devastating local economies in the long-term. Hurricane Katrina is just one in a long line of examples, a devastating event that shrank New Orleans' tourist numbers down by 27%. But the good news is, the industry is bouncing back, with an increase in hotel inventory over the past 15 years and a focus on festivals and other neighborhood-revitalizing events.
2003: Camera Phone Sales Climb
Camera phone sales overtook those of digital cameras in 2003, and haven't stopped since. With the 2007 release of the iPhone, smartphones' image capabilities continued to advance exponentially. The impact for anyone to have the ability to capture and share images in an instant has changed the way we experience the world, and what expectations are for travel. Creating those photo opps and Instagrammable moments has caused a shift in expectations for the hospitality industry.
2008: AirBnB Rocks the Hotel World
It's hard to remember a time before AirBnB and VRBO, but these accommodation hubs have only been around a little over a decade. While a thorn in the side of hotels, motels and hostels, the competition has pushed all entities in the travel world to step up their tech and marketing game — which only serves the end user for the better.
2010: The Rise of the Citizen Travel Blogger
While travel recommendations were once the domain of travel agents and Lonely Planet, the growth of travel bloggers and travel influencers has opened up the realm of travel expertise to a whole new world of people. These independent writers and photographers are giving professional outlets a run for their money — and the travel industry has had to pay attention to how this new breed of travel expert represents or paints their businesses online.
While the impact from COVID-19 will have its challenges, too, there's no doubt that the events and hospitality — with its impressive history of adaptability — will figure out creative and exciting ways to survive and thrive. Explore how PressReader for hotels can further support your property's recovery.