The Biblioteca Municipal de Santa Maria da Feira believe that libraries should know their community and understand the needs of its citizens. That explains why the library has a history of creating programs that help their city's vulnerable populations.
Most recently, the team was looking to make it easier for people in their city, which spans over 210 square kilometers, to access public library services. In particular, they knew that the many factory workers in the region were a key demographic that might have had their learning interrupted as they started to work at a young age. And that's how the "Leitura em Linhas" (Reading in Lines) program was born.
While many libraries have rallied to address the impacts of COVID-19 and offer their services in new ways, the Biblioteca Municipal de Santa Maria da Feira's program shows us that this out-of-the-box thinking is necessary to reach underserved groups that are limited by a lack of social services, education and economic stability outside of a pandemic as well.
See also:
Launching a transformational program
Leitura em Linhas consists of visits to 14 different factories every week, serving approximately 10,000 people and their families. Together with the factories, the team has outlined a calendar for the visits so that they don't disrupt working hours: the van usually arrives either during lunch hour, shift changes or at the end of the work day.
"As Santa Maria da Feira is a relatively large and industrial territory, people have some difficulty in accessing the services of the municipal library. This is what inspired the program."

— Dra. Etelvina Araújo, Library Director
On these visits, the team arrives in a retrofitted van with bookshelves, wi-fi access, printing capabilities and two PCs. Members of the program can then borrow books and documents, use a reference service, and even access the internet to make electronic payments.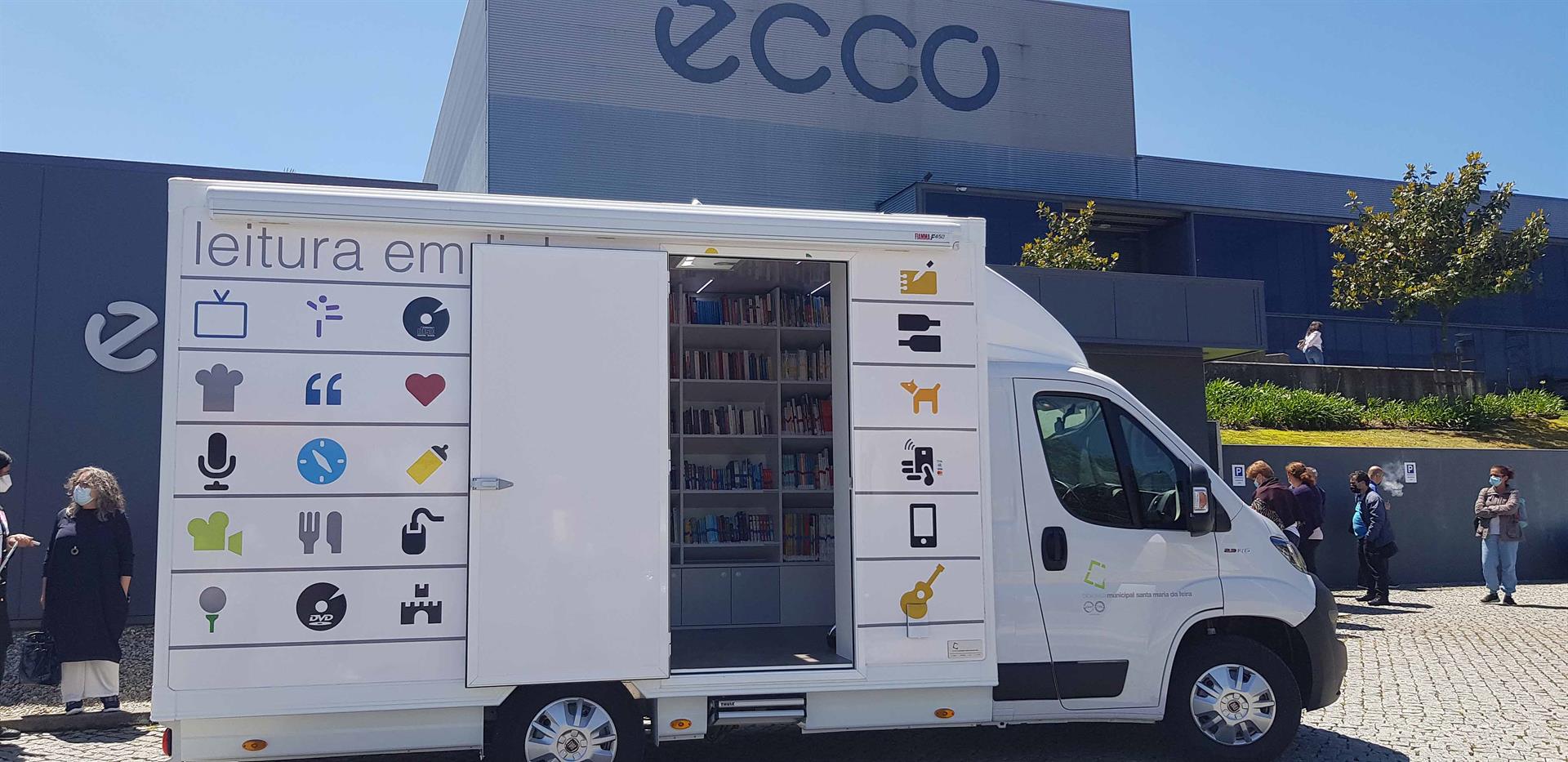 They also have access to a suite of digital products, which includes PressReader. As the factory workers register as readers, they gain access to the platform, and the first thing they see is a document that outlines all that's available to them. This has enabled their members to try new things and prioritize reading.
"One of the participants told us that she used to read but that she did not have the financial resources to buy books and was unable to travel to the library. She told us that she was so thankful for the Leitura em Linhas program because it had given her the opportunity to read again. She is a frequent reader and she has read many of the books we offer."

— Dra. Etelvina Araújo, Library Director
Beyond direct feedback from their patrons, the program team is also continuously evaluating quantitative indicators such as the number of registered users and the amount of loans made in a given time period.
Expanding the impact of the program
Now that the team at the Biblioteca Municipal de Santa Maria da Feira has proven the success of this program, they've been thinking about what other social problems they can help solve for their community.
Like in many cities around the world, the Santa Maria da Feira population has unequal access to resources, services and educational or cultural experiences. This limits opportunities for many people — and makes the case for libraries to decentralize their services. The library is looking to acquire another adapted van that will travel to remote and rural areas around the city, as well as social housing districts. They will provide the same services as the Leitura em Linhas program and also launch initiatives that promote digital literacy for people who don't have computers or access to the internet. By empowering these underserved groups with knowledge, the program creates opportunities for both personal and economic growth.
Building an intentional foundation
The Biblioteca Municipal de Santa Maria da Feira isn't new to creating impactful programs for their city. Prior to Leitura em Linhas, their first traveling library project provided older individuals housed in the Private Institutions of Social Solidarity with access to reading materials that they couldn't reach otherwise. So, what goes into these inspiring initiatives?
For Dra. Araújo, there are three foundational pillars behind the work they do.
Expanding access:

As we face changing patterns of work, studies and school, accessing information and services quickly is no longer a nice-to-have, but a must-have.
Fostering opportunities:

Today, access to information, online services, current and emerging technologies, social connections and informal learning are essential for a person's development.
Building connections:

People need interpersonal connections (including online ones), but despite the many online channels offering new ways to connect, people are finding themselves increasingly isolated.
To address all three areas, libraries should continue to be vibrant and welcoming public spaces that provide cultural, creative and learning experiences and connection opportunities. Biblioteca Municipal de Santa Maria da Feira has proven that there are so many different ways to do this depending on the needs of your particular community — and they don't all require people to be physically present at your branch.
"Libraries have the opportunity to increasingly provide services suited to the needs of their communities, whether it be proximity services, digital literacy, lifelong learning support, and the promotion of creativity and skills."

— Dra. Etelvina Araújo, Library Director
At PressReader, we're proud to work with libraries that are building innovative programs for their communities. If you have a story you'd like to share with our community, get in touch. And if you'd like to learn more about how innovative libraries are reshaping the sector, download The Future of Libraries report.