Edinburgh City Libraries is used to playing an active role in their community. People rely on its multiple branches — which serve all districts of Scotland's historic capital city — for resources, entertainment, education and community support. With programs for people living with cancer, social groups for elderly people, a free library bus service and more, they're also well-accustomed to serving vulnerable populations.
But the COVID-19 pandemic presented an entirely new set of challenges. Like so many other organizations, the library adjusted its offerings in response to COVID-19, for example adding delivery services and telephone support. "In a way, it drove us to look at new ways of delivering our services, and these will now continue beyond the pandemic," says Andy McTaggart, Strategic Officer at Edinburgh City Libraries.
One of the most special new developments was their effort to bring books to immunocompromised children and their families who were self-isolating from COVID-19. The result of a partnership with the Edinburgh Childrens' Hospital Charity (ECHC) and Sick Kids Hospital, the program is the perfect example of how libraries can protect and empower the most vulnerable people in their communities.
See also:
A time of heightened need
Even at the best of times, children with underlying conditions can have a vulnerability. For kids already left out of normal childhood activities, books can provide a welcome escape, and a comforting form of adventure. But during the pandemic, daily routines and activities became unsafe — including visiting the library.
When they realized the boredom and isolation the children at their hospital were dealing with, the ECHC immediately moved to find a solution. They reached out to the Scottish Libraries and Information Council (SLIC), to ask for help getting books to the kids and their families. Right away, SLIC staffers connected the charity with Edinburgh Library's Children and Young People (CYP) team — demonstrating how library networks support each other, in order to benefit their communities.
The library jumped at the idea, realizing they had the ability to meet this urgent need. Its Literacy Trust department also got involved, donating 300 books that could be given to families permanently, rather than loaned out.
Services desig

ned for safety

While the need for the program was obvious, its structure had to be approached carefully. Serving vulnerable populations, especially people with weakened immune systems, can be a delicate task even without the added challenges of a global pandemic.

"We had to be certain that we would be able to support the families, with no added risk to them," McTaggart explained. "We worked closely with ECHC and our Health and Safety team to ensure the procedure was developed with staff and user safety as the priority."

After careful consideration, the library and the hospital's charity collaborated on a plan to bring books to this at-risk population safely and efficiently. Every week, the library's fully stocked Childrens' Bookbus would park at the charity's office, then return to the branch every weekend to be restocked. This schedule gave the library time to quarantine all the chosen reading materials, as well as rotate the selection to keep it full of fresh and enjoyable choices.
Benefiting children, families and the community
The program was a resounding success, with positive outcomes for both participants and for the library. The partnership distributed almost 600 books to 71 families that would not otherwise have had access to them, and every single child who participated had the opportunity to join the library's Summer Reading Challenge.
Parents spoke enthusiastically about the happiness that book access brought to their kids during what could have been one of the loneliest summers of their lives. Caroline, a participant who spent eight weeks isolating with her family as her youngest son underwent Leukaemia treatment, shared some particularly powerful words.
"Coming up with new ways to keep everyone occupied, while also looking after a clinically vulnerable child becomes a little bit harder as each week goes by," she said of her experience. "It was such a relief when the books from ECHC arrived. The kids were so excited to discover all the new books they had to read, which gave us some much needed breathing space!"
The program accomplished its goal — bringing the joy of reading to vulnerable kids. But significantly, it also strengthened families' connections with the library and its services. Many parents shared that they planned to start visiting branches again with their children regularly once restrictions relaxed, some even opting to return the books they were loaned through the program there themselves. The program also introduced parents to the library's online resources like PressReader, that they could use to access journalism and other media to stay informed and entertained even when time or other circumstances didn't permit a visit to the Bookbus.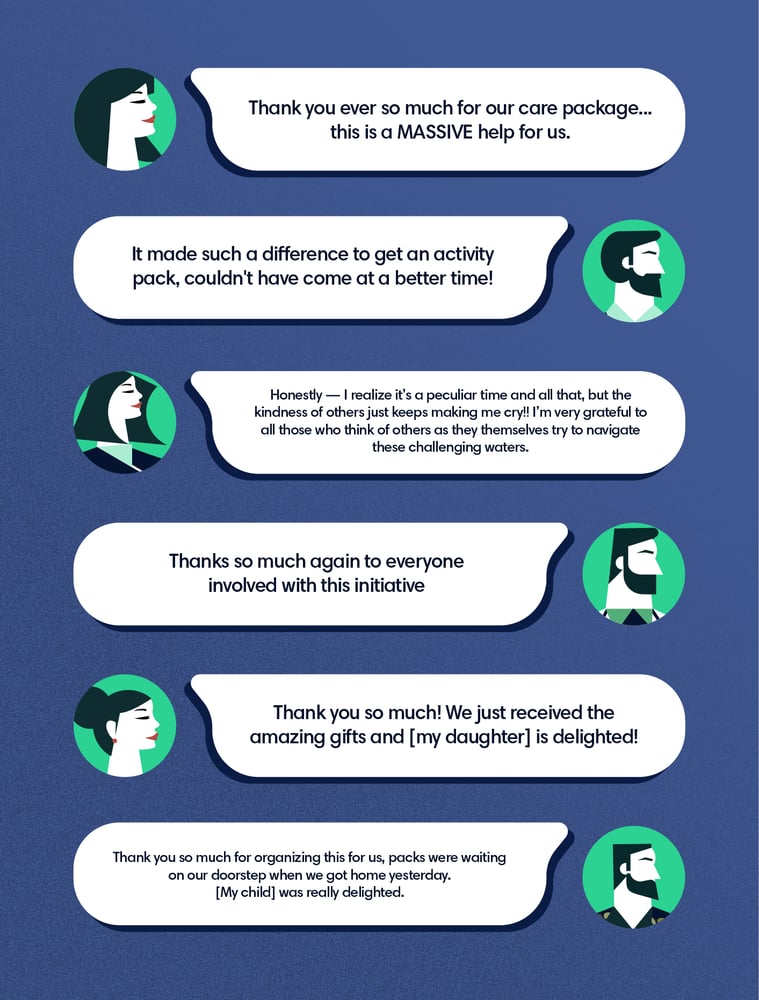 Like many of the new initiatives introduced during COVID-19, the library's partnership with ECHC and Sick Kids Hospital will continue. "We will continue to develop this partnership beyond the pandemic, and keep providing services via our Library Bookbus," said McTaggart.
Great challenges, greater growth
The ECHC program is a perfect example of how the COVID-19 pandemic pushed the library to find new ways to serve its community. It also helped them improve the services they already offered, and identify areas where their existing programming needed work.
"The experience of the last year and a half highlighted gaps in our service delivery," McTaggart explained. "It allowed us to identify and overcome any perceived barriers to expanding services to vulnerable people in the communities we serve."
For all the struggles and losses of the pandemic, Edinburgh City Libraries is optimistic that the experience will make them a stronger community pillar in the long run. "It's essential that we don't forget the lessons learnt from the last year and a half," McTaggart shares. "Libraries must continue to look at developing services, both online and in person, that ensure everyone can participate in the communities we serve."
At PressReader, we know that libraries play an important role in protecting and empowering their whole community. Want to learn more about how PressReader can help you support your most vulnerable patrons? Get in touch.