Over the past several months, we've worked hard to support publishers. During these uncertain times, there's been a shift in the way readers connect with publishers' content. In many countries, for example, non-essential print has been suspended or is in short supply. To support publishers, as they support journalism, we're doing what we can to help them reach new and existing audiences.
At PressReader, our mission from day one has been to help people discover the stories that matter most to them, while building a profitable future for quality content. Period. It's why we put our publishing partners at the center of everything we do, even in times of crisis. It's why we created #PressReaderCares — because we believe newspapers and magazines are an essential service. Whether to access daily news updates from around the world or to relax while staying indoors.
Our extensive B2B network is what makes us unique and sets us apart from other digital newsstands. We get publishers' content into hard-to-reach places, by developing audiences through our brand partners in the airline, hotel, marine, library, hospital, and government verticals. We're able to connect publishers to an audience of hundreds of millions of people, worldwide. With this model, we keep publishers paid, and we help readers discover new content they might never have.


Putting publishers' quality content at the front lines
We're working with our brand partners to connect publishers to audiences at the front lines in these uncertain times. By linking as many people as possible to discover free content through an open distribution model, readers are able to discover new quality publications, and our publishers are able to increase their reach around the world.
While many of our airline and hospitality brand partner's employees stay home doing their part to #FlattenTheCurve, we've connected them to PressReader so they can discover our publishers' content to keep them engaged while staying indoors. And that's not all — we're giving complimentary PressReader access to hotels operating in at the front lines as containment zones, patients and healthcare workers at long-term care facilities, passengers and crew on ships unable to disembark, and libraries as they provide remote access for inaccessible communities.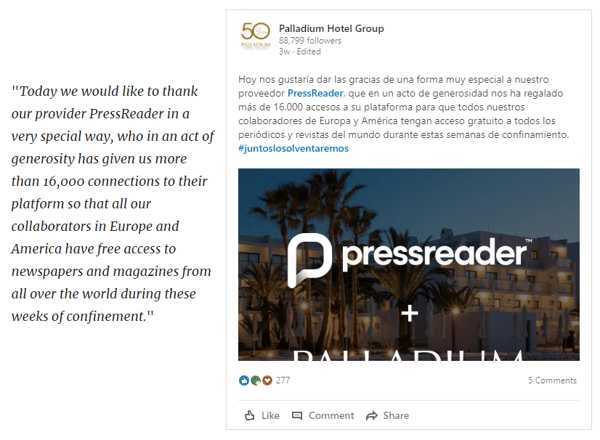 By connecting audiences around the globe through our brand partners and goodwill initiatives, we're helping reach readers, and, we're giving the world what it needs — access to quality newspapers and magazines.
Supporting publishers making fast shifts to digital
As many countries limit non-essential print, the content game is changing fast. So we're working with publishers to reach their audiences or open content as they fast track to digital. In 2006 we launched Branded Editions powered by PressReader — our unique product solution. Branded Editions allows publishers to create replica editions using our technology to get their newspapers and magazine to their audience in a sustainable and digital format — a great solution during COVID-19.
"PressReader has seen an increase in the demand for a premium digital editions product — the current situation, the print footprint reduction by some publishers, and a general desire from readers for more digital have all contributed to this. Publishers are producing incredible content of the highest caliber, and the need for a technology platform that is of equal standing is more important than ever. Our new award-winning technology is just that, providing publishers options to drive engagement in ways never offered before."
Steve Chapman
VP of Content Partnerships, PressReader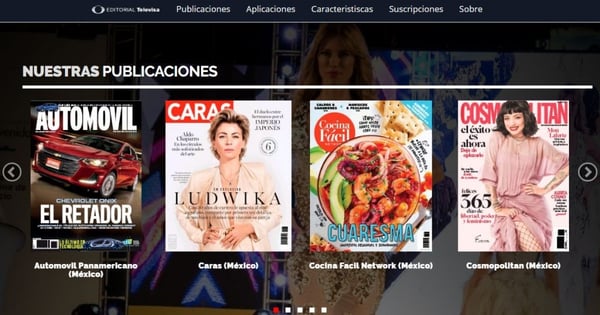 Using our technology publishers can digitize their content fast and provide readers with the content they know and love. In only three days, we partnered with Editorial Televisa, the largest Spanish-speaking multimedia channel in the world to create a digital kiosk for their 20+ magazines – all currently provided free of charge by Televisa to ensure their content continues to reach their readers while print is limited.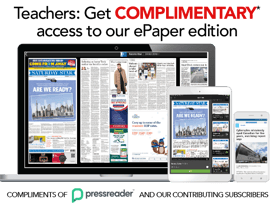 We're also helping publishers with their goodwill initiatives to connect with audiences that need it most right now, like schools and teachers. That's why we're supporting NIE access till the end of June for Toronto Star, Hamilton Spectator and KW Record (all Ontario, Canada newspapers). We know the importance of media literacy; that's why we're so committed to helping our publishers connect schools and teachers to credible quality content.

The Content Team at PressReader continues to work hard for publishers. With a new video series, Behind the Scenes, we've taken a look to see how our team is keeping publishers connected to their readers, especially now during COVID-19. If you'd like to learn more about how we're working with publishers to improve their distribution by opening their content and keep their service uninterrupted - watch the series on our social media channels, or here.


Paying our publishers fairly, every day
We believe in the value of good content and quality journalism. And, we've put our money where our mouth is to prove it. Our payments to publishers reflect the value their content brings, so we pay them just as though someone purchased a full issue at the corner store. At PressReader, our mission has always been to connect people to the stories that matter most to them, while building a sustainable future for publishers and content creators. Because, when it comes to quality content and supporting our publisher, #PressReaderCares.
Click below to learn how more about how we work with publishers.