The hospitality industry has always been about making people feel safe, welcomed, and comfortable. We've worked with thousands of hotels in the industry for over a decade, and we've seen first-hand the positive impact that access to quality content can have on the guest experience, and staff loyalty. Our goal during this time is to give hoteliers, their staff, and guests that same level of comfort.
That's why we've been busy providing free and unlimited access to PressReader for our hotel partners that have converted their properties into containment zones. Whether it's access to trusted news from around the world, or simply to stay entertained while staying indoors — we're doing our part to give back. Here's how a handful of our partners are making a difference during COVID-19, and using PressReader to keep their guests, staff, and everyone in containment zones connected to news and entertainment.
Palladium Hotel Group
The global group with hotels and resorts in Spain, Mexico, Dominican Republic, Jamaica, Brazil and Italy has closed its doors to keep their guests and staff safe during this time. We've offered PressReader access to every Palladium staff members to keep them informed and entertained while they self-isolate and do their part to flatten the curve.
"Today we would like to thank our provider PressReader in a very special way, who in an act of generosity has given us more than 16,000 connections to their platform so that all our collaborators in Europe and America have free access to newspapers and magazines from all over the world during these weeks of confinement."
Stock Exchange Hotel and Football Hotel, Manchester UK
Both hotels have always captured the spirit of the city in unique ways. Cheers of passionate Manchester United fans can be heard from the Football Hotel year-round. The Stock Exchange Hotel stands in the former home of the Manchester Stock Exchange – making it one of the city's most important historical sights.
The Boardroom Suite, formerly the boardroom of the Manchester Stock Exchange
Gary Neville and Ryan Giggs, former Manchester United players and co-owners of GG Hospitality Group, have shifted the properties to support their city in a new way. They've closed the doors to the public, and opened them to house NHS workers.
Our 176 beds will be occupied by National Health Service workers and medical professionals. It will operate free of charge and our staff will operate the hotels as normal.
said Neville in a Twitter video. PressReader is providing free and open access to our platform for everyone at both hotel locations, helping NHS workers and hotel staff stay informed and have great content to read during these difficult times.
Meliá Hotels International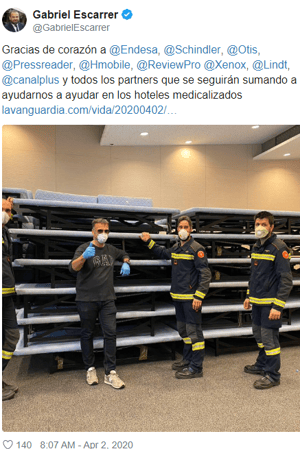 The Spanish-owned Meliá Hotels International is doing their part to ease over-saturation of hospitals and medical centers. As leaders in the industry, they were the first to convert their Mallorca hotel into a hospital. And they've made rooms available for authorities, care workers, social workers, and patients who've been discharged, or who need a safe space to self-isolate.
"Heartfelt thanks to...PressReader... and all the partners that will continue to join us to in helping medicalized hotels."
Gabriel Escarrer
CEO, Meliá Hotels International
We've extended complimentary PressReader access to all Meliá properties operating as housing and containment zones — so everyone at their hotels can stay safe until it's time to go back to travelling.
Iberostar
Iberostar has also paused their operations in light of COVID-19. But that hasn't slowed them down as they continue to support their guests and employees virtually. All Iberostar employees have PressReader's full catalog available to them — so they can stay connect to news, or disconnect with their favorite magazines. Iberostar has also been active on Instagram, communicating their emphasis on self-care, inspiring us to try new activities, and even sharing stories for their littlest travelers.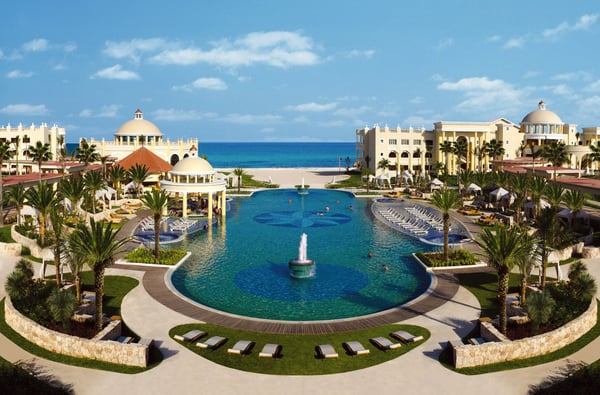 Iberostar Grand Paraiso, Mayan Riviera
"We are a resilient family business and I am sure that we will overcome these circumstances and will emerge stronger."
Sabina Fluxá
Group Vice-Chairman & CEO, Iberostar
Doing our part
As the PressReader team stays put at home and virtually helps to connect our partners with their guests and staff, we're keeping up with the incredible initiatives happening worldwide. We hope that in sharing what just a handful of our partners are doing, we can inspire change too.
Our friends at the WTTC have created a beautiful video to remind us just how important travel is: "Even when we have to stay apart, travel can still bring us closer." And we agree. Because as we do our part with #PressReaderCares, we know we're a part of something bigger — the global travel community. #TogetherInTravel
If you have a hotel that's part of a containment zone or in a country that is currently in lock-down, or, know of a business that we can support with access to newspapers and magazines from around the world, please don't hesitate to reach out. We want to help.