Over the past few months, we've been busy working with our business partners to bring publishers' content to readers. We've partnered with hospitals, connected cruise ships stranded at sea with quarantined passengers and crew on board, delivered digital content and entertainment to 125 care homes in the UK, and equipped hotels that have opened their doors to frontline healthcare workers or have become containment zones for patients. Our commitment is to provide newspapers and magazines for all communities following lockdown measures or who have lost information and entertainment options. That's what we're doing for our aviation partners too.
There's no doubt everyone has been impacted by COVID-19 in some way — especially our partners and friends in the aviation industry. We're a globally connected world, and it shows we really love to fly. Last year alone, over 4.5B travelers reached their destinations by air. So, with airplanes grounded, adventures postponed, and suitcases on standby, we're working with our aviation partners to keep their crew, employees and passengers connected.


Turkish Airlines - Miles&Smiles
As passengers and crew stay safe indoors, we believe it's essential to connect these communities to newspapers and magazines as a source of information and entertainment. So, we've teamed up with our longtime partner Turkish Airlines to provide thousands of members in their Miles&Smiles frequent flyer program unlimited access to PressReader for two months.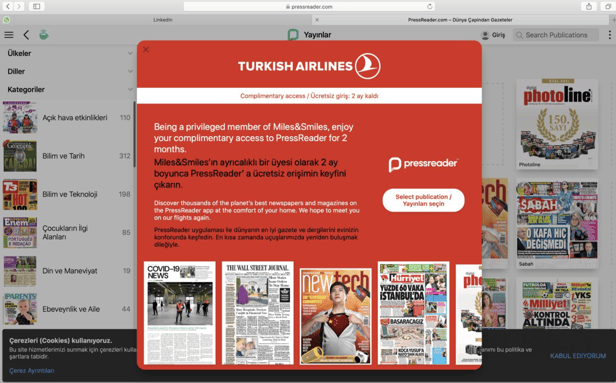 "Flying to more countries than any other airline in the world, it is our passion to bring different cultures, people and ideas together to create a unique travel experience. That is why we have partnered with PressReader to present our passengers access to more than 7000 publications from around the world, whenever they fly with us. Due to COVID-19 pandemic, we have suspended our scheduled flights for a period of time.

This challenging and unprecedented times require us to find new ways to stand by our passengers. Taking advantage of our collaboration, we have offered 2 months of complimentary PressReader access to all our Miles & Smiles members. As our members discover the world from their home, we have strengthened our emotional connection with them."
Mustafa Mucahitoglu
Manager
Customer Experience at Turkish Airlines
The Miles&Smiles loyalty frequent flyer program allows passengers to earn Miles from flights with Turkish Airlines and other program partner companies. Passengers can also earn points by purchasing through program partners and by using a Miles&Smiles credit card. Becoming a Miles&Smiles member, you can earn passengers award tickets, in-flight service, cabin upgrades, extra baggage allowance, as well as thousands of products from Shop&Miles and special services from program partners. Considered one of the best frequent flyer programs, the 30-year old program is jam-packed with awesome offers —it's even free to join.


Air Canada - Super Elite members
As a Canadian-headquartered company, we're proud to announce we've worked with our country's national airline, Air Canada, to connect passengers while at home. Through our existing partnership with Air Canada, all Air Canada staff and all travelers who visit an Air Canada lounge have access to PressReader on their own devices.
Our mission has always been to connect people to the stories that matter most to them, and during these uncertain times, this still remains. We've extended unlimited access to PressReader to all Air Canada's top tier Super Elite members for the next three months.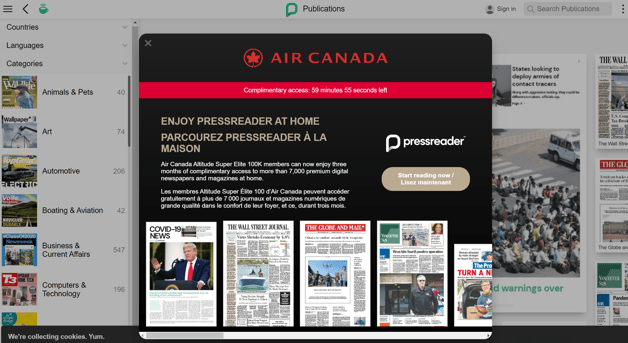 "As a proud partner of another leading Canadian company, Vancouver-based PressReader, our customers have traditionally been able to enjoy the widest selection of digital newspapers and magazines from around the world in all of our lounges, including the award-winning Signature Suite.

Now, as we are bringing the travel experience home, and staying informed is ever more relevant, we are pleased to provide complimentary access to our Altitude Super Elite 100K members for a three month period, as well as all of our employees. I would like to thank PressReader for the great partnership, and for providing global content to travel partners in such an accessible format."
Mats Winter
Airports & IFS Director
Product Design at Air Canada
Not a Super Elite member? Learn more about Air Canada's Altitude program and how to become a Super Elite member here.


Aspire lounges – employee access
It's not just passengers that are grounded; thousands of employees and crew in the aviation industry are too. While everyone does their part to stay at home, we've worked with Aspire Lounges to provide their UK lounge employees complimentary access to PressReader for two months.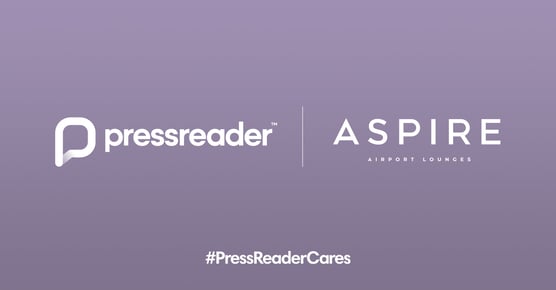 "We would like to pass our thanks on to the entire PressReader team for their kindness and professionalism. In a time when all should be coming together, it is so pleasing to see PressReader going above and beyond!

PressReader have generously given over 200 of our Aspire Lounge's team access to their platform in order for our colleagues to have free access to a global library of magazines and newspapers. This has provided some much-needed entertainment, as well as allowing many of our team to feel much closer to home during this time."
Chris Mitchell
Head of Global Marketing & Bids at Aspire Lounges
Aspire Lounges' 200+ employees now have access to PressReader's catalog with more than 7,000 newspapers and magazines from around the world. Whether employees want to stay up-to-date on the latest news from titles like The Wall Street Journal and The Guardian, or just relax with a magazine from one of our 28 categories, we have something for everyone to enjoy.


Aviate, navigate, communicate
Travel is a beautiful thing. It connects us to our global community and gives us memories that last a lifetime. There's nothing quite like packing your suitcase and setting off on a new trip, is there? Even though our travel plans are currently on pause, we're connecting our community of aviation crew, employees, and passengers to the world with PressReader access.
We've shared it before, but nothing sums up our love for travel quite like the video our friends at WTTC have created to remind us just how beautiful it is: "Even when we have to stay apart, travel can still bring us closer." And we agree. As we do what we can with #PressReaderCares, we know we are part of something bigger — the global travel community. #TogetherInTravel
If your airline or lounge would like to connect grounded passengers and crew to digital newspapers and magazines from around the world, please don't hesitate to reach out. We want to help.