Every one of us has a tie to the healthcare community. Whether through a doctors office visit, a trip to the hospital, or hearing stories from loved ones who work in the space. It's no surprise, then, that we share a respect for the healthcare professionals and staff at our hospitals and care homes — and we rely on these trusted members of our communities to be there in stressful times.
This is especially true now as they're on the front lines protecting us against COVID-19. Doctors, nurses, and support staff are real-life superheroes, putting their health on the line to help others regain theirs. We can't thank them enough, but our goal is to support them however we can.
To help our global medical communities stay informed, we're providing complimentary PressReader access to staff, support workers, residents, and patients in hospitals and care homes worldwide. With PressReader, they can keep up with quality news and updated information, or disconnect with entertainment during their downtime. The distancing and isolation we're all practicing is especially important for those in hospitals and care homes — making connectivity and engagement more essential than ever.

Connecting hospitals all over the world
PressReader recently partnered with two of Spain's largest hospital groups, HM Hospitales and Vithas, who represent 16 and 19 major hospitals, respectively. In partnership with PressReader, both hospital groups are supporting their healthcare teams and COVID-19 patients.
HM Hospitales
For HM Hospitales, keeping both staff and patients informed and updated is key. Their recent announcement to "provide the international scientific community with totally anonymized health data regarding patients being treated for the SARS-CoV-2 virus" is helping the worldwide medical community set protocols for treatment.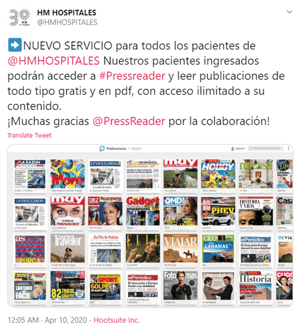 "A new service for all patients of HM Hospitales. Our admitted patients will be able to access #Pressreader and read publications of all kinds for free, with unlimited access to their content. Thank you very much, PressReader."
Vithas
Vithas has been in the industry for over a century. And now, they represent 19 hospitals and 28 medical centers throughout Spain. In their efforts to manage the COVID-19 pandemic, Vithas has been working on innovative breakthroughs. They've been using ultraviolet mask sterilization to safely extend the use of a single mask, and they've developed a prototype with the goal of providing single dose oxygen delivery to two patient. Trials began in late March at three hospitals, and they've been making progress ever since.
"It has been exciting getting a front row seat to experience how these prototypes were tested, and you can help save more lives with a single shot. In this crisis situation, we must unite our technical knowledge with creativity, providing solutions that help resolve each situation, always safely and available to patients."
Ignacio Narváez
Director of Engineering, Vithas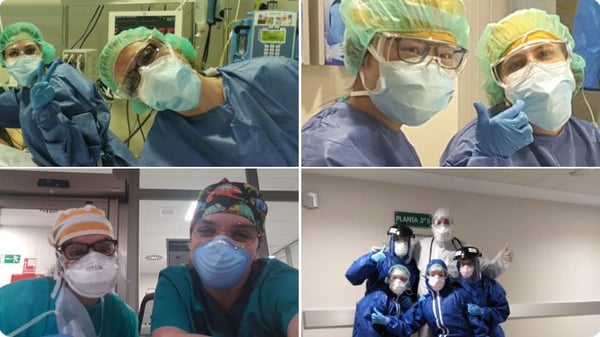 Vithas healthcare workers
Bringing connectivity to care homes
It's not just seniors staying in care homes. Many employees are moving in for the time being to protect their own families. We've made PressReader available for residents and staff at over 400 senior care facilities worldwide. They can enjoy over 7,000 digital newspapers and magazines from their own personal devices — avoiding touching and sharing, and keeping hygiene high.
"Having PressReader in our care homes delivers huge impact to our residents and staff. Our residents can keep connected to news, articles and hobbies they enjoy, and our staff can keep them apprised of important issues happening within the community or across the UK."
Mike Padgham
Managing Director, St. Cecilia's Care Group
Doing our part
Like hotels today, hospitals were initially places to refresh the soul, offering travelers and pilgrims a safe place for rest and reflection. They've evolved over many centuries, but what remains consistent is that hospitals provide care and safety, allowing us to focus on our well-being.
At PressReader, we're in awe of health heroes around the world. Our mission remains the same — connecting people to the stories that matter most to them. Whether it's to access trusted news sources from around the world, or for a moment of relaxation in these uncertain times, we're doing our part #PressReaderCares.