PressReader welcomes Frankfurter Allgemeine Zeitung (FAZ) – now officially available on PressReader outside Germany (for multi-user environment use). FAZ is widely circulated throughout the world and well recognized as one of the top-read national German newspapers with a business-focused editorial. The publication is the go-to German daily with the largest global audience that which reaches an impressive 148 countries and 13.8M readers each month (cross-media brand reach).
Since 1949, FAZ has held firm their commitment to editorial independence and excellent journalistic quality; it provides thoroughly researched facts, precise analyzes, smart comments and positions capable of being discussed daily. With a distinctive editorial style, FAZ is never shy to express its own opinions, as well as initiate and influence social debate. FAZ is, without a doubt, a newspaper written by first-class journalists for readers with the highest demands.
"The Partnership with PressReader as one of the leading digital platforms, gives us the opportunity to strengthen sales and reach of our digital newspaper, in the B2B multi-user environment outside Germany, for example in hotels or libraries."
Tobias Fredebeul-Krein
Head of B2B Marketing and Sales
Frankfurter Allgemeine Zeitung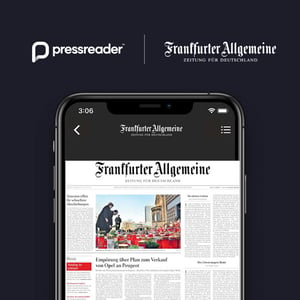 Unlike most papers, FAZ runs its own correspondent network where a single editor does not determine editorial content but operators cooperatively between four editors. Over the decades, FAZ's editorial independence has been guaranteed by the structure of their editorial board, a model unique in Germany and across Europe. To further ensure non-biases, the non-profit FAZIT foundation provides autonomy.
The agreement includes Frankfurter Allgemeine Zeitung (FAZ), the Sunday edition Frankfurter Allgemeine Sonntagszeitung FAS), weekly Frankfurter Allgemeine Woche, and Frankfurter Allgemeine Quarterly. The publications are available outside of Germany through PressReader's worldwide B2B business partners from libraries to hospitality, aviation to cruise liners and medical facilities to marine. Frankfurter Allgemeine Zeitung joins PressReader's well-established and award-winning publishing partners such as The Wall Street Journal, El Pais, The Globe & Mail, The Guardian, and The Independent.