You need your news, and you want to get it from the publications you trust. However, sitting down to read the latest headlines with your morning coffee isn't an option.
Maybe you're a multitasker or an always-on-the-go traveler.
Perhaps you rely on assistive technologies to keep up with the news.
If you can relate to any or all of the above, PressReader's new Listen Up! feature is for you.
See also:
Hear the day's top stories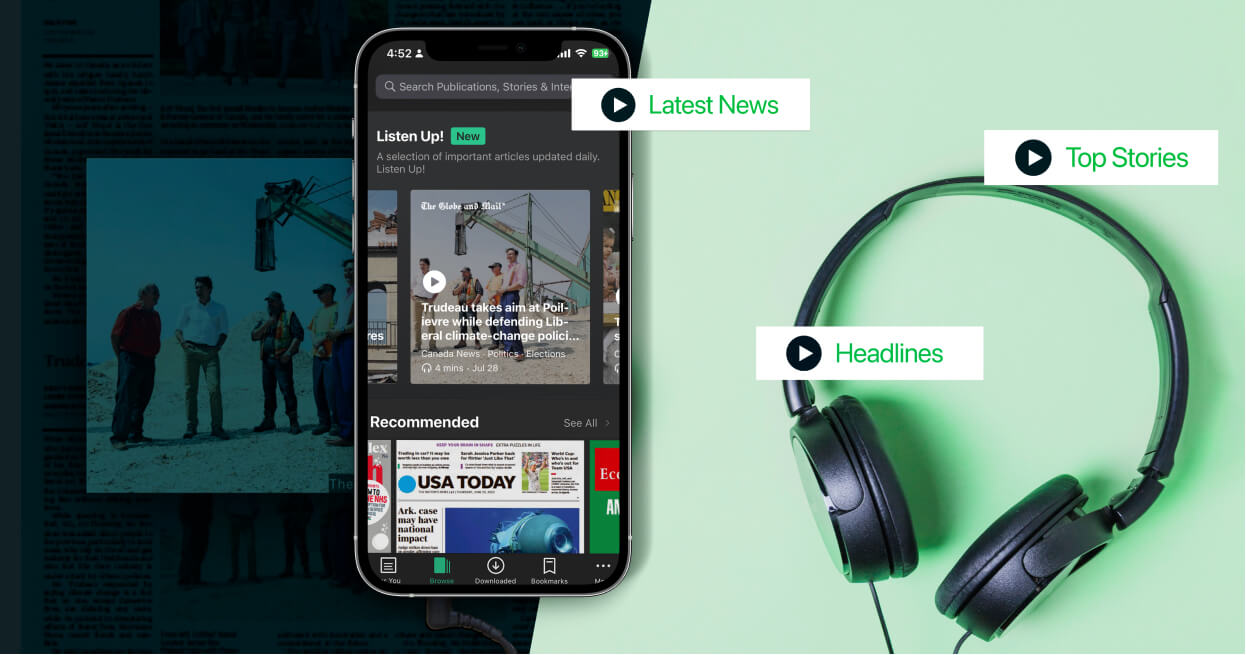 Now available to users of PressReader's iOS app, Listen Up! curates the day's top stories and makes them available in audio form. Using PressReader's premium text-to-speech technology, Listen Up! delivers the text of each article in a human voice.
Listen Up! allows users to stop or pause while they listen, and to skip forward or backward to another article.
How Listen Up! works
To use Listen Up!, open the PressReader app on your iOS device. On the Browse tab, you will find a carousel of the day's top headlines from around the world. Simply press the Play button to start listening, or swipe left or right on the carousel to select other articles.
While listening to a story, you will be able to stop or pause, scrub forward or backward within the article, or skip forward or backwards to another story.
You can access the text view of the story while they listen by clicking on the headline. Click on the back-arrow button at the top left to return to the audio listening interface.
Accessibility Mode
Listen Up! is just one of the tools available to PressReader users who rely on assistive technologies to access newspapers and magazines at learning centers, institutions and businesses.
Because we believe reading should be inclusive, and that anyone should be able to access quality content regardless of ability, we created Accessibility Mode, which includes the following settings:
Keyboard navigation: Integrated keyboard navigation allows readers to browse magazines and newspapers with just a few taps. This makes things simpler for readers with motor disabilities or those requiring easier navigation, who can switch from one article to the next using the TAB and ENTER keys.
Font enhancement: Flexible font size is one of the keys to making more quality content accessible to all. In Accessibility Mode, readers are able to enlarge or shrink the font size of our publications to fit their individual needs.
Article view: PressReader Accessibility Mode extracts text from the original newspaper or magazine replica and presents it in a way that's easy to navigate.
The app breaks publications down into sections for greater ease of use, so readers need not search through an entire page to find the info they're looking for. They can focus on one article at a time to reduce distractions.
Compatibility: Many people with visual impairment, or low vision, rely on screen readers to convert digital text into speech — allowing them to listen to the content on the screen. (Those using the PressReader app on an iOS device such as an iPad or iPhone, they can access the Listen Up! feature for a more curated experience.)
PressReader Accessibility Mode is compatible with popular screen readers on the market. It's also available through the internet browser on desktop and mobile devices.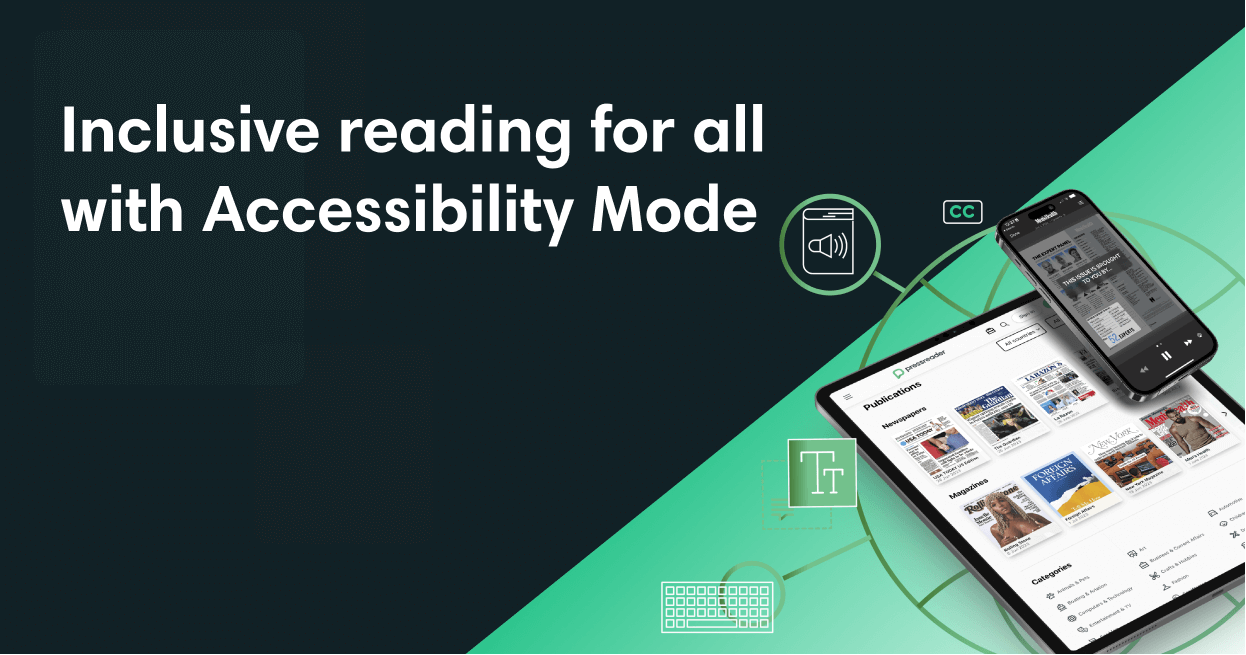 Using Accessibility Mode:
On your web browser, use PressReader's Accessibility Mode to discover quality content from the world's best selection of newspaper and magazines with just a click:
1. On pressreader.com, hit Tab on your keyboard to switch to Accessibility Mode.
2. Or click the 3-dot menu button in the top right corner and select Accessibility Mode.
3. It's as simple as that. Choose your favorite titles and try out all the features.
To learn more about our accessibility features, visit the PressReader website.