Of course math, science and the arts have their place, but many would argue that today's teachers have a much more urgent lesson to impart to their students: media literacy.
Having the skills to parse fact from fiction, to recognize bias and to identify misinformation is a foundational skill for a functional democracy. It provides citizens of all ages with the skills to navigate media critically, empowering them to decode and understand the content that ultimately plays a huge role in shaping attitudes and beliefs. The immeasurable value of critical thinking begs an equally critical question: how can educators teach media literacy throughout elementary and high school?
See also:
What is media literacy?
Media literacy is the practice of critically evaluating and understanding the messages of media content of all stripes. Whether consuming newspapers, magazines, digital content, videos, television shows or social media, being able to identify the nature and impacts of stories and images makes us better able to avoid manipulation or the spread of misinformation.
And this has never been a more important skill to hone. With greater access to information and free content at an increasingly young age, comes the rise of fake news and the dangerous spread of misinformation. Online, anyone can publish anything. And with more sophisticated graphic design tools, video editing software and web design tools, distinguishing trustworthy professional sources from unverified outlets is getting harder. It's no wonder an alarming number of readers and media consumers aren't able to critically evaluate what they're reading.
Why teach media literacy at school?

Media is an unavoidable part of life for the modern student. It's a shared experience, and can be a powerful catalyst for learning. Bringing media literacy into the curriculum empowers young people to question and evaluate content in the world around them, and teaches them to be both engaged consumers and active users. It's also a powerful tool in helping students understand how attitudes and assumptions are formed, analyzing the gap between fantasy and reality that is often blurred in media representation, whether around beauty, violence, race or politics.
When encouraged to use multimedia tools in creative ways, media literacy assignments can also enable students to "understand by doing." Media literacy concepts can (and should!) be applied to a variety of subjects and topics: a specific media lit course isn't required. Any teacher passionate about imparting these lessons to their students can embrace these concepts and layer them onto existing course work.
Supporting teachers with their media literacy goals
Teachers play a pivotal role in the fight against misinformation, but they can't do it alone. We need to arm our educators with the right media literacy resources to help them make the biggest impact possible on our youngest citizens as they move through the school system.
While universities and colleges increasingly offer courses or full degrees in media literacy (like the University of Washington's popular "​​Calling BS: Data Reasoning in a Digital World" course), students can be introduced to media literacy and digital media literacy concepts as early as kindergarten.
To do this, however, educators ultimately need the support of libraries and librarians, of governments, of publishing professionals, of parents and community leaders. Yes, media literacy starts in schools, but will take a village to effect lasting change and help the next generations learn how to effectively research and critically assess information made available to them.
For one, financial support from municipalities or larger government bodies can go a long way to helping teachers compile resources, attend workshops or take the time to develop robust media literacy programs. But if funding isn't available, there are plenty of free ways for teachers to tap into media literacy education opportunities.
The power of teacher and librarian collaborations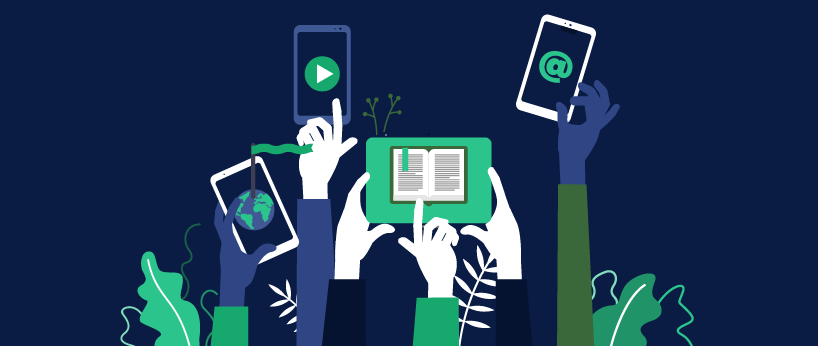 Public and K-12 libraries make for excellent partners in developing media literacy programs. Not only can librarians (and teacher-librarians) provide expertise or programming in the field of identifying trustworthy sources, the volume and variety of texts available at any given library provide a wide range of entry points into media consumption.
With a robust collection of content from a variety of different sources—whether in print or via digital newsstands—public or school libraries can provide students with opportunities to explore different perspectives and worldviews.
As Margaret Kristin Merga put it in the Journal of Adolescent and Adult Literacy, "Not all literacy learning occurs in the typical classroom in school. School libraries can be dynamic spaces in which literacy and literature learning are fostered, because in schools, libraries are places where text, technology and literacy converge in concentrated form."
With their dual roles as an information specialist and curator of knowledge, librarians can help embed media literacy and digital literacy into the curriculum, supporting teachers through implicit and explicit actions.
For instance, incorporating maker spaces within the library could be one great way to help students understand the inherent biases and meaning-making that goes into media production. Providing direct instruction on research skills and how to evaluate sources for legitimacy is another way librarians can support teachers in bringing media literacy into schools.
Media literacy resources for teachers
With so many organizations out there working towards the goal of improved media literacy for students, there is a wealth of free media literacy resources available online for teachers. Building a personalized media literacy toolkit for the classroom has never been easier.
Pairing these worksheets, virtual workshops or video series with educational opportunities from librarians can help teachers craft powerful, lasting lessons for students at all grade levels. We've pulled out a few favorites, but you can dig deeper with Common Sense Education's robust list of links here.
For educators wondering how teachers can teach media literacy in elementary and high school, the answer is with the support of these great partnerships and resources. Reach out, build connections and bring your students along for the ride.
If you're ready to commit to spreading trustworthy information and promoting media literacy in your own school and libraries, visit our Knowledge is Power to download our media literacy kit.