Reading is a powerful thing. Whether it's for enjoyment or increasing your knowledge, reading words on paper (or screens) can take us to a place far from where we are physically. As we stay at home to remain safe and healthy while the world recovers, it's important to find balance by keeping ourselves entertained. There are many ways to do this, of course, but one of the most incredible activities to escape from the fear, uncertainty, and doubt of the outside world is picking up a book, comic, magazine, or newspaper.
On Thursday, February 25th, Ireland celebrates a new national day of reading by inviting people of all ages to pick up something to read and enjoy. Ireland Reads is a public library initiative as part of their government's 'Keep Well' campaign. We're joining them in their cause because we also believe that taking time to unwind by doing things we enjoy is important for everyone's mental well-being.
Let's rewind a bit. Why is this important? Since the start of the pandemic, we've seen a major increase in engagement on PressReader. Interestingly, this was the result of readers looking for quality journalism but also something to read as they explore topics in health, hobbies, cooking, and more. In Global Web Index's Coronavirus Research April 2020 report, they found that in the UK and US, "a third of consumers in both countries want to see more topics unrelated to the coronavirus, showing the importance of bringing in a sense of escapism or normality as the outbreak consumes every aspect of our daily life."
Libraries, in particular, played a role in this increase in reading. We saw tons of activity from librarians, both public and academic, making sure their patrons and students knew that their library is still available as an online resource.
To this day, and likely always, libraries are the key to keeping communities informed, educated, and entertained during the worst of times.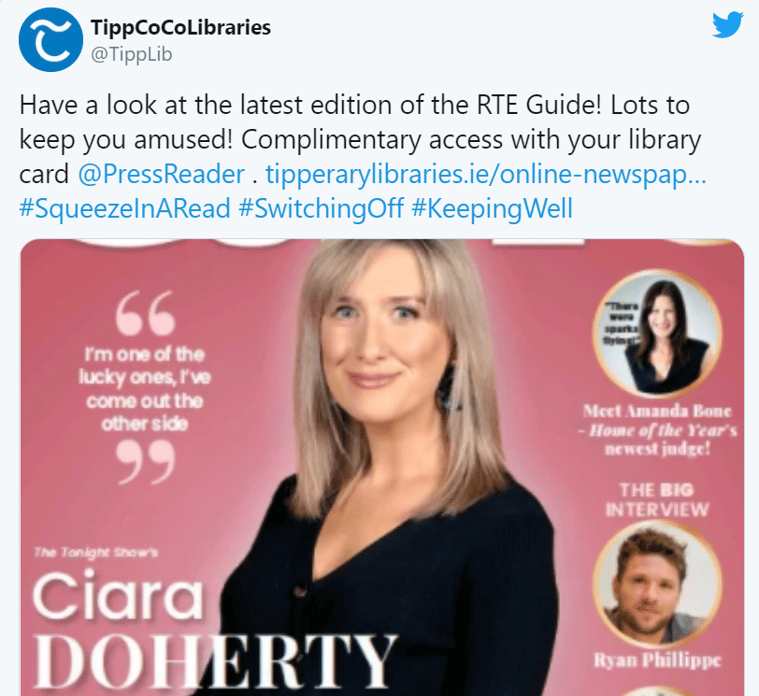 Tipperary Libraries promoting PressReader for Ireland Reads. twitter.com
At PressReader, we're obviously big fans of reading. We asked a few of our staff what pages they've been turning, and why they'll be reading on Thursday, February 25th.
Reading to stay connected to home
Our employees who have families all over the world use reading to stay connected to news at home — so they can catch up with their loved ones about what's going on internationally.
"I particularly enjoyed reading two books this past year: A Gentleman in Moscow by Amor Towles and The Night Tiger by Yangsze Choo. Both titles let me travel through time and cultures and ended up being perfect tools for escapism. On PressReader, I am reading newspapers and current affairs magazines. Mostly The Globe and Mail, Corriere della Sera, Il Sole-24Ore, Bloomberg Businessweek. I find it easier to keep myself informed without buying into the urgency of online and broadcast media, and I can stay current with my home country's affairs."

Ornella Sinigaglia
Reading to keep up with hobbies
Picking up a niche magazine is a great way to dive into a hobby. Our employees read magazines on PressReader to keep up with their unique interests.
"I'm reading a fascinating book (it won a trunk full of awards a few years back, including the Pulitzer Prize): The Emperor of all Maladies. While one may not consider reading a history of cancer, arguably the world's most feared disease, a relaxing way to pass the time, this novel is nevertheless an informative and riveting biography of the disease - yes, biography - written from patient, researcher, and medical professional perspectives.

As for magazines, now that we're starting to experience drier roads and longer days, I am divining inspiration from Pro Cycling and Cycling magazines on PressReader. PROG magazine keeps my music jones in check, too, with great stories, interviews and reviews of the latest (and classic) sounds from many of the world's most innovative musicians. Fortunately, my desire to learn about new developments in my rather disparate choice of hobbies is easily satisfied with PressReader's wide selection of publications."

Michael Nathanson
Reading to stay connected with family
Our global presence reaches business partners in 171 countries, so our team needs to be incredibly diverse too — which means oftentimes, many of them are far from home. Reading is an excellent way for international employees to carry a piece of their home country with them and to feel closer to their roots.
"The reason I love using PressReader is because it helps me feel right at home. I'm from England but currently live in Canada, which means I miss family very much. With PressReader, I can read my local newspapers from my small hometown in England, which my dad often appears in! I can see all the images and see exactly what's happening in my beautiful hometown (Scarborough). It helps me relax and stops me from feeling homesick as I never miss anything. There is no other way I could do this without PressReader, which is why I use it so often. My favorite papers include Scarborough News and Yorkshire Post."

Chantel Padgham
Reading for self improvement
All this time at home has created space for our employees to improve, well, whatever it is they want to work on! Some are improving skills like habits and time management, or they're using this time to get a boost of creativity.
"I'm a huge non-fiction reader because I'm all about self-improvement. A title I recently powered through was Atomic Habits by James Clear, which helped me focus my time and attention while working from home during the pandemic. I'm also into autobiographies. I enjoyed Educated by Tara Westover and A Promised Land by Barack Obama. I think it's fascinating stepping into someone else's shoes and hearing about their experiences in their own words. That being said, I'm actively trying to read more fiction because I believe stories can spark creativity and carry us to entirely new worlds — something that's essential right now while our world is far from normal. It's about the sense of escapism and getting a mental break from everything that's going on. I also love flipping through beauty and fashion magazines. My go-to reads on PressReader are Cosmopolitan, GQ, and RTÉ Guide (an Ireland favorite). Learning about the latest trends is exciting, and it keeps me in a creative flow."

Sarina Arefzadeh
Reading as a form of escapism
While we are stuck at home waiting for the day we can safely travel to our bucket-list destinations once more; we can turn to reading to find inspiration or even look back on nostalgic memories.
"I've been listening to a number of audiobooks through the pandemic and gravitate towards historical fiction. All the Light We Cannot See, by Anthony Doerr, was a perfect read - being transported back to WWII-era France and Germany. I have also been living vicariously through the travel expeditions featured in National Geographic Traveller or Wanderlust magazines, both found on PressReader. I am looking forward to the days when I can be back on a plane, but until then, I'll plot my escapes with PressReader's extensive travel magazine library."

Kelly Banks
With 30 public libraries offering PressReader in all of Ireland, how many minutes of reading on PressReader do you think residents will 'squeeze in' on February 25th, Ireland Reads day?
We're stoked for Thursday and we can't wait to see how many minutes of reading Ireland will bank on PressReader. Stay tuned!
If you're from Ireland and haven't taken the pledge already, don't forget to sign up here: https://www.irelandreads.ie/
More about PressReader
Across all our offices around the globe, including in Dublin, we at PressReader have been working with publishers of newspapers and magazines for over two decades, delivering quality content into the hands of readers. We built models that are a true win-win-win for publishers, business, and readers.
Readers, consumers get access to content they trust, content that informs and entertains, content that they know and content that they're about to discover – content that matters to them. Businesses, brands elevate their customers' experience in a more sustainable way. Publishers instantly access a massive audience they can't reach on their own, growing distribution, audited circulation, and revenues.
By working together, and helping to elevate media literacy in our society, we make it more equitable, more accessible to all. And we couldn't be more grateful to our participating partners - publishers, libraries, and business alike, for doing their part in supporting this great new initiative. Let's get reading!
Interested in offering a reading experience your customers will love you for? Find out if PressReader is right for your business.