Over the past few years, libraries have played increasingly larger roles in the lives of their members and the communities they serve. No longer a place to simply search for and sign out desired titles, our libraries have become community centers, venues for learning and education, as well as hubs of art and cultural programming. Covid-19 has highlighted another essential contribution libraries offer communities: libraries ensure patrons stay connected to health updates and important information even while they stay safe at home. Few libraries deliver this combination of the educational, cultural and critically essential so adaptively and capably as the United Kingdom's Surrey Libraries.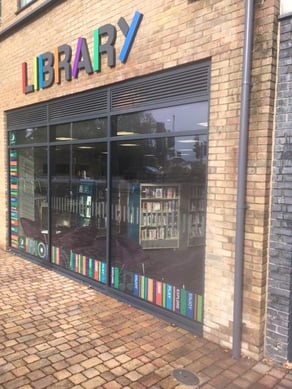 With 52 libraries serving nearly 1.1 million people, Surrey Libraries performs a central role in the lives of Surrey residents. Underscoring their importance to villages, cities and towns, Surrey Libraries are intrinsic to Surrey County Council's strategic vision; maximizing resource availability and usage by all citizens, and developing cultural events and programs that benefit the entire county are among the top objectives, with technology as the key to success. From poetry to science to culture and leisure, adults, teens and younger audiences have access to programs developed specifically for their interests. Continuously adding new content for their patrons to enjoy, Surrey Libraries has over 2 million books available for loan, including material on CD, DVD and other formats, including e-books and e-magazines.
Surrey Libraries/Loraine Marshall
Whether members seek information on starting a business, employment information, consumer advice, activities for toddlers, or direction on more challenging family matters, Surrey Libraries is the county's resource hub. Usage is impressive. From April 2019 to March 2020* there were:
Active

Borrowers 141,188

Recorded Physical visits 2,905,618

Virtual Visits 1,602,677
*Due to Covid19 libraries were closed from 20 March
Building strong communities
Like the books in their collections, Surrey Libraries' members each have a unique story – and different needs. For those unable to visit libraries themselves, Surrey Libraries provides a Library Direct Home Service, delivering books to homes and to a variety of other community locations. As well, their Libraries From Home programs include rhyme and story-time for children (now held virtually); resource material and programs for adults; Out-Lit for LGBTQ+ community members; and they even provide assistance with using smartphones, tablets and computers for older citizens. With their Poetry in Surrey blog, one can recommend a favorite poem or even submit a personal creation to their website to perhaps be published on the blog. Other important programs include providing online access to material that supports the mental health and physical well-being of community members of all ages and domestic situations. This has been especially important during the past few months as people deal with the isolation and stresses of Covid-19.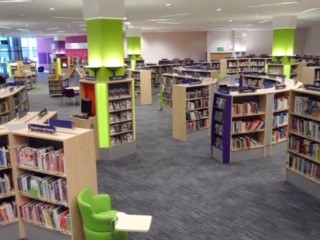 Surrey Libraries Bookshelves/Loraine Marshall
As is the case across the country, budget pressures are a challenge. Having PressReader available to all library members has enabled Surrey Libraries to actually increase the selection of available publications beyond what was previously available in print. This is not only limited to English language.
"Last year the only foreign language library loan supplier went out of business and with limited resource to purchase foreign language material, PressReader enables us to make available magazines and newspapers in a multitude of languages to meet the needs of our diverse communities.

PressReader makes a large number of titles in many languages available to more of our users than we could ever have catered for previously with hard copy resources….The vast range of titles in the many different languages has obviously been much appreciated by our users. The comparison below indicates exponential growth in the space of a year."

Issues Read

April- July 2019 - 52,264

April -July 2020 - 155,731

Articles Read

April- July 2019 - 114,385

April-July 2020 -1,073,915

Hotspot Usage and Hotspot Connections

April - July 2019 - 15,825 and 51,177

April - July 2020 - 41,675 and 184,592

- Loraine Marshall, Team Lead Stock Development and Design, Surrey Libraries
Library services delivered digitally
Surrey Libraries' impressive selection of digital services underscores a modern and thoughtfully planned community presence. The entire journey for members begins from home; if one has an email address and lives or works in Surrey, they can join within minutes. And digital programming is designed for all ages and interests. This experience allowed Surrey Libraries to successfully react and respond to the many obstacles presented by the Covid-19 pandemic. Surrey Libraries' comprehensive website not only features numerous events and activities accessible online, it ensures Surrey county residents stay safe while indoors with a dedicated web page providing updates to available services, important safety protocols and operating hours for all 52 locations. And, as libraries begin to reopen, those not yet comfortable perusing the aisles in person benefit from Ready Reads, a service that selects books according to a reader's preferences which they can later collect from the nearest open library.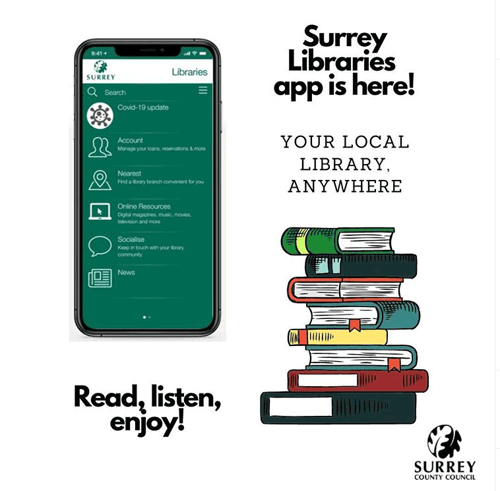 Surrey Libraries App/Surrey Libraries
Social Media: information and connection
To ensure their communities stay connected to important news and information and their communities as well, Surrey Libraries enjoys an extraordinary and enviable social media presence with close to 8,000 followers for Surrey's twitter feed, and thousands more on other channels. Almost every one of the 52 Libraries in the county have their own Twitter presence as well, with anywhere between 1000 and over 3,300 followers!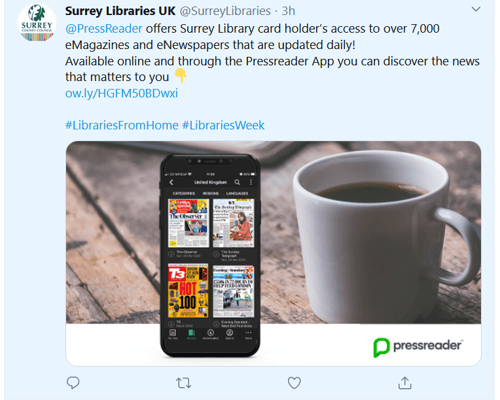 Twitter promotion/Surrey Libraries
As they have for many years, Surrey Libraries continues to support the county's residents, communities and members, helping them live healthy and fulfilling lives. Their innumerable programs and valuable initiatives foster communities through education, personal growth, health and wellness. And that's a story worth sharing.
Interested in providing PressReader at your own library? Get in touch with us by clicking below.