Picture Santorini. Crisp white and blue buildings climbing up the hillside, with idyllic views of the Mediterranean and surrounding islands. The skies are almost always clear, and the sunsets are unrivaled.
At the heart of it all is Katikies Santorini, a hotel that elevates everything the island has to offer, giving guests unforgettable experiences. But beyond delivering unparalleled services to its guests, Katikies Santorini is also exceeding expectations in another way. Responding to the growing need for sustainable practices and eco-friendly planning, the hotel has made sustainability a core pillar of how and why they do things.
Below is a look at the steps they took to make this change — as well as the thinking that got them there.
See also:
It's time for change
The climate crisis has been at the forefront of many conversations in the last few years, especially as we see large-scale natural disasters — from hurricanes to forest fires and floods — happening more and more frequently. Increasingly, as people become more informed, they're more conscious about the impact they have on the planet and their local environments.
Travelers, too, want to feel like they're making sustainable choices and not worsening the state of the places they visit. As such, they opt for tourism businesses that are making a concerted effort to protect the environment and operate sustainably. This is prompting a significant shift in the hospitality industry, with hotel leaders taking a hard look at their operations and making the necessary changes to improve their standing.

The Katikies team, which operates six hotels across the Greek islands, has always understood that their business relies primarily on the pristine state of their natural environment.
"Our industry depends on a healthy global ecosystem and is uniquely vulnerable to environmental damage. Moreover, our natural environment is the beautiful destination we offer guests; it's where the food in our restaurants comes from; it's the air that our customers breathe and the water they drink."

- Panos Melissiotis, Regional Hotel Manager
Today, the rich natural resources of the island are in a delicate state and constantly at risk of over-exploitation. Katikies Santorini wanted to ensure that they weren't part of the problem and, instead, lead the charge in protecting those important resources.
The team also knew that to keep growing their business they had to keep up with evolving customer expectations. As travelers become more concerned about their environmental impact, upholding sustainable practices is essential for business growth, attracting new clients and satisfying customers who want to enjoy luxury experiences without hurting the environment.
How they did it
A few years ago, as they were coming to terms with the changes they needed to make, the Katikies Santorini team implemented operational changes to reduce waste and improve energy consumption. They built a plan that first focused on reducing their carbon footprint and upgrading their vehicle fleet with eco-friendly and electric vehicles.
The plan, which is still being deployed, spans 10 focus areas:
Greenhouse gas emissions

Energy efficiency, conservation and management

Management of freshwater resources

Ecosystem conservation and management

Social and cultural management

Land use planning and management

Air quality protection

Wastewater management

Solid waste management

Environmentally harmful substances
These are being addressed in a number of different ways. For example, in the kitchen, the team has improved their waste management, reusing oils and limiting the use of single-use, disposable items. Meanwhile, for housekeeping, they've set up new criteria when it comes to purchasing cleaning agents, limiting the use of corrosive chemicals. The same goes for pool maintenance and garden management.

Technology also plays an important role in the Katikies Santorini sustainability plan. For one, the hotel has partnered with PressReader to avoid printing materials and distributing hard copies of local and international publications. They've also automated their landscape watering systems, adopted low-energy-consumption lighting systems and implemented contactless check-in and guest engagement services. These are all things that promote efficiency from both a sustainability and an operational costs perspective.
To date, the hotel has made significant progress towards reducing the amount of water used in the hotel, lowering their energy consumption, and minimizing the amount of cleaning products that are used per square meter. They've also lowered the average amount of garbage produced per guest and improved the carbon footprint of the entire property. These are all changes that have been well received by their guests.
"The majority of our guests are conscious of the growing need for sustainability within the hospitality sector. They are global travelers and are aware of the initiative we have in practice to protect the local environment that drives them to visit our destinations and properties." — Panos Melissiotis, Regional Hotel Manager
Delivering a luxury-grade, sustainable experience
One of the biggest questions that Katikies Santorini grappled with as they implemented their sustainable practices was how to balance sustainability with luxury. What they've found is that these seemingly opposite concepts aren't mutually exclusive — something doesn't have to be wasteful to be luxurious. Luxury consumers are becoming much more conscious of the impact of their actions, and that means their expectations are changing.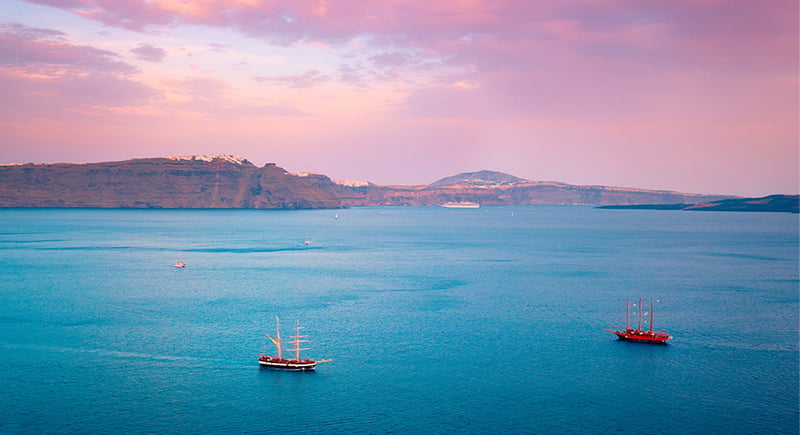 The Katikies Santorini team is meeting these expectations by carefully selecting their products and partners, working with suppliers that also implement highly monitored sustainable practices. Moving forward, they're looking to partner with third-party organizations to help them gain certifications that recognize their sustainable efforts.
These are just some of the ways that Katikies Santorini is helping to rethink how luxury hotels serve their customers. As other hospitality companies follow suit, there's hope that the nature-rich locations we love to visit will be protected and retain their natural beauty.
Learn more about sustainability best practices in our People, Planet, Prosperity issue of the Insider. And check out how else PressReader partners with hotels as they adopt more sustainable practices.