Vancouver, BC. (October 12, 2015) – A new white paper from PressReader outlines significant disruption happening in the newspaper and magazine industries. The report, titled Embracing disruption: the future of newspapers and magazines, profiles disruptive consumer behavior shifts in other industries like film and music, and draws parallels to similar changes now happening in the publishing world.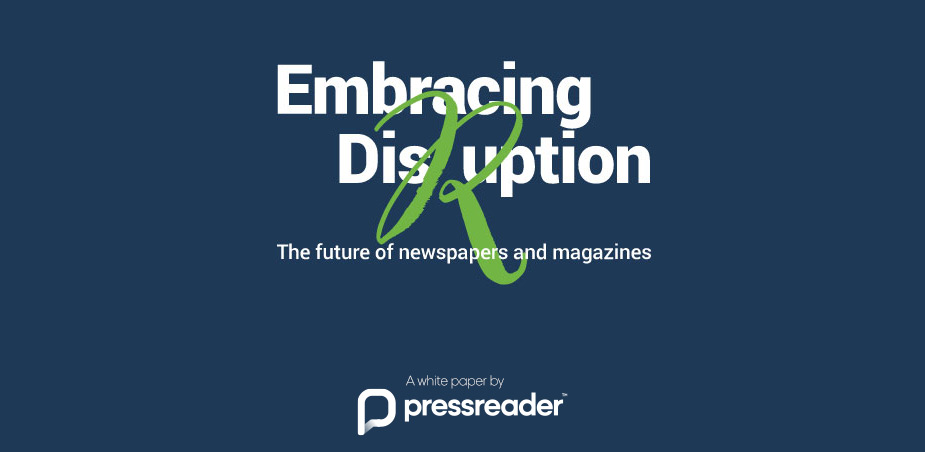 While print circulation continues to decline all over the world, PressReader's catalog of over 4,500 digital titles continues to grow at an incredible rate, currently adding an average of more than 130 new titles every week. This growth is occurring at the same time as readers worldwide increasingly switch to all-digital news consumption, particularly on smartphones and tablets. The report found 44 per cent of Americans get their news primarily via smartphone in 2015, versus 31 per cent just one year ago. This should come as no surprise, given the rapid market saturation of smartphones: there are now more iPhones sold every day than babies born.
The fundamental change in the way we read newspapers and magazines is especially evident in PressReader's business growth. Thanks to their unparalleled digital collection of newspapers and magazines, PressReader has launched many high-profile business partnerships all over the world. Global partners include household brand names like Qantas, Accor Hotels, Shangri-La Hotels, Silversea Cruises and thousands of others.
This week PressReader will be the exclusive News Partner at the high-profile Frankfurt Book Fair, where Igor Smirnoff, Chief Commercial Officer, will present a series of sessions on the new report. Attendees will also gain complimentary unlimited access to PressReader for the duration of the event, and can enjoy titles like Rheinische Post, The Guardian, Vogue, GQ, Corriere della Sera, Washington Post, USA Today, Paris Match, Cosmopolitan Germany, JOY and thousands more.
To read the report, visit www.pressreader.com/disruption.