Frankfurt, Germany (August 20, 2015) – The Frankfurt Book Fair has announced a unique partnership with PressReader, the Canada-based digital media platform. As the exclusive News Partner of the Frankfurt Book Fair (October 14 to 18, 2015), PressReader will provide unlimited digital access to more than 4,000 newspapers and magazines from all over the world to all attendees of the Frankfurt Book Fair. Members of the Frankfurt Book Fair Business Club will receive a special offer of complimentary personal VIP accounts valid for three months after the Fair. Titles include major international, regional and local titles like The Guardian, Vogue, GQ, Corriere della Serra, Rheinische Post, The Washington Post, USA Today, Paris Match, Cosmopolitan Germany, JOY and more.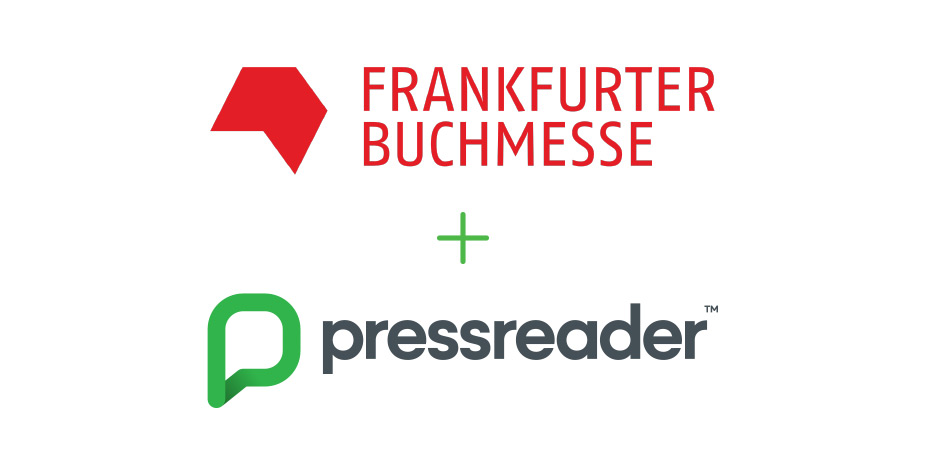 "We are delighted to announce this partnership with PressReader, a fast-growing company in the international media business," said Holger Volland, VP Business Development at Frankfurt Book Fair. "PressReader's news app delivers a stream of top news stories and we are pleased to be able to offer this service to our customers this year."
PressReader offers publishers like Mondadori unparalleled global distribution opportunities, delivering content directly to an audience of more than 250 million in over 6,000 hotels, 16,000 libraries, and a growing number of airlines and cruise ships around the world.
"For the publishing industry to survive and prosper it is imperative to disrupt its own traditional – and quickly becoming irrelevant – modes of operation," said Igor Smirnoff, Chief Commercial Officer. "At PressReader we do just that. Our publishers and business partners alike are seeing huge benefits from changing the way they do things. We're excited to lead the conversation on disruption and technology at Frankfurt Book Fair this year."
Exhibitors and visitors of the Frankfurt Book Fair will receive sponsored access to PressReader's whole catalogue, and can read and download as much as they like while visiting the Fair, and for a week after the Fair. They'll simply need to download the PressReader app, and then visit www.pressreader.com/fbf in order to activate. This link will only be active during the Fair.
PressReader partners with thousands of public and academic libraries worldwide, as well as global brands like Qantas, Virgin Australia, Accor Hotels, Shangri-La, Seabourn Cruises, and even Uber at this year's Cannes Film Festival. To learn more about PressReader, attendees can visit them at the Hot Spot Digital Innovation located in Hall 6 D22, pick up or download a copy of their white paper in the Business Club (Hall 4.0), or catch one of their speaking sessions on Embracing disruption: the future of newspapers and magazines. More information will be made available at www.pressreader.com/bookfair2015.
About the Frankfurt Book Fair
PressReader is an all-you-can-read digital media platform that reaches more than 250 million readers who use PressReader to read, share and talk about news. Full issues of 4,000+ global newspapers and magazines can be read online, in print or downloaded via the app. PressReader Hotspots offer sponsored access to the platform at thousands of libraries, hotels, corporate offices, airport lounges, airlines, cruise lines and cafes worldwide. PressReader also partners with more than 4,500 publishers in over 100 countries, to help them monetize and distribute their content and the multi-channel digital platforms to grow their global reach and readership. For more information visit: pressreader.com or about.pressreader.com, and follow us on Twitter, Facebook, Instagram, LinkedIn, Google+.
About PressReader
The Frankfurt Book Fair is the international publishing industry's biggest trade fair – with 7,100 exhibitors from more than 100 countries, around 270,000 visitors, over 4,000 events and around 9,300 accredited journalists in attendance. It also gathers key players from other media, including the film and games industries. Since 1976, the Book Fair has featured an annual Guest of Honour country, which showcases its book market, literature and culture to attendees in a variety of ways. The Frankfurt Book Fair organises the participation of German publishers at around 20 international book fairs and hosts trade events throughout the year in major international markets. With its Business Club, the Frankfurt Book Fair offers essential services and an ideal setting for the activities of publishers, entrepreneurs, pioneers, experts and visionaries. The Frankfurt Book Fair is a subsidiary of the German Publishers & Booksellers Association. www.book-fair.com