On October 31, 2021 delegations from various countries, industries and communities gathered in Glasgow for COP26. For two straight weeks, they would meet, negotiate, and collaborate on policies and commitments that would help achieve the four key goals of the conference:
Secure global net zero by mid-century and keep 1.5 degrees within reach:

accelerate the phase out of coal, curtail deforestation, adopt more electric vehicles and foster renewable investment.

Adapt to protect communities and natural habitats:

protect and restore ecosystems, build resilient infrastructure and avoid the loss of homes and lives.

Mobilize finance:

ensure that wealthy nations and international financial institutions do their part by investing in net zero.

Work together to deliver on these targets:

accelerate action to tackle the climate crisis through collaboration between governments, businesses and civil society.
Despite a lot of back and forth, the various committees were able to publish a number of commitments that aim to reduce our contributions to climate change. These include a promise from over 100 nations to end deforestation by 2030, net zero commitments from a large group of corporations and a Global Coal to Clean Power Transition signed by 46 countries.
These targets are a call to action for businesses across industries, including the hospitality sector — but where do we start? In this article, we're taking a look at what hotels can do to align themselves with these goals and become more environmentally sustainable.
See also:
Travel and tourism at COP26
The travel and tourism sectors showed up in Glasgow in full force. As part of the many conversations that took place over the course of the summit, delegates published the Net Zero Roadmap for Travel & Tourism, which provides a target framework for the industry.
In this report, we're reminded that "Travel & Tourism has both a responsibility and an opportunity to be a catalyst for change" — and it's true. As stewards for how travelers experience a particular place or culture, hospitality and tourism leaders have a natural, symbiotic relationship with the environment. In that way, it's indispensable for them to ensure that they're doing everything they can to limit their contributions to global warming and climate change. But what does that look like in practice?
At a high level, the biggest things that need to change in the tourism industry, if we want to meet the ambitious goals set at COP26, are the amount of fossil fuels used in travel and the over-exploitation or destruction of natural ecosystems through tourism. These are big, important goals, but they can feel out of reach for individual hotels that are looking to make their own contributions. This is where the Decarbonisation Action Framework from the Net Zero Roadmap can help.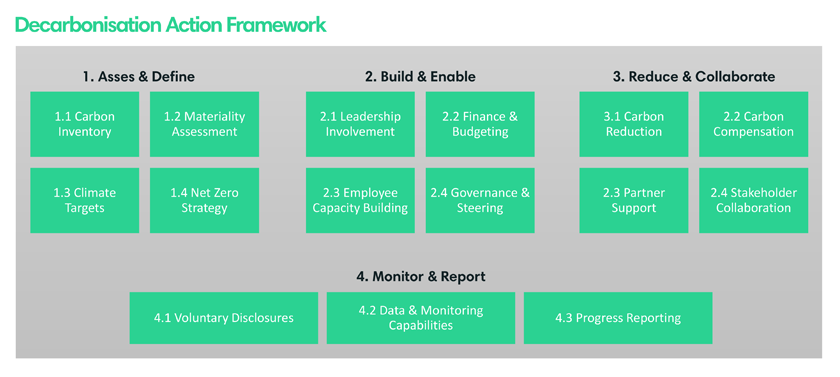 What hotels can do to reduce their carbon footprint
1. Assess & define
As with any initiative you take on, first you need to understand where you stand. To start, you can measure your carbon footprint using tailored tools such as the Hotel Carbon Measurement Initiative (HCMI) framework. By gathering this data, you'll have a clearer picture of where your problem areas are, which will help you set your carbon reduction targets and then map the net zero strategies you'll use to reach them.
2. Build & enable
The next step is all about setting up the capabilities you need to execute on your strategy. For example, do you have a committee dedicated to environmental sustainability that can run the initiatives? Does it have an executive sponsor that can move things forward? A group like this can be a key driver in your environmental efforts.
In addition, you'll also need an allocated budget to execute on your strategy. This means making sure that there's representation from your environmental committee at any budget meetings. As you have these discussions, don't forget to consider carbon pricing and other financial mechanisms that could encourage your procurement team to purchase lower-carbon (and preferably local) options.
Lastly, this step includes equipping your staff with the right skills and knowledge around environmental sustainability. Importantly, this will enable them to better guide guests towards sustainable practices — while also giving them the tools to bring their own ideas and insights to the table.
3. Reduce & collaborate
When it comes to reducing your carbon outputs, it's important to remember that it can happen in a variety of ways. Internally, you can alter your practices to make sure they are more environmentally friendly, yes — but you can also go beyond the walls of your own hotel to make a bigger impact. Are you prioritizing vendors and suppliers that adopt low-carbon practices? Are you collaborating with your existing tourism partners to find better, more sustainable ways of doing things? What about getting input from your guests when they visit you?
Hotels are in the unique position of engaging with various stakeholders every day. Getting their feedback and input could go a long way towards facilitating change within your organization.
4. Monitor & report
Reviewing your performance as you take on these projects will be key. For starters, it will keep you and your team accountable, allowing you to celebrate your successes and learn from any missteps. Plus, if you're transparent in your reporting, you'll be able to build trust with your guests, giving them more of an incentive to visit you again.
Getting this right requires collecting data on a consistent basis — from your CO2 emission numbers to your water consumption levels — and checking them against the metrics you set early on in your journey. And then you need to report on this data. Today, there are a number of templates and guidelines for reporting, including the UN Global Compact, the OECD guidelines for multinational enterprises and ISO 26000.
Across the travel and tourism sector, we're all responsible for making changes — big or small — that move us towards a net zero future. Change won't happen all at once, we get that, but if we each make a contribution, we'll be closer to accomplishing the global goals set in Glasgow at COP26.
For more insights on what we can do to protect the planet download the People, Planet, Prosperity issue of PressReader's The Insider magazine.