A look at some of the electronic resources that have become an essential part of library services
In a recent blog post on how technology has affected the academic library, we explored the ways in which the role of the library has evolved as its users' needs have shifted. It is clear that the library is in little danger of losing its hallowed place as the heart of the campus. On the other hand, students are just as likely to rely on the library for digital resources as they are for printed materials or more traditional library services.
As we have previously noted, in a survey of 400 college undergraduates in the US, Library Journal found that one of the most common library interactions students reported (at 61.2%) was "accessing digital resources". Also worth noting is that the percentage of students who reported accessing electronic journals (43%) was more than twice as high as that of students who said they used print journals (20.9%).
See also:
The digital library is not a new idea
The concept of a digital library — an online database through which users could find materials including text, images, audio and video — dates back to the 1950s. The technology to turn this concept into a real resource was not fully developed, however, until the '90s, when the World Wide Web first went public.
One of the earliest online information services for the academic library was JSTOR, which was initiated in 1995 at seven library sites, originally encompassing a mere 10 economics and history journals. Since then, countless other services have emerged, allowing library patrons to find the information they need, whether it's from an archive of science journals or that day's edition of The Guardian.
Here are just a few of the available options.
JSTOR
Since its humble beginnings, JSTOR has grown and is now in use at more than 11,000 schools, universities, and institutions around the world, providing access to more than 12 million journal articles, books, images and primary sources in 75 disciplines. JSTOR charges a wide range of fees based on the size and type of institution, from public libraries and secondary schools to community colleges and international universities.
EBSCO
EBSCO's offerings for academic libraries include databases across 30 different subject areas, from Political Science and Business & Economics to Music & Performing Arts and LGBT & Gender Studies. The company also indexes databases of peer-reviewed open-access journals, and has introduced a mobile app, which expands a library's reach by allowing users to do their research from wherever they might be.
Oxford Academic
From the name alone, you have probably already guessed that Oxford Academic is a tool designed for searching through the thousands of books and journals published by Oxford University Press. That is indeed the case, but Oxford Academic also brings together publications from 24 prestigious academic presses on a single platform. These include Princeton, Yale, MIT, NYU, Hong Kong University, the British Academy, Cornell, and Columbia
Dimensions
Dimensions bills itself as "the most advanced scientific research database," boasting more than 100 million publications. These include articles published in scholarly journals, books and book chapters, and conference proceedings. Links to grants, patents, datasets and clinical trials add a rich layer of context to the content. Best of all, the basic version of Dimensions — which is currently used by millions of researchers — is free to use.
Yewno Discover
Yewno Discover is not unlike other online information services in that it draws upon millions of scholarly articles, books, and databases across virtually all academic fields. Where the platform is unique, however, is that offers researchers, students and educators the ability to find what they're looking for in an intuitive way by visually guiding them through a web of semantic connections and conceptual links. According to Yewno, this method "not only enhances understanding and creates more impactful work, but also saves time while ensuring comprehensive and credible coverage." Mister Spock would no doubt find it fascinating.
Semantic Scholar
Based at the Allen Institute for AI (founded by Microsoft cofounder Paul Allen), Semantic Scholar provides free search and discovery tools, all powered by artificial-intelligence technology. Indexing over 200 million academic papers sourced from publisher partnerships, data providers and web crawls, Semantic Scholar extracts meaning from within these papers. The AI identifies connections and then delivers its insights to help human scholars discover and understand research.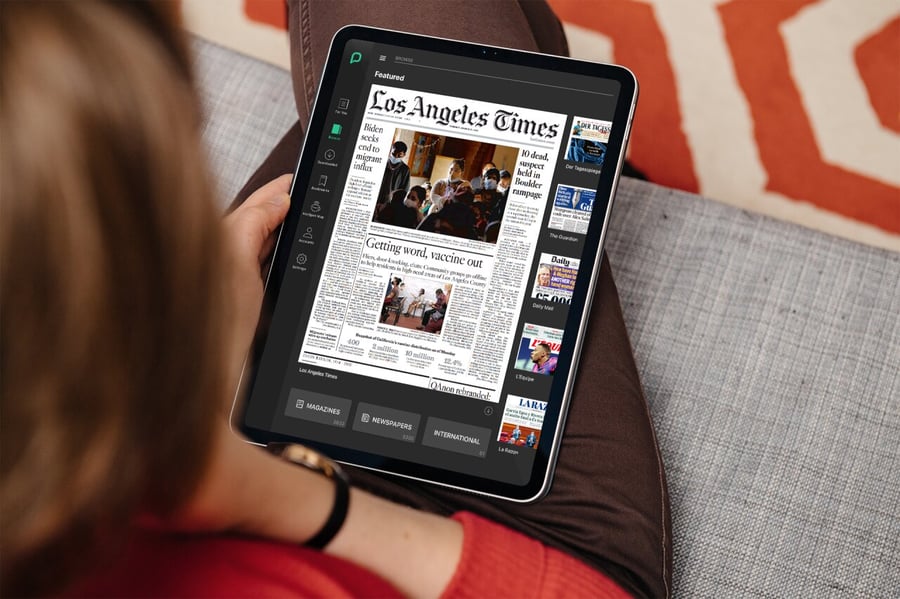 PressReader
Whether they are actively engaged in researching a rapidly developing topic or just trying to keep up with business, science or technology news, academic library users turn to PressReader for the latest information. A library that offers PressReader is able to provide its patrons with more than 7,000 high-quality publications from around the world, including newspapers and magazines from more than 120 countries in over 70 different languages.
With PressReader, they'll always find the most recent edition of publications like The Guardian, Newsweek, Foreign Affairs, Der Tagesspiegel, El Pais, and thousands of others. And if they're in search of an article from an earlier issue, they'll be able to search PressReader's catalogue by date.
For academic library patrons, the importance of this mix of archived and up-to-date content is that it can support their findings by filling in some of the gaps left by some of the other online information services.