Over the past 17 years, my work has taken me all over the world. I've racked up millions of airline miles and visited dozens of countries. Many of my trips involved meetings with partners, customers, and prospects during industry events.
When the pandemic hit, my business travel plans vanished overnight, and I found myself feeling out of sorts – a fish out of water, thirsty for what fed my passion for media and the people who live and breathe it every day. Thankfully, the industry stepped up and offered virtual alternatives – some of which I was honored to help organize and/or speak at.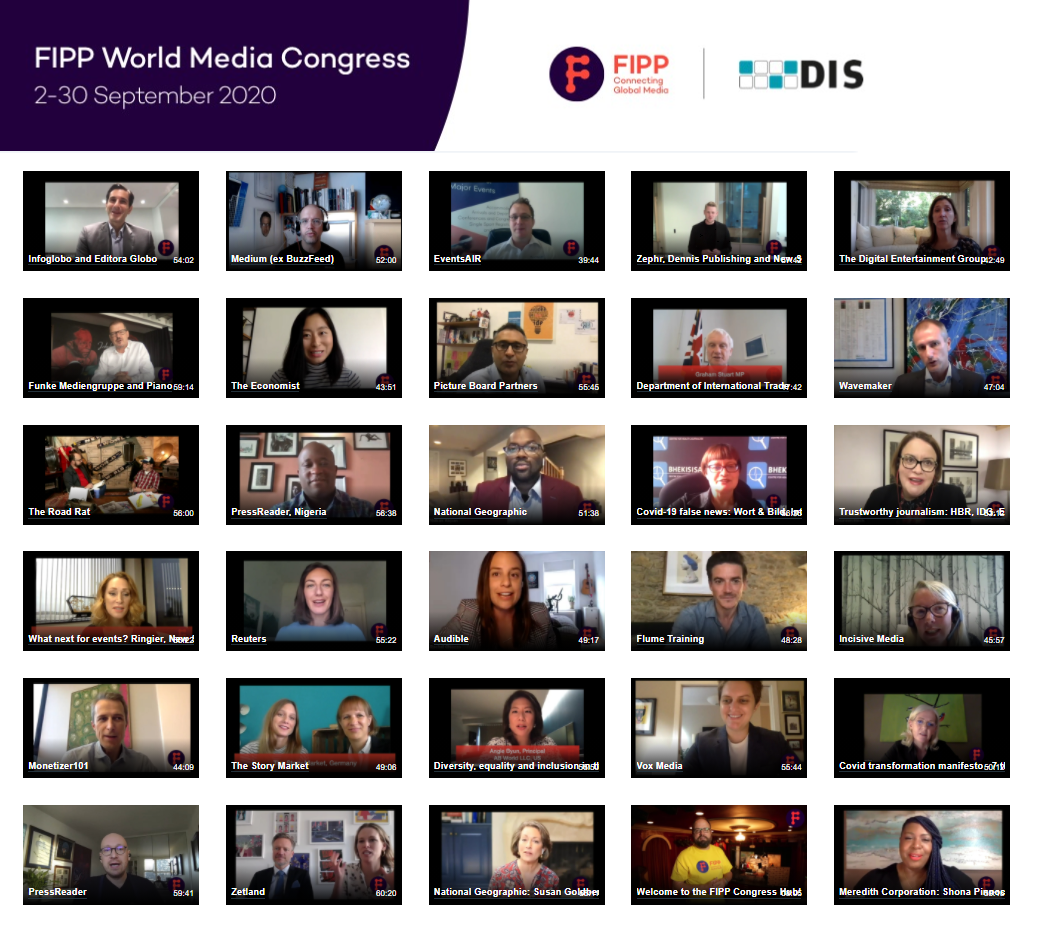 I was pleasantly surprised at many things the organizers were able to do so quickly: put together a thoughtful agenda with relevant and timely topics, attract renowned speakers, offer on-demand viewing after the sessions, and price it affordably so more people could attend.
The FIPP World Media Congress was a good example. Beyond accomplishing the above, I was impressed with how FIPP invested in renting a local theater for the event, building a set there, and hiring a professional cameraperson and producer to create a live television-like experience for the 82 sessions presented over four weeks. The organizers recorded every session, publishing over 100 hours of video content that added longevity to it. The event provided several learnings, and the well-thought-out investment paid off. Not only did FIPP, its board, and members consider the event a success, it made a profit and created several revenue opportunities for the future.
During that same conference, FIPP hosted was a session called, "What next for events?" Panelist Adrian Newton, events director for the New Scientist (a UK magazine), said their research showed the ticket prices for virtual events were between 25-33% of the physical event price.
I started thinking about some of the conferences I've attended over the years that were out of the reach of many colleagues. The Skift Global Forum came to mind. 2019 tickets to their physical event cost US$3,895. According to media analyst Thomas Baekdal, that event attracted 1,200 attendees. It sounds like a lot of people, but it's actually only 0.3% of Skift's newsletter subscribers. Imagine how many of those subscribers would attend if they were offered a far less costly, virtual alternative?
In 2020, Skift's virtual forum tickets were only US$195 – 5% of the full 2019 price. You might be thinking about the lost income for the company, but then check out the number of global attendees Skift attracted to its virtual events in 2020.

So there is an upside to virtual events. Nevertheless, most are also missing a critical component that I really can't imagine living without – the face-to-face communication with individuals I already knew and the serendipitous discovery of new people and ideas that came with physically being together. Networking and reconnecting with friends and potential new friends in the industry, either formally or by happenchance, is something I greatly missed in 2020, along with the handshakes, laughs, and sometimes hugs that came with it.
What's wrong with virtual events?
Before the pandemic, in-person events contributed over US$1T in revenue a year to the global economy – something virtual alternatives won't achieve any time soon, if ever. The technology is still very much in its infancy, making it impossible for event planners to create the immersive experiences that come with face-to-face interactions to enjoy in exhibit halls, conference rooms, banquet halls, and at planned social excursions.
So, it's probably no surprise that EventMB's State of Events Report found that although virtual event technology is aggravating for many reasons, the biggest frustration of all is its inability to match the live engagement opportunities only physical events deliver.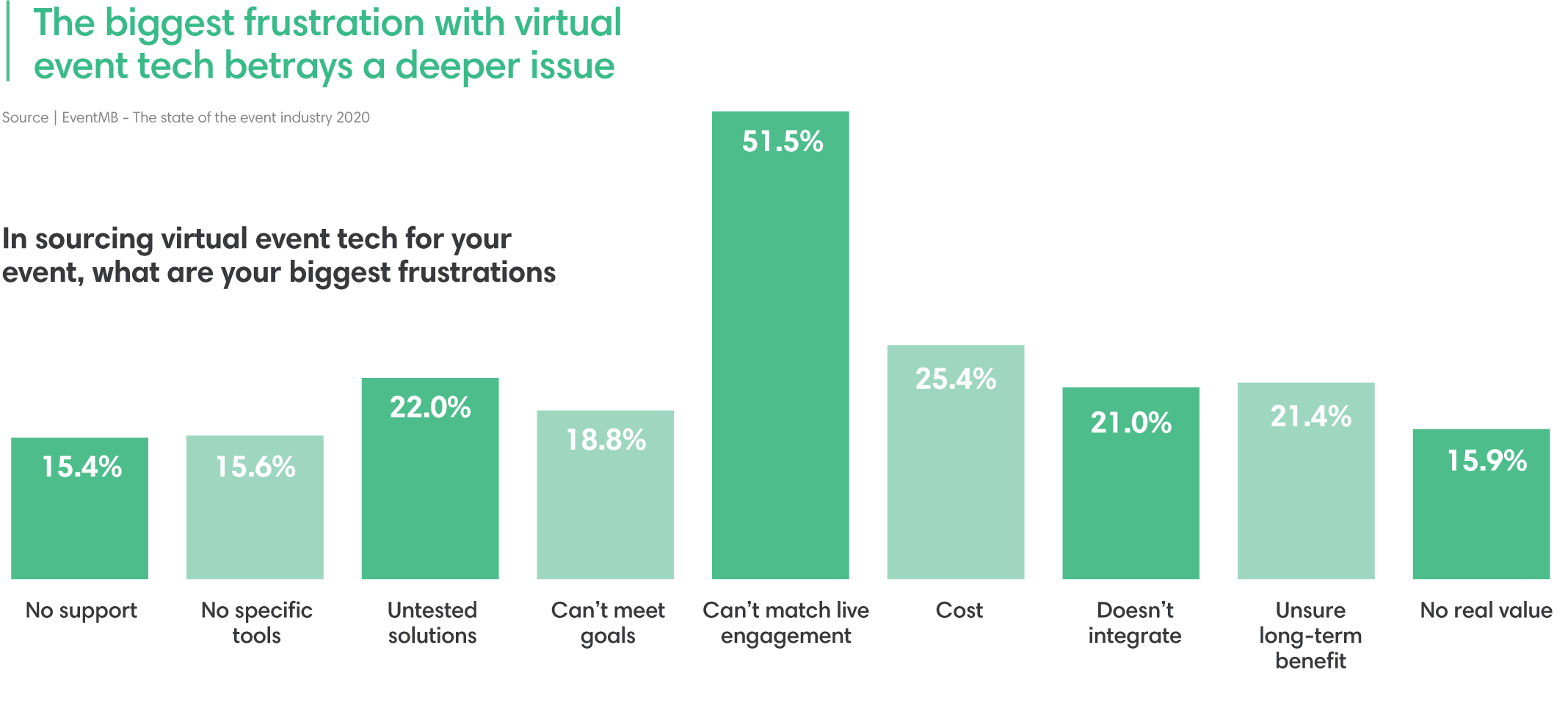 I couldn't agree more.
When companies were forced to adopt digital conference technology in 2020, many attendees were fairly patient with virtual events on webinar platforms like Demio, GoToMeeting, and Zoom. But, that goodwill is eroding quickly as people's expectations rise. If you've seen how TED does its virtual events, you'd probably raise the bar too on what you're willing to accept from other brands.
Let's face it; the majority of virtual events suck. I wasn't the first to say it, and I won't be the last. Just Google the phrase and see for yourself. They were ripe with technology glitches and mentally exhausting. They looked and sounded amateurish (bad lighting, bad sound, and ridiculous virtual backgrounds that gobbled up bandwidth). And they didn't make money, and frankly, most weren't worthy of payment.
Recently I read a blog posting by a New York software developer advocate, blogger, podcaster, and producer, Austin Parker. Now there's a person who has an opinion on just about everything and shares it unabashedly. There were times I laughed out loud at his rant about virtual events sucking – partly because he's a funny guy, but also because he shared my sentiments about the lack of human connections.

Austin, I couldn't have said it better myself.
However, there's more to physical events than the benefits of having a human connection. They also force you to disconnect from distractions – the biggest of which is work. Virtual events don't provide that disconnection, making it much more challenging to focus on the content and the speakers, especially when working from home where last-minute Zoom calls and family interruptions are all too common.
Parker's tirade wasn't born out of ignorance. Shortly after the pandemic hit hard, he designed and produced a one-day virtual technology conference called Deserted Island DevOps 2020 hosted on Animal Crossing (seriously!) and streamed on Twitch.
His speaker list was impressive and included IBM, Red Hat, New Relic, and Heroku (part of the Salesforce Platform). They enthusiastically took on silly avatar personas to deliver technical presentations on various topics, including programming, security, and building developer communities.
The event attracted 8,500 attendees and was well received by the technology industry as a whole. Even German angel investor, data scientist, and self-proclaimed inveterate nerd, Jens Wiechers, was impressed.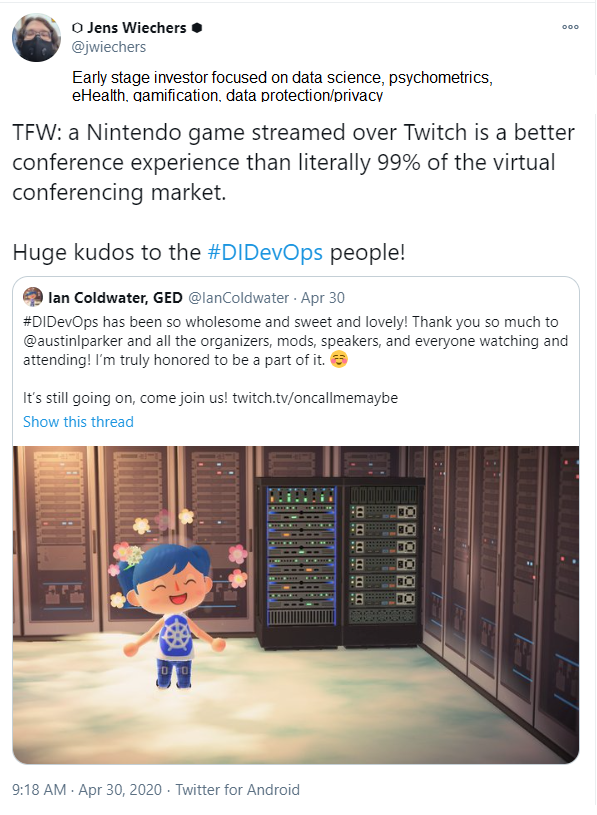 The only game in town
So let's assume we all agree that virtual events have issues – a lot of them. But what do you do when digital is the only game in town? I only attend business events, but in the B2C space, several companies have creatively found ways to connect with audiences in innovative and entertaining ways.
I sometimes wish business events were as imaginative.
These types of gatherings not only provided entertainment to consumers in lockdown; they created a sense of community where people could connect. Maybe that's the key to successful virtual conferences – having communities that don't exist just within the event's scope but throughout the year.
Speaking of communities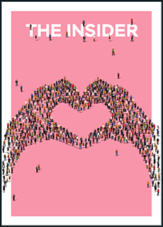 Back in January 2019, we dedicated an entire issue of The Insider to engagement. A good portion of the magazine talked about the value of online communities, using examples from our business lines, including libraries, hotels, airlines, and mainstream media.
In the B2C space, well-managed communities help grow loyalty, boost retention, create advocates and influencers, and grow revenues. The ROI is obvious. But, what about in the B2B space?
I started to think about the industry associations to which I belong (e.g., FIPP, WAN-IFRA, WTTC, APEX, Interferry, etc.), and it occurred to me that they were missing out by not creating an online discussion forum to augment the physical (and now virtual) events they host multiple times a year.
One tried to "encourage" discussion at their virtual event in 2020 by creating online networking sessions where attendees were dropped (without consent) into random conversations with others to inspire dialogue. Let's just say that experiment didn't work out quite as well as the organizers had planned.
And the future is...
If the future of events is hybrid, which seems to be the opinion of most, then it's time to make them more about people than programs. Associations need to create, manage, and nurture online communities with and for their members.
Yes, it'll require an investment to build, engage, and grow membership, but I believe it will pay for itself in the end. I know I would be excited to be a part of a community where I could network and nurture relationships between summits and forums throughout the year.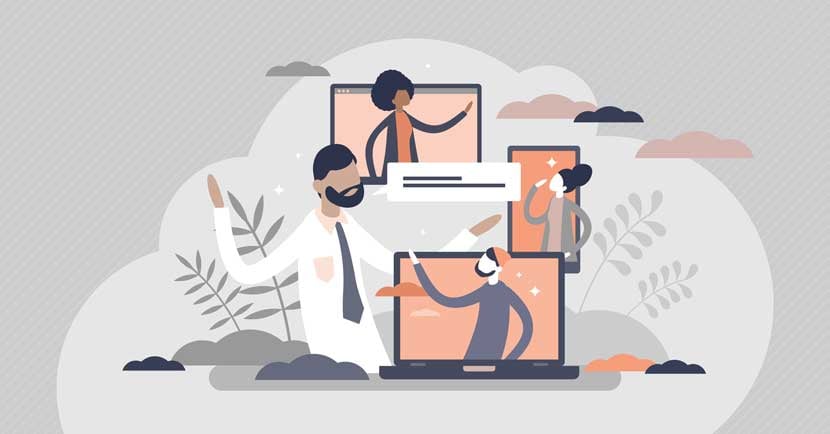 But great communities don't happen by themselves; they require experienced community managers to facilitate and encourage discussion and relationship building. FIPP and WAN-IFRA already have the high-value content around which their members can connect, discuss, and debate, so why not give them what they're missing – human connection.
Create a place where people feel welcome and safe, where they can meet and engage with others who share the same values/purpose, where they can be heard, needed, and appreciated, and where they can make a difference — whether it's contributing to the content, fact-checking it, debating it, or sharing it.

Put members first and focus on creating an engaging user experience that they can personalize.

Be an integral part of the community, not as a promoter. Interact and engage with the members and their contributions.

Don't be shy about borrowing great ideas like Reddit's AMA Q&A events and inviting celebrities and public figures to participate. That's added value many would probably pay for. I know I would.
Moving forward into a hybrid future
I spend far too much time online. So getting out of the office to attend an event in a different part of the world and interact with speakers, colleagues, and clients over drinks and/or dinner is not only valuable to my business, it's priceless to my mental and physical wellbeing.
But it doesn't mean it's all or nothing. Hybrid seems to be the new buzzword of 2020 and beyond with hybrid workplaces, hybrid education, hybrid healthcare, and now hybrid events. For publishers looking to build deeper connections with their audiences, a hybrid approach to member/subscriber events gives them far more opportunities to do so at a much lower cost.
The key is to create a virtual space that creates engaging experiences and meaningful conversation and social interaction between participants. Here are some suggestions.
Make your virtual conference more interactive. Sure the content and speakers are essential, but the attendees should have an active role in the program beyond Q&A. Make them co-creators of content, conversations, and insights, not just passive audiences.

Seek to entertain them, not just to educate. Spice things up with social activities that spur conversation. Maybe you could gamify problem-solving. I may not be into Animal Crossing avatars, but I do like collaborating with others to solve problems. And let's face it, 2020 was a year full of issues we should be tackling as a community.
One idea is to get attendees to sign up for one or more breakout groups before the event. Some groups could work together to tackle a specific challenge/problem. While others might focus on fun activities for those seeking escape. Games like remote digital adventures or virtual escape hunts might fit the bill, depending on your audience.
Just make sure there is enough diversity in the problems/opportunities/games you offer to attract the right people with the right knowledge to the right group at the right time. This is just one idea off the top of my head, but it's one that just might help fill the serendipity vacuum I talked about earlier.
Offering digital experiences, along with physical ones, provides the best of both worlds if we embrace them equally. There are no boundaries; we're only limited by our imagination and creativity. The technology already exists to enable us to connect with others through relevant digital experiences, and it will get better.
Let's get started!
I think most people would agree that events have to reinvent themselves to thrive in what is quickly becoming a hybridized world. Many sectors have already started down the path, and it's not an easy road. But, change never is.
I recently read an article written by an event and experience agency that said that by 2050, hybrid events will be the norm. I think it will happen a lot faster than that. The key to success is to embrace the model and capitalize on the technology that exists today and in the future to keep improving the experience. If you're considering hosting one you may be interested in following Porch's experts advice.
I'd love to hear your thoughts on the future of events and whether businesses should start to invest in building online communities to augment the physical events, we hope to see in years to come. Please feel free to reach out to me anytime. I'd love to connect.
Note: This article was originally published in the April 2021 edition of The Insider on PressReader.com