It's possible for companies from different industries to come together and build something of value for all of them. And the partnership between Haywire Wines, Decanter magazine, and PressReader showed just that.
The Concept
In December 2018, Haywire was the first Canadian winemaker to be included in Decanter magazine's list of the year's Most Exciting Wines, with an impressive 94 points – placing them in the top 10. A definite cause for celebration. To get the word out and celebrate their recent win, Haywire Wines partnered with PressReader to distribute free digital copies of Decanter magazine to BC wine lovers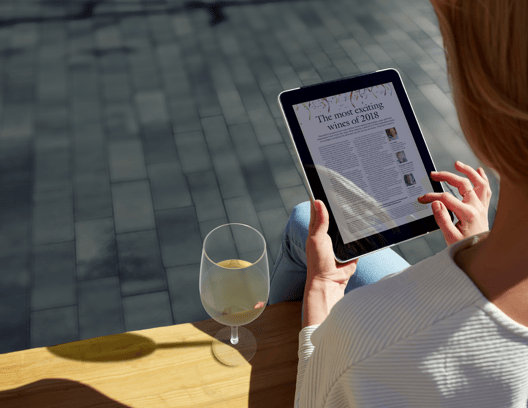 The Approach
Custom Decanter neck tags were added to every bottle of Haywire wines and promoted in the VQA wine shops in Save-On-Foods grocery stores. Wine enthusiasts who purchased any Haywire bottle of wine received a free issue of the magazine on PressReader, simply by scanning the QR code or entering the new link.

Here's how it worked:
Customers purchased any Haywire wine with the PressReader neck tag from a participating location.
Using the camera on their phone, tablet, or laptop, they scanned the large green QR code on the neck tag. Alternatively, they could enter the URL in their browser.
After watching a short video from the winery, they were taken directly to the issue of Decanter on PressReader. No promo code, no email addresses, and no registration required – frictionless delivery* resulted in a successful campaign with a high conversion rate.
The Results
Over the span of the four-week campaign, hundreds of copies of Decanter magazine were distributed to Haywire Winery customers, driving a conversion rate of 14.5% for the program.

Decanter reached new readers, Haywire Wines celebrated its success (not to mention it sold out in just over a week) and PressReader facilitated it all, giving those wine lovers an extra special gift with purchase.
Key Numbers
The vast majority of issues were consumed within the first 12 days of the campaign.
There was a jump again just before Christmas and New Year's, presumably as customers celebrated the holidays with the wine they had purchased in early December. As all bottles with neck tags were sold in just over a week of the promotion, the campaign demonstrated the value of the magazine gifted to wine lovers who enjoyed it long after purchase
The largest number of issues consumed was on Apple products, with Apple users returning to read the issue 1.7 times on average. Interestingly, Android users returned 4 times, on average.
In both cases, a tangible one-on-one relationship was developed between the reader of the Gifted Issue and the winery who provided it.
Impact
The customer journey from a bricks and mortar purchase to an online redemption is never easy. PressReader took this into account when developing its Gifted Issue technology and set out to create a frictionless way to connect readers to content. The support and execution from the winery ensured that adding neck tags drove the intended results: consumer awareness of Haywire Winery's impressive achievement that resulted in purchasing the wine. The results were quick, relevant, and scalable.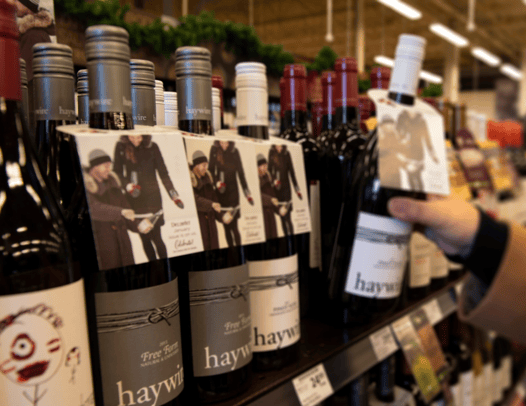 Through the partnership, Decanter expanded its readership reach beyond its traditional UK and European markets – attracting new readers in Canada.

For Haywire, it helped them celebrate with existing customers, and called attention to their brand with wine lovers who hadn't yet sampled their award-winning wines. All in all, the campaign allowed Haywire to position itself as a premium Canadian winemaker on an international stage.
And finally, for wine lovers, it connected them with their passion for wine through a Gifted Issue to the world's leading wine media brand.
"Our mission is to have Okanagan wines stand proudly next to a global selection of respected brands."

- Christine Collette, Co-Owner, Haywire Wines

With the help of Decanter and PressReader, Haywire Wines was not only able to be a part of their own story, but they were able to tell it in a way that brought value to new and existing customers.
About PressReader Gifted Issues
PressReader Gifted Issues are campaigns designed to connect businesses, advertisers and brands directly to consumers, creating a lasting impression and one-on-one interactions with readers. It is a simple act of generosity that has been shown to be a powerful instrument in the acquisition of new customers and development of deeper, longer lasting relationships with existing ones. Gifted Issue campaigns can be executed in a number of different ways, including:
Free gift with purchase (traditional or online)
Sponsored access to quality content at special events or venues
Direct-to-consumer promotions via email or direct mail
Through social media campaigns or contests
Gifted Issue opportunities are only limited by one's imagination.

For more information, or to understand how Gifted Issues can feed people's passions and interests to drive awareness of your brand and open the door to more meaningful relationships with consumers, contact publishing@pressreader.com.