Haywire Wines is the first Canadian winemaker to make Decanter Magazine's list of the year's Most Exciting Wines. Better yet, they're first to make the top ten with 94 points (that's a lot).
When they wanted help telling that story, they turned to us.
So we built something new. Another first.
Starting today, everyone who buys a Haywire wine from a Save On Foods in British Columbia will get a free digital copy of Decanter's January 2019 issue through PressReader.
Simple as that.
PressReader has sat at the intersection of technology, news, and consumer brands for a very, very long time. This just the latest evolution in the platform's ability to connect readers to their favourite titles in a way that makes sense to them.
"This is the first partnership of its kind in North America and the first time we're bringing our product to grocery stores," said PressReader's CEO, Alex Kroogman. "It represents a new way for readers to get their hands on the titles they love. With Haywire Wines and Decanter Magazine, we're truly changing the way people discover the stories they care about."
Everybody wins
For Decanter, this partnership helps them reach new readers outside of the UK and the rest of Europe. For Haywire, it helps them celebrate with both avid wine readers and customers who might not otherwise have access to Decanter.
"The winery is proud to show that this program is all about how a small local winery can stand next to some impressive wines from around the world," said Christine Colette, owner of Haywire Wines. "We hope to generate hometown pride and encourage people to take a few bottles of Haywire home or take the time to discover BC wines."
Here's how it works.
Purchase any Haywire Wine product with the PressReader neck tag at a participating Save on Foods.
Open your phone's camera and point it at the big green QR code.
Tap once to see a message from Haywire and open the latest issue of Decanter Magazine – absolutely free.
Seriously. It's that easy.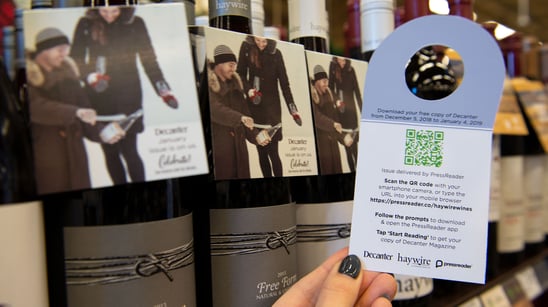 Premium positioning
"Our mission is to have Okanagan wines stand proudly next to a global selection of respected brands," said Christine Colette, the winery owner.
Now, her wine stands not only beside other bottles from around the world, but also beside Decanter. Her winery is part of the the reading experience in a way that's bigger than traditional magazine advertising. They're
rewarding their customers with real value.
Instead of taking over a single page that a reader might flip past or ignore, Haywire Wines is part of the story.
We'll cheers to that.