PressReader welcomes Israel's Haaretz – now officially available. Widely circulated throughout the world, Haaretz is a top-read independent daily newspaper with a broadly liberal outlook on domestic and international affairs. The newspaper joins PressReader's growing catalog of the world's top quality and trusted publications such as The Guardian, The Wall Street Journal, El Pais, and The Washington Post. Founded 101 years ago in Hebrew and in 1997 in English, its top-notch reporters provide extensive and in-depth coverage of Israeli as well as international relations and business.
"With the addition of a well-respected publication like Haaretz, patrons, and students will be able to find in-depth coverage of Israeli news and take advantage of PressReader's technology to translate, save and read articles instantly. Haaretz is a welcome addition to a well-rounded catalog of news titles, offering a truly global perspective from trusted sources," notes Kelly Banks, Director of Libraries & Institutions at PressReader.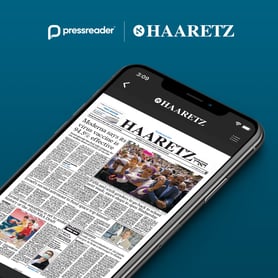 A favorite among liberal readers, Haaretz will now be available in 18 languages using PressReader's easy translation tool, expanding its current Hebrew and English offering. While Haaretz is well-known for its daily local and international news, as well as analysis of the latest reporting from the region, it also offers readers expanded interest content that features culture, history, sports, books, theatre, travel, food, and opinion pieces from its well-followed columnists.