This article was originally posted on the Branded Editions website here
PRISA is the world's leading Spanish and Portuguese-language media group. It creates and distributes a variety of content related to culture, education, news, sports, and entertainment. Present in 24 countries, PRISA reaches millions of people through its global brands, one of which is El País, the leading Spanish-language media outlet, with more than 65 million readers.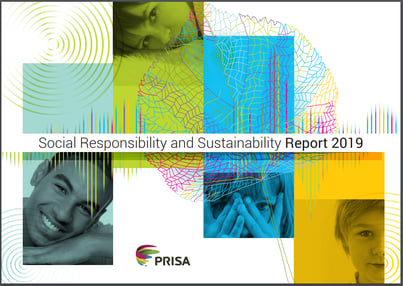 PRISA published its first sustainability report in 2014, and in 2016 the media group was invited by the United Nations to serve on the Executive Committee of the Spanish Network. Since that time, PRISA has made significant progress in terms of its social and sustainability commitments, one of which was revising and adjusting its indicators to align with the UN's 17 Sustainable Development Goals (SDG).
PRISA's commitment to defend and expand democratic liberties in Spanish-speaking countries is very evident in the bold initiatives supporting SDGs outlined in its 2019 Social Responsibility and Sustainability Report.
Here are just a few from EL PAÍS, PRISA's flagship Spanish title, and one of the most popular publishers on PressReader since joining our platform in 2004. The digital edition of EL PAÍS, along with that of its sister publications (AS and Cinco Días), can also be found on Kiosko y Más – an aggregated platform of 400 quality Spanish newspapers and magazines built in 2011 using PressReader's own Branded Edition technology.
EL PAÍS: 2019 SDG initiatives
EL PAÍS has been actively reporting on sustainability for many years but kicked it up by more than a notch when it launched a new portal in 2014 – Planeta Futuro (Future Planet) – a year before the United Nations General Assembly approved its 2030 Agenda.
In collaboration with the Bill & Melinda Gates Foundation, Planeta Futuro focuses on reinforcing issues around global sustainable development and enriching the social and political debate around these challenges. It covers most of the sustainable development goal spectrum through the contributions of dozens of journalists from around the world.
Recent reports and articles examined pollution, childhood violence, global health, education, poverty, immigration, sexism, urban planning, and of course, COVID-19.
Here are some of the SDG initiatives EL PAÍS reported in their
2019 Social Responsibility and Sustainability Report
. I hope they will inspire you as it did me when I saw the breadth and depth to which EL PAÍS is willing to go to meet Spanish society's expectations for a free, responsible, respectful, and sustainable society – leaving no one behind.

No Poverty
In collaboration with AS, and Mexican radio network, LOS40, EL PAÍS organized the es que me acuerdo (I Remember) aid concert in Mexico, to raise money to rebuild homes for those affected by the earthquakes of 2017.

Quality Education
In the area of education, El País de los Estudiantes (EL PAÍS for students), seeks to engage children with journalism with a free school newspaper project aimed at teachers and students.
Taking advantage of new technologies for teaching and learning, the program gets students to design their own newspaper, both in print and in digital formats – helping them develop a range of skills, such as critical thinking, writing, analysis and structure, and creativity.
In 1986, the non-profit Universidad Autónoma de Madrid (UAM) and EL PAÍS joined forces to launch the UAM-EL PAÍS School of Journalism. To date, 1,200 graduates of the university's Master of Journalism program have gone on to work at 100 news media worldwide. In 2018, EL PAÍS donated €220K (US$238K) to the project.
EL PAÍS organized several journalism workshops during the Guadalajara International Book Fair to help children learn more about the profession of journalism and how to run a newspaper. The workshops helped develop each student's creativity and design skills by getting them to design the cover of their very own newspapers in a fun environment.
Joining forces with Santillana and BBVA, EL PAÍS launched Aprendemos juntos (Let's learn together) – a project to foster conversation in communities around education, inspiring stories, and new teaching methodologies in communities.

Gender Equality
In June 2018, EL PAÍS's Board of Directors approved Soledad Gallego-Díaz as the new editor-in-chief of the newspaper — making her the first woman to run the publications in its 42-year history.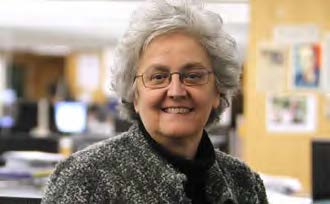 EL PAÍS also created a new gender correspondent role (headed up by journalist, Pilar Álvarez) to improve the coverage on issues related to equality and women.
In May 2019, AmecoPress (the Association of Spanish Professional Women of the Media) awarded Álvarez "for being the first to occupy a gender-specific correspondent in the written media, applying a transversal approach and contextualization in all sections of the newspaper."

Industry, Innovation, and Infrastructure
The publisher launched EL PAÍS_LAB — an incubator of innovation designed to tell stories in a digital native environment. It offers readers new formats (animation, immersive, gamification, VR, video, podcasts, and 3D) that encourages them to interact with the medium and content.
In 2015, EL PAÍS launched the Retina Forum to highlight the importance of digital transformation and foster dialogue and constructive debate between leaders of large digital companies. It tackles issues on how to make our society both more advanced and competitive while bridging the digital divide.
Retina has covered innovation, entrepreneurship, mobile technologies, artificial intelligence, and smart cities, to name just a few topics. Retina also hosts and organizes events and training workshops for professionals and the public. Retina Observatory, for example, brought together leading experts to analyze the trends of the future in 2017.

Reduced Inequalities
EL PAÍS Sociedad (Society) addresses issues that most directly affect society. It provides a platform and voice for those who offer inspiration, covering human rights and freedoms.
The issues tackled health, climate change, sexual liberties, religion, and education, to name just a few.

Climate Action
EL PAÍS also created a blog dedicated to the world of urban bikes (I Love bicis) to raise awareness of alternative transport and environmental responsibility.

Peace, Justice, and Strong Institutions
EL PAÍS joined The Trust Project to strengthen the public's confidence in the media through greater transparency and by identifying and increasing the amount of trustworthy news and information published by credible media organizations.

Partnerships for the Goals
EL PAÍS partnered with Google to develop a tool in Spanish to more effectively manage readers' comments to raise the quality of the digital debate. The application was then made available to all media.
Show me the numbers!
Now I know what you're thinking. Where is the data? What's their carbon footprint? All of that is covered in PRISA's 2019 Social Responsibility and Sustainability Report, which I encourage you to check out.
The level of detail and analysis in the 144-page document is impressive. It provides a thorough breakdown of the media group's management, human resources, supply chain, energy and material consumption, emissions, waste management, safety, and much more.
PRISA is upfront in its reporting, sharing openly that consumption and waste are driven by its print operations, and emissions by employee travel. However, the company also outlines several controls it has put in place to reduce its impact on the environment — sustainability programs that saved the company ~882 tons of CO2 in 2019.
PRISA continues to responsibly transition to digital across its portfolio, saving paper waste, and a pragmatic move given that 70% of its readers accessed PRISA content on mobile devices in 2018.
I should note that during the COVID-19 pandemic, EL PAÍS dropped its new paywall and offered all of its digital content for free, not just the pandemic news. That says a lot about the publisher's commitment to Spanish-speaking readers everywhere, regardless of their ability to pay. I wish others were as generous.

If you want to share your sustainability initiatives and results with our readers, I'd love to hear from you. Let's talk!