It's no secret that personalization has been a hot topic in the travel industry for a few years now, but it's meaning is evolving. It's no longer about making an educated guess about what your customers will like, and hoping you're right. But it's really about giving them ample choice at the right moment in their journey, and letting them pick for themselves.
As reported in Skift's Megatrends Magazine, "It will require a willingness to take personalization to the next level, evolving beyond broad-based target segments and commodity products to offer exactly the right product, to the right customer, at the right time."
PressReader has worked to bring choice and personalization to travel brands and their customers in every corner of the globe. We help airlines elevate their customer journey by offering access to a catalog of over 7,000 premium newspapers and magazines, right when passengers want them most. And we're thrilled to announce we'll be doing the same with yet another airline.
We've officially partnered with Air Mauritius, an award-winning airline connecting passengers across four continents, to bring every passenger unlimited access to premium newspapers and magazines.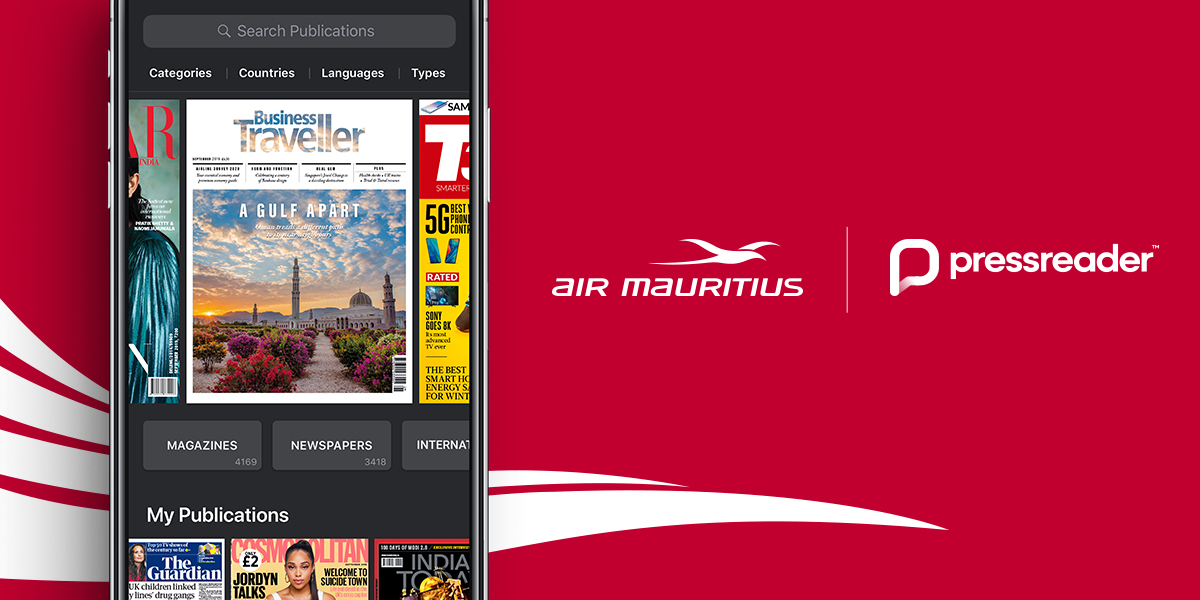 Passengers can enjoy complimentary access to PressReader 48-hours before and after their flight when they connect to the Air Mauritius app, click the access link in their check-in email, or visit the Amédée Maingard Lounge. Using their personal devices, passengers can choose from over 7,000 newspapers and magazines from more than 120 countries in 60 different languages. They can download and save as many publications as they like to read offline while they fly.
Air Mauritius is a fantastic brand that's always made strides to grow and improve with the industry. This year, Skytrax — the world airline and airport rating organization — honoured Air Mauritius with a 4-star rating for the quality of their on-board products and services. Skytrax also ranked Air Mauritius among the top 10 most improved airlines in the world, and the number 3 airline in Africa at the World Airline Awards.
And, as an airline committed to the UN Sustainability Development Goals, Air Mauritius takes social and environmental responsibility seriously. PressReader helps the airline reduce paper waste and minimize emissions – making for a greener flight that's better for the planet.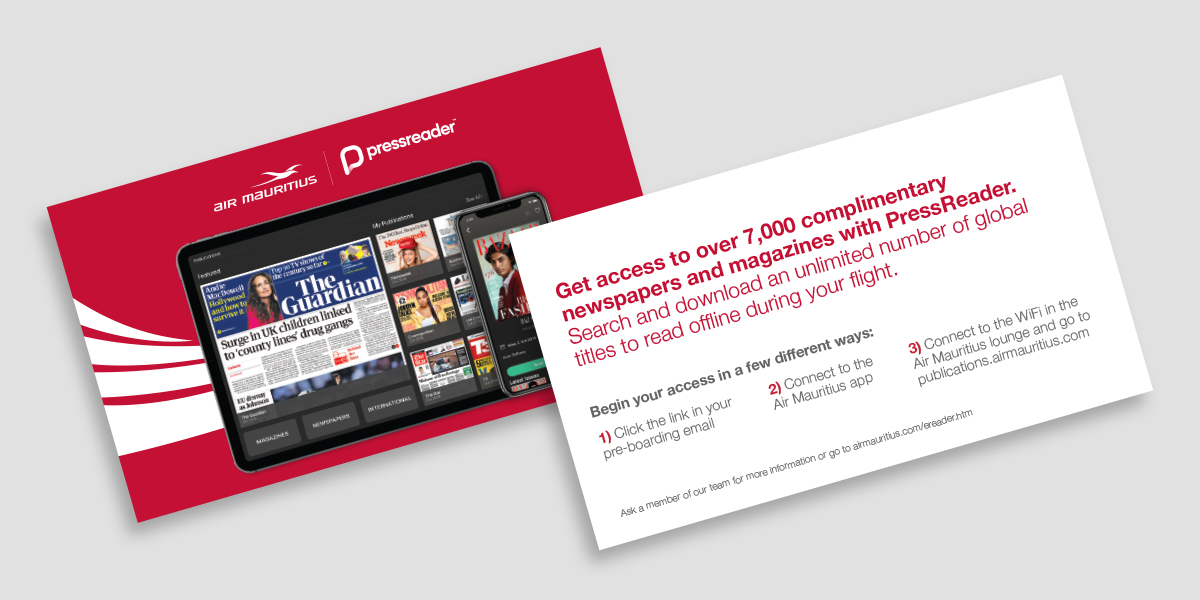 "It's exciting to be working with an airline that's always growing, evolving, and setting a standard in the industry," said PressReader CEO Alex Kroogman. "At PressReader, we believe it's possible to always put the passenger first without sacrificing core business values. We're proud that PressReader is helping Air Mauritius bring a world-class travel experience to their passengers in a sustainable way."
Air Mauritius is setting the standard in the airline space by integrating premium technology into the traveler journey. They've joined leaders like Cathay Pacific, Air Canada, JetBlue, Iberia, Turkish Airlines and British Airways who recognize the value that choice, entertainment, and on-demand content bring to the entire passenger experience.
For more information on how PressReader works with airlines, click here.