I love libraries and have for as long as I can remember.
When I attended a US university as an international student in 1996, a friend of mine referred me for a job at the school library. I was thrilled because it fed two of my passions - a voracious appetite for news and information and a fascination with emerging technology. The library was a treasure trove of both.
I could access news from, and about, my home country that I never had the opportunity to read before. And I could use the computer lab and databases to make the extensive research I needed to do much, much easier. Suddenly I was no longer constricted by printed books, microfiche, and microfilm; almost everything I needed was either at my fingertips or easier to find. I was mesmerized by it all.
As a social science reference librarian assistant, I spent a lot of time teaching other students how to use databases like ProQuest UMI in order to perform research more effectively. I still remember the joy of seeing a student's eyes light up when they discovered that the paper they'd left to the last minute could be delivered on time.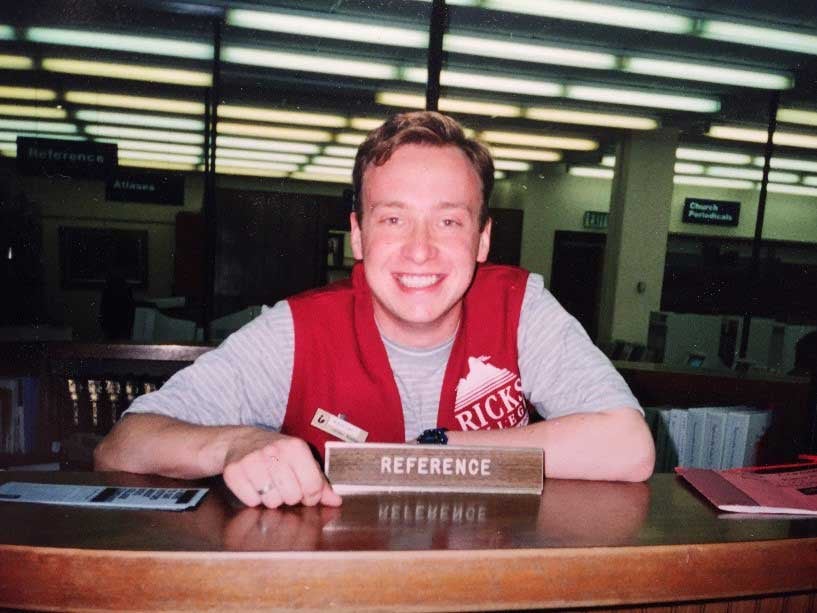 Covering the Social Sciences Reference Desk in 1996
But my delight at working there wasn't just about all the content and computers. I truly felt that I was part of a team of people who believed it was their civic duty/mission to help improve the lives of its members. I also learned a lot of invaluable skills that I use to this day in both my personal and business lives.
In 2003, while now attending grad school, my life took a new turn that today feels almost like Kismet. I was hired as a co-op student to work on, among others, a news product for the library market - Library PressDisplay (renamed PressReader in 2013). Being a news enthusiast and a lover of libraries, it was a perfect match for me.
I loved working with librarians. They are a special breed of people. They feel like it's their civic duty, their mission in life to help others. And every time I'd go to a conference or trade show I'd see how passionate they were about seeking out new information, new tools, and products to help improve the lives of others.
Today, in my position in the company, I'm no longer involved in the day-to-day operations of our library team, but I'm still proud that PressReader continues to advocate for two honorable and important institutions - libraries and journalism.
Together they can, and do, change the world.
The role of public libraries in the community
In October 2017, The Wall Street Journal ran a story about public libraries. It was refreshing to read how many these brick and mortar institutions have transformed themselves from custodians of content to the caretakers of communities.
One example of going above and beyond the call of civic duty was in Hennepin County in the American state of Minnesota. In 2016 the county's public library answered 1.3M questions from members — more than the entire county's population of 1.2M. Pretty impressive!
There is no question that reference librarians are the lifeblood of a public library. In the words of marketing guru, Seth Godin, they are "producers, concierges, connectors, teachers, and impresarios." It's hard to argue with Seth when you discover all that they do. Along with lending out books and periodicals, reference librarians help people:
Write resumes and apply for jobs
Find social service, medical, and legal information and support
Set up email accounts and provide tutorials on how to use them and other apps
Teach classes in computer programming, website design, small business management, and even yoga
Host events with experts who offer advice on a variety of subjects
Create household budgets and discover new recipes
Research historical information (e.g. weather, events, newspaper archives, and even family ancestries)
Verify whether online news stories are true or fake
Borrow everything from free museum passes, ties, briefcases, and jewelry (for job interviews) to WiFi hotspots for those who can't afford WiFi at home
Some even lend out lamps that battle seasonal affective disorder and radon-testing kits for people's homes. Whatever the needs of a community, public libraries are finding innovative ways to fill them.
Public libraries and journalism - too important to lose
According to Wayne A. Wiegand, author of Part of Our Lives: A People's History of the American Public Library, many US information technologists in the early 1980s forecasted the death of the public library by the millennium.
A similar projection was made for newspapers in 2012 when futurist, Ross Dawson, predicted that newspapers in their current form (i.e. print) would become extinct, starting in the US in 2017.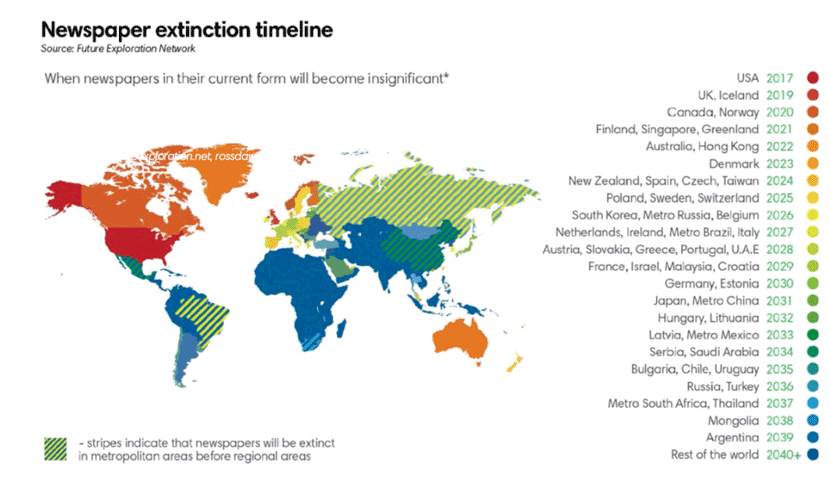 Thankfully both projections proved to be premature.
While there has been a slight decrease in the number of public libraries in some countries, there are still over 290,000 public libraries serving their communities worldwide.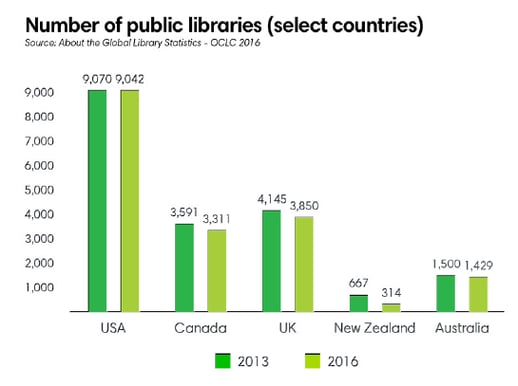 In terms of newspapers, many printed editions are still alive, although they may not be kicking for long as more and more readers switch to digital.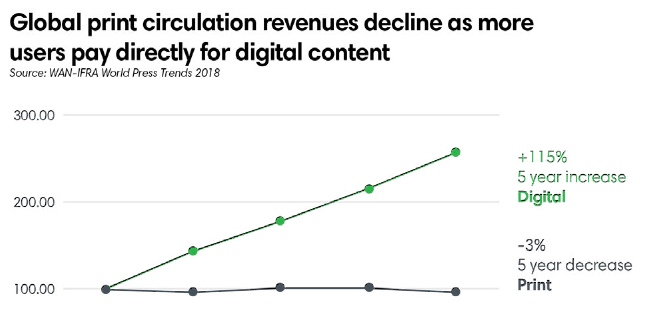 But the end of printed newspapers won't be the end of quality journalism, just like the transformation of printed library resources into digital assets won't be the death of public libraries. Quality journalism is the life force of mainstream media, and it will survive without print in the webosphere. But what about libraries?
There are those who argue that Amazon should replace public libraries to save taxpayer money. I, for one, hope never to see that day. The value public library spaces and librarians bring to communities is far too great to lose.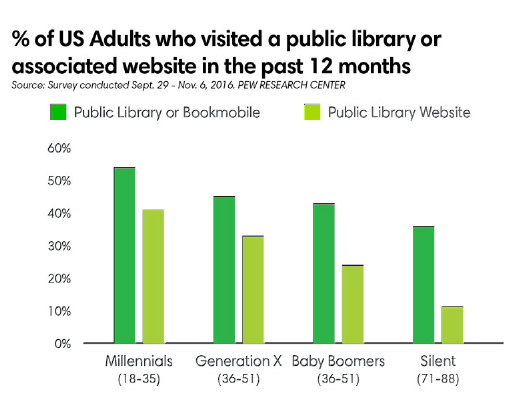 The role of journalism in library communities
Connecting people and ideas
The internet instigated fundamental changes in social behavior and turned people from passive consumers into active participants who want to control almost every aspect of their lives. It also changed the role of journalism from being a lecture delivered by a central authority in a one-to-many paradigm, to a conversation that connects communities in a many-to-many relationship.
When quality journalism is made available in public libraries and promoted by librarians, it fuels the power of the person and the collective by connecting people and ideas.
Although individuals may not see themselves as active community members within the physical library on a day-to-day basis, there're times when a high level of social interaction and connection within the community is essential.
For example, when Hurricane Irma threatened many parts of the Atlantic coast, it spawned dozens of fake news stories on social media. Public libraries' quality media resources offered legitimate recommendations to guide patrons' actions and a sense of purpose that helped foster civic and emotional support among the members — a social bond among strangers was formed.
But not all community connections need to be initiated by disasters. Any event that impacts the community (e.g. elections, festivals, court cases, protests, real estate developments, etc.) can be used by librarians to prompt discussion and dialog among members in coffee klatch-type meetings and social gatherings in or outside of the library.
It's not rocket science to connect people and ideas within a library. Passionate librarians and unlimited access to trusted media sources is a great start.
Enriching learning through discovery
Learning is a very personal process; we all learn in our own way. The one-size-fits-all approach of "I teach; you learn" no longer works.
By shifting from being collection-centric to people-centric, librarians can focus on the learning journey of individuals — helping them find what they need while facilitating the discovery of new sources that may be relevant to them. It's not just about the content; it's about the way patrons discover and engage with that content that matters most.
The music, video, eBook, and publishing industries have been doing this for years through platforms of aggregated content - providing all-you-can consume access to songs, TV series, movies, novels, newspapers, and magazines - on people's personal devices.
What these platforms all have in common is their use of machine learning to curate content – a strategy that is preferred by the majority of people because they believe algorithms to be less biased or swayed by editorial and political agendas. People also like the fact that content is curated based on their individual consumption habits.
Algorithmic curation targets an audience of one – an important distinction in the era of "It's all about me." Because content that isn't personal is likely not relevant, and if it's not relevant, it's not useful.
Creating a vibrant global community at a local level
In our ever-shrinking world, public libraries find themselves under constant pressure to diversify their offerings for the global community living in their own backyards. Language is a big issue, given that there are over 6,000 of them in the world, but serving the needs of a heterogeneous constituency is much more than buying collections and resources in multiple languages.
Patrons want and need inclusiveness, especially in countries where civil society is becoming more divisive over political and social issues. And as conveners of open and thoughtful conversations among community members, public librarians can counter xenophobia and nationalism and bridge divides by:
Helping new residents improve their language skills by giving them free access to thousands of digital newspapers and magazines in multiple languages — publications they can read, listen to, share, comment on, and translate into multiple languages
Open up the world's news publications on library computers to those unable to pay for the technology or content — refugees, low-income residents, etc.
Encouraging patrons to seek out multiple perspectives on globally significant issues and current affairs reported by local, national, and international journalists
Hosting debates with the support of journalists and civic leaders around topics in the media that concern its members
Conducting town halls (virtual and physical) to allow members to share opinions, compare experiences, and exchange knowledge and ideas
The role of public libraries in a trust-deficient world
When social media took off a decade ago, many people used it as a gateway for news, bypassing the library's limited supply of newspapers and magazines. But today, when it comes to news discovery, the love affair with social media is starting to largely wear off.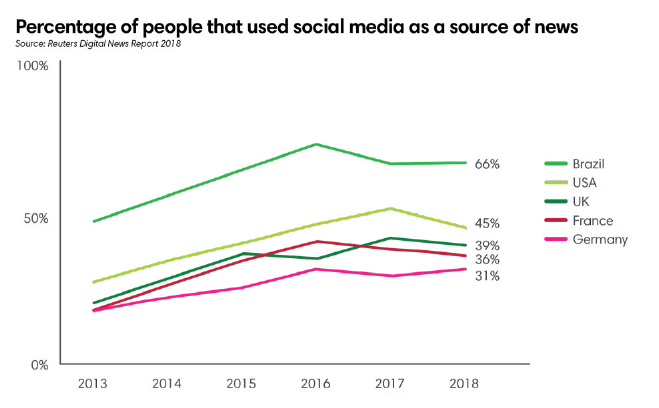 To avoid all the misinformation and fake news polluting their social channels, people are starting to seek out more credible news sources such as The Washington Post, Los Angeles Times, The Globe and Mail, The Guardian, Newsweek, Forbes, Le Figaro, and Vanity Fair, to name just a few.
But with the increasing number of paywalls popping up on newspaper and magazine sites, people are finding it difficult to access quality journalism without having to pay for it. This is where libraries can help. Today thousands of public, academic, and specialty libraries around the world are sponsoring access to trusted media on behalf of their patrons.
If you would like to find out how your public library can offer community members unlimited access to over 7,000 newspapers and magazines anywhere, anytime on their personal devices, let's talk!
This article was originally published in The Insider Magazine.