For many people, "sustainable development" prompts thoughts of going "green" or adopting environmentally friendly practices in their personal habits or business operations. But while the planet is a core focus area of sustainable development, there are two other priorities that businesses, communities and governments have to keep top of mind: people and prosperity.
These three Ps of sustainability are at the heart of the UN's 17 Sustainable Development Goals (SDGs) and public libraries around the world are playing an important role in meeting them. Beyond providing accessible sources of knowledge and information to educate and enable their communities, libraries are also active participants in environmental efforts and contribute to economic growth.
With the onset of the COVID-19 pandemic, there were valid concerns that sustainable development would take a back seat — but it was the opposite that proved true. Around the world, even in the face of major disruptions, libraries stepped up to serve their communities in new ways.
Now, as pandemic restrictions ease up and things return to a new version of "normal", it'll be important to maintain this commitment to people, prosperity and the planet. With this in mind, library associations and public libraries are setting an example for what sustainable development looks like in practice.
See also:
Libraries have established their own brand of sustainable development
All libraries have a collective mission to democratize access to information and learning — regardless of where they're located or the type of community they serve. This goes hand in hand with the themes that underpin the 2030 Agenda for Sustainable Development: empowerment, resilience and equality.
With PressReader's unique position as a partner for many public and academic libraries, we have front-row access to how these institutions are building sustainability principles. It's work that gives us hope as we head into the future. Take a look.
Guardians of people
Libraries are a core piece of our social infrastructure, fostering community engagement and social services, and that means they naturally contribute to the people-focused SDG goals.
Often providing free resources, public libraries are true advocates of SDG 1: No poverty. During the pandemic, many libraries took this a step further, using their spaces as shelters. Others converted their spaces into food distribution centers, working towards SDG 2: Zero hunger.
We've partnered with the North York Harvest Food Bank, Daily Bread Food Bank and Second Harvest to set up food bank distribution from library branches across the city. Staff are proud to support the City's broader work on food security. https://t.co/ZVeAcNWmqv pic.twitter.com/H8UCfXzb87

— Toronto Public Library (@torontolibrary) April 6, 2020
While COVID-19 prompted many libraries to really focus on SDG 3: Good health and wellbeing, this goal was already in place leading up to the pandemic. Take Scottish libraries, for instance, who launched their Health on a Shelf campaign to better equip patrons with health-related information.
With the vast amounts of resources and information they provide constituents, libraries are actively working towards SDG 4: Quality education. Likewise, offering access to technology, WiFi and media literacy training helps bridge the digital divide and reduce inequalities (SDG 10).
Protectors of the planet
When it comes to the environmental SDGs, libraries are doing a lot. Whether it's hiring environmentalists in residence, pursuing their LEED certification or hosting annual Earth Day programs, libraries are offering examples to follow across their communities. These are all crucial to enabling SDG 7: Affordable and clean energy, SDG 12: Responsible consumption, SDG 13: Climate action, SDG 14: Life below water and SDG 15: Life on land.
Enablers of prosperity
When it comes to SDG 8: Decent work and economic growth and SDG 9: Industry innovators and infrastructure, libraries are huge contributors. These institutions (and all the resources they offer) are a launching pad for students, apprentices, innovators and entrepreneurs. Libraries also help immigrants on their path to citizenship, equipping them with the right skills to contribute to their new communities.
Libraries have proven that they are catalysts for economic, social and ecological growth within their communities, and that makes them key contributors to SDG 11: Sustainable cities and communities. In the same vein, by enabling communities with media literacy and other sources of education, libraries promote the development of peace, justice and strong institutions (SDG 16).
Library associations are paving the way for sustainable development
Leading the way for libraries in various regions, library associations have clearly been thinking about SDGs and how to enable their members to meet them. In fact, many of them have articulated mandates, best practices and toolkits to ensure that libraries have the resources they need to get started or expand their efforts.
At the highest level, the International Federation of Library Associations and Institutions (IFLA) has partnered with the UN's SDG arm. When the goals were launched, the federation made a commitment that its 320,000 public libraries and more than a million parliamentary, national, university, science and research, school and special libraries would be active partners in driving the SDGs forward.
Beyond that, IFLA has developed a toolkit that includes information on the SDGs themselves, communications frameworks, advocacy opportunities and how to measure the success of sustainability initiatives. Within it, leaders will find examples of how libraries are putting sustainability into practice.
"IFLA's consistent position is that access to information is essential in achieving the SDGs, and that libraries are not only key partners for governments but are already contributing to progress towards the achievement of the 17 Goals."

— Internation Federation of Library Associations
Regional associations are also setting roadmaps and mandates for their constituents. The American Library Association (ALA) added sustainability as a core value of librarianship in 2019. It also developed the ALA Task Force on UN 2030 SDGs, which has published a multi-year strategic plan to increase library participation in initiatives to achieve the goals.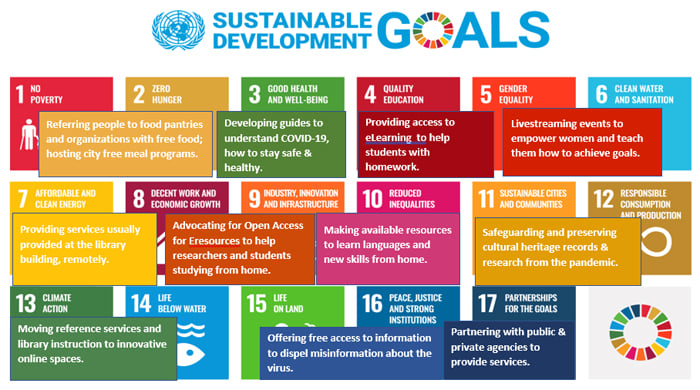 Sustainable Development Goals/American Library Association
As part of the global Sustainable Libraries Initiative, the NYLA Sustainability Initiative provides New York's library leaders with resources to better explain how libraries can help shape the strategies and policies that ensure libraries continue to provide life-changing value to their communities.
In Europe, EBLIDA has done the important work of making the SDGs relevant to its libraries and the lived experiences of their constituents. The institution understands that there are regional considerations to the goals and that libraries should use this context to determine the initiatives that make sense for them. The bureau has also published the EBLIDA Matrix, which provides a list of EU programs, policies, funding opportunities and metrics for each of the 17 SDGs.
Meanwhile, the Australian Library and Information Association (ALIA) has a "Think global, act local" campaign, which encourages libraries to take an active role in helping Australian policy makers set next steps for meeting the SDGs. The association has selected the 10 goals that can be best addressed by its libraries, and have outlined the steps that institutions can take to best enable their communities.
And this isn't a trend that's exclusive to first-world nations. The Nigerian Library Association's latest conference, KANO 2021, was focused on engaging and connecting librarians under the theme of sustainable development.
Where do we go from here?
Now, as we emerge from the global pandemic, libraries are still facing challenges. Funding cuts and reduced private donations are presenting a major obstacle for institutions that are eager to serve their communities and make tangible progress against the SDGs. As libraries navigate this uncertain future, policy makers need to revisit the value that libraries bring to their communities and ensure they are set up for success — and as library advocates, it's up to us to make sure they do so.
We're so excited to feature the work that libraries are doing on the road towards sustainable development. Do you have a story you'd like to share? Please, send it our way. Interested in incorporating PressReader as part of your development plans? Let's chat.