Historically, libraries have been all about access to information, and librarians have been the gatekeepers of the books, records, and databases where that knowledge was stored. But times have changed, and the way we access information has completely transformed. With the advent of the digital era, knowledge has become more readily available — and harder to control. Today, most of us already have information at our fingertips 24/7.
As the purpose of libraries evolves, so too does the role of librarians in the 21st century. Libraries' community function has become just as important — if not more so — than their work as portals to knowledge. Librarians have found themselves acting as social workers, youth educators, community facilitators and even social media marketers — often without appropriate training, preparation and support.
These shifting expectations of librarian leadership were only accelerated by the challenges of COVID-19. Today, libraries and librarians find themselves at a place of reckoning — transform along with society, or risk fading into obsolescence.
See also:
New challenges for librarians
Digital transformation and changing consumer expectations have rocked many legacy industries, and libraries are no exception. Many librarians' duties have grown well beyond their original job requirements — especially during COVID-19. To cope with the demands of the pandemic, librarians have acted as contact tracers, implemented and enforced new safety protocols, and even built PPE for healthcare workers!
Even before facing all of the unexpected challenges brought on by the pandemic, many libraries discovered that they have a crucial role to play in addressing inequality in their communities — particularly when it comes to accessing technology and information. Some have taken measures to help vulnerable or marginalized populations access the Internet, such as offering WiFi in their parking lots or loaning out tablets and laptops. Others have even come to act as short-term shelters for unhoused populations — a demanding role that few librarians have the specialized training to support.
Libraries also serve as a point of social contact for many people, especially those suffering from social isolation. When physical library branches closed during the lockdowns of 2020 and 2021, some librarians continued reaching out to these vulnerable groups, such as the elderly, more directly, making house calls and dropping off reading material.
Along with the open access to information, the Internet age has introduced something more sinister: the rise of 'fake news', or misinformation. Many people, including us here at PressReader, have questioned whether librarians today have a new responsibility to democratize access to good-quality journalism and promote media literacy.
Training the next generation
These are big shoes to fill — and while the vision of librarians as community leaders is compelling, it won't become reality until we change how we prepare people to enter the profession. Like most other graduate degrees, none of the top Library Science programs provide leadership training. While some librarians have proven themselves to be amazing leaders naturally, these skills should be integral to training for the job, so that professionals enter the workforce ready to support the libraries of tomorrow.
That might mean developing skills more typically thought of as belonging to the business world, such as income generation and marketing. While libraries may not previously have had opportunities to establish their own revenue streams in favor of government funding, new approaches might be necessary for libraries to keep delivering free, accessible social programs — and make sure their communities know about them.
Times of rapid change call for bold thinking, for new leaders who can envision and realize the future of their industry. Some have termed this 'the search for why' — the philosophy that every great service starts with a deep understanding of why your audience really needs you, rather than starting with a prescriptive idea of what your organization is supposed to be. It's the kind of thinking that led Howard Schultz to grow Starbucks into an international, multi-billion dollar brand. By envisioning it not just as a place to sell coffee, but a third place between work and home, Schultz revolutionized cafe culture in North America. If librarians start by understanding their patrons' core needs, and structure their libraries and programming accordingly, they can have a major impact on the health of their communities.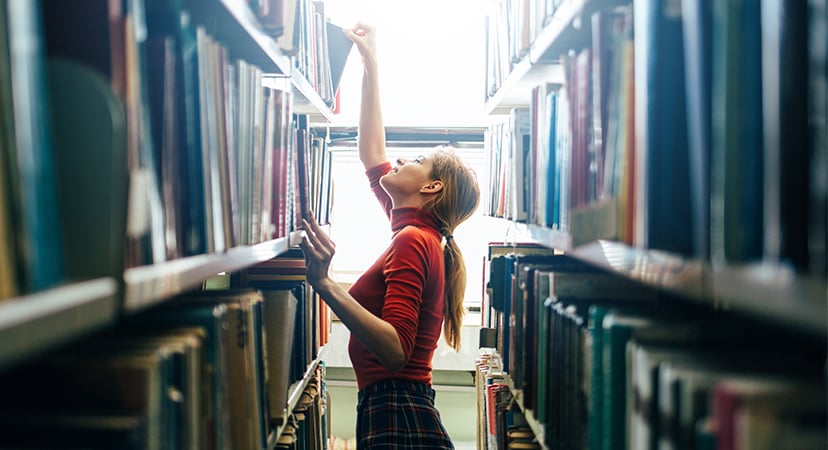 Librarian leadership of tomorrow
While the sector has been slow to transform, times are changing, and a new era of librarianship is near. The American Library Association (ALA) has begun offering some librarian-specific leadership courses, and many forward-thinking librarians and institutions are providing inspiration for the future of our industry.
At Princeton Public Library, director Leslie Burger led the construction of an all-new facility that actually responded to its community's needs, with bold new additions like an in-building coffee shop and advanced programming for adults. In 2016, the library even stayed open all night to televise the presidential election, along with a public discussion moderated by a political scientist.
Sheridan Libraries, located at Johns Hopkins University in Baltimore, took an innovative approach to income generation, promoting a culture of entrepreneurship rather than bureaucracy. Employees at all levels are encouraged to submit their ideas for revenue-generating projects, and compensated when those projects are chosen.
Some libraries are also embracing, versus simply tolerating, their prominent role in community health and wellness. In the United Kingdom, libraries are working proactively against isolation and loneliness, launching programs that bring elderly patrons together in groups, or create social connections among new parents while promoting children's literacy. Some libraries are even establishing public living rooms as welcoming, open-access social spaces.
Libraries of the 21
st
century: a changing industry
Every aspect of the world we live in has been transformed by the Internet, and the open exchange of information that it facilitates. While librarians will certainly look different in this new landscape, if they are willing to re-evaluate their role in their communities they can establish their facilities as hubs for connection, education and resiliency.
The transition will not be quick or easy, and both librarians and the institutions training them must embrace the change with open arms. We believe it's worth the effort. If our libraries can rise to the challenge, we might find that the future looks even brighter and more exciting than we imagined.
Are you ready to reimagine the role of librarians as community leaders? Download our report on The Future of Libraries.