The World Travel & Tourism Council's 20th Global Summit, organized in partnership with the Government of Quintana Roo, was held in Cancun, Mexico on 25-27 April, 2021.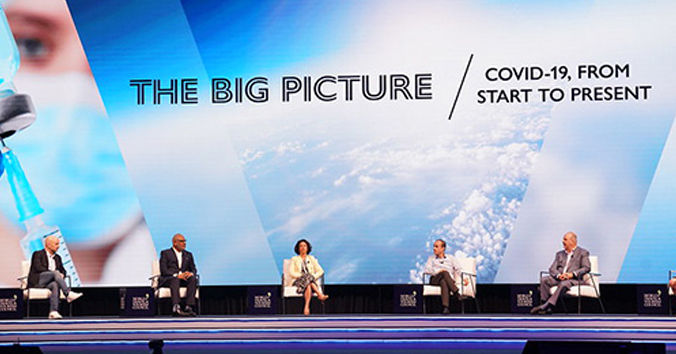 World Travel & Tourism Global Summit 2021.
The Summit happens once a year and hosts the most influential leaders in the travel industry. This year, industry leaders and participants addressed the challenges ahead and how the sector can plan for recovery.


We are proud to have attended and exhibited at such an important event. We enjoyed sharing meaningful discussions with many individuals interested in providing a safer way for guests to stay connected to news and information without sacrificing choice or convenience.
Here are some of our key takeaways from the event:
What's next for travel?
Quarantines are hindering international travel at the moment, yet important health guidelines must be followed so recovery can progress sooner and faster. Once travel starts to pick up, occupancy in hotels will increase drastically.
Many hotels around the world anticipate and are prepared for a high demand in bookings. Safety and health guidelines have been implemented and will be strictly followed.
For those passengers for whom present air travel is essential, airlines and lounges have taken steps to provide the same (or better) experience as these guests have come to expect.
There now exists new definitions and standards for safety precautions. Safety in travel now includes extra measures and important protocols introduced to ensure cleanliness and disease prevention for guests and staff.
Focus on the experience
"The growing importance of using digital technology, such as biometrics, a major force in the post COVID-19 world, was recognised as being critical to creating a contactless, safe and seamless traveller journey."

- World Travel & Tourism Council
Travel will be more focused on making and creating memorable trips, and local experiences will become key considerations. Today's travelers now value quality over quantity.
The world has permanently changed. With remote work culture, people seek adaptability. Travelers may move around more frequently, may live in different places, or travel any time of the year. The so-called "American dream" is no longer about having a beautiful house with a backyard and 2 cars, but a life where you can enjoy and share quality experiences.
The need to socialize or interact during a vacation is even more important now. People expect a closer connection to the places they visit. When brands create a connection with travelers, brand loyalty and cultural identity will stay top of mind.
Sustainability will continue to be a priority. From the traveler's perspective, however, actions speak louder than words: they need to see both the evidence and results of efforts made by hotels and airlines.
Empathy in travel is key
Recognizing the importance of empathy, transparency, and well-being is essential for removing organizational boundaries. This is critical for companies and their employees as well as for brands and their followers in order to foster greater loyalty and engagement.
Hilton CEO, Christopher Nassetta summed up the situation perfectly: "Our industry's contribution to global GDP dropped by an astounding 49% last year and we lost 62 million jobs in one year. This is why as we focus on the future, we've got to be more focused than ever on creating new opportunities for people to build better lives for themselves and their families because we know travel and tourism is an engine of opportunity."
The industry's unwavering commitment to community was exemplified by investing time and energy in providing free rooms/quarantine hotel spaces to support government, medical and local community efforts. This helped build even stronger relationships and engagement with their communities.
Of the many compelling presentations at the WTTC Global Summit, perhaps the most inspiring message to take with us into the future came from Arnold Donald, CEO of Carnival Corporation: "While this past year has had its challenges…let's remember how blessed we are to work in an industry that creates joy, that brings the world together, that makes it a better place for all of us," he said. "We have a bright future".

We work with travel partners all around the world to bring PressReader to their passengers and guests. Offer a reading experience your members will love you for. Find out if PressReader is right for your business.