Writing on the wall for papers not investing in online editions
Hello everyone.
I'm blogging this article from PressDisplay.com so that publishers everywhere can see that it pays to run an efficient and effective digital edition of their printed newspapers.
As many of you know, NewspaperDirect runs the digital editions of the most successful publishers in the world. According to this article some of our UK papers have had great success with their "SmartEditons", such as the Daily Mail (pulling in 11.8 million unique visitors in July) and the Telegraph.co.uk (which boasts between 3.6 and 4.5 million users), to name just a couple.
Those of us who are staunch supporters of digital editions are not surprised by these statistics. We are also not surprised that research now shows that 60% of UK newspaper readers find online editions easier to read than the print alternative. The Mail Online is a good example of this – it was reported to be the stickiest website by ComScore in July, keeping its users online longer than any of its competitors. Now that should make advertises sit up and take notice, don't you think?
As this article clearly states, "online newspapers readership can provide a real solution to the decline of traditional print media."
At NewspaperDirect we believe there is a bright future for newspapers if they make the right choices:
1. They need to embrace digital
2. They need to choose an effective, no operational cost, secure solution for their digital editions.
3. They need to market their digital editions
4. They need to monetise their digital editions in new, Web 2.0 ways. (Check back next week to learn more about how – we're launching a revolutionary new advertising platform for our SmartEditions you won't want to miss)
NewspaperDirect is launching new SmartEditions every week. Check out our current list and visit their sites. Then you'll understand what makes them so "sticky".
For more information, contact digital@newspaperdirect.com.
Gayle
---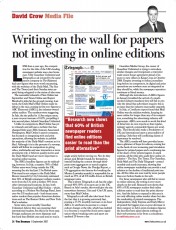 Writing on the wall for papers not investing in online editions
David Crow Media File
The Business
08 Sep 2007

Less than a year ago, the competition for the title of the UK?s leading newspaper website was a two horse race. Only Guardian Unlimited and Telegraph.co.uk (owned by the same parent company as The Business) had user figures that were worth measuring,…
read more…
Tech Tags:
The Business
newspaper
Jonathan Marland Business Leader